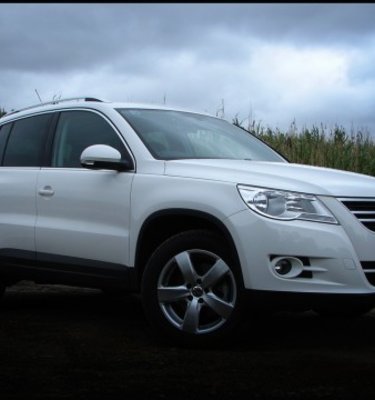 2009 Volkswagen Tiguan 147TSI Review
2009 Volkswagen Tiguan 147TSI Review & Road Test
It's turbo time for Tiguan
Model Tested:
2009 Volkswagen Tiguan 147TSI, 2.0-litre turbo petrol, six-speed automatic, 4MOTION wagon - $42,990 (RRP)
Options:
Metallic Paint $790; Bi-Xenon Headlamps $1990; RNS510 Satellite Navigation with RVC Plus & Dynaudio $4,280; CD Changer $790; 18-inch Alloy Wheels $,490; Alarm System $590; Sunroof $1990; Park Assistance $890 (Fitted); Off-Road Technology $290 (Fitted); Leather Upholstery $3690; Dynaudio Premium Sound $1290; Satellite Navigation & RVC Plus $2990;
Powerful engine, spirited performance, very quiet ride Option pricing, trim design, awkward driving position
CarAdvice Rating:
- by Matt Brogan
Now before you start with "not another Tiguan review" please allow me to clarify - this is the petrol model, and it has only just been released in Australia. So while indeed it may be another review of the same badge, it's a very different car, much different to its diesel brother - and here's why.
The petrol Tiguan is available in two guises, a low-output 125kW model (which at $33,990 is a steal) and this, the top shelf 147TSI model. As the name suggests, this Tiguan has 147kW of power, just like the GTI Golf from where the power plant is derived.
It's a strong little engine with ample power for most situations you could ever hope to find yourself in driving what's essentially a soft-roader. However, extra power aside the petrol model is some 40Nm down on torque from the diesel model, and it's this pulling power that is noticeable when you have a 1700kg wagon fully laden with life's needs.
Tiguan 147TSI shown in 'Candy White'
Now sure, the difference is negligible in most situations, and when you're on your lonesome the petrol Tiguan is actually a bit of fun, even managing the 0-100km/h sprint in 8.2 seconds. When it's loaded with kids, bags and dog the added weight does effect the open highway performance seeing a busy gearbox on tight, hilly country roads.
Not that this is an issue, for the Tiguan also features Volkswagen's six-speed automatic gearbox, which makes short work of changes in ratio, reacting almost instantaneously to variations in incline.
All up the 2.0-litre, turbocharged, four-cylinder, petrol offers 147kW at 5100rpm and an acceptable 280Nm of torque from just 1700rpm. There is a touch of turbo lag, as you might well expect, but by no means does it detract from the driving experience and flexibility a petrol unit affords. Fuel economy is claimed at 10.1 litres per 100km combined, though realistically mid-11s can be expected.
Handling is well beyond what's considered acceptable for an SUV. In fact, it's terrific. MacPherson strut front and multi-link rear, both fitted with stabilisers, manage the Tiguan's bulk wonderfully with cornering and ride both exceptional. Steering is thoughtful and gives a well connected feeling though the turning circle is a little wide at 12 metres.
Strong braking, and silicone chip assisted stability ensure safety is paramount. The 147TSI also comes standard with front, side and curtain airbags that in addition to ABS, EBA, EBD, ESP and Traction Control afford Tiguan a five-star EuroNCAP rating.
Inside not a lot is different to the 103TDI we've already tested, though the new touch-screen head unit for the CD Tuner is rather attractive, unlike the new trim pattern. To me at least, the appearance of the upholstery is a little cheap, not nearly as nice as it should look for this kind of money, bring back the old trim I say.
The lay-out and ergonomics for the most part are very good and practical, however the driving position is compromised by a lack of adjustment in the steering column.
It seems the wheel cannot be positioned low or aft enough to allow shorter drivers a comfortable (and safe) seating position. You're either reaching for the wheel with comfortable leg space, or holding the wheel right with your knees around your ears.
The remainder of the cabin is however very comfortable. Proportionally the car is more than adequate for a small family or couple and though some people think the boot space is a touch limited at 395-litres, the majority of the time this is not an issue and some owners may even appreciate the slightly smaller exterior dimensions Tiguan offers over its ever growing competitors.
If however you do need that extra space, Tiguan can 60:40 split fold the rear seats to allow 1510-litres of space and also comes fitted standard with roof rails which are just the right size to accommodate a luggage pod.
I will say however that I feel the option pricing on Tiguan is getting up there a little, and although the extra bells and whistles are not without their merit, some of the additions are a little pricey.
If for example you were to option this model completely, you'd soon find yourself out of pocket to the tune of $59,490, which is in the LCT zone, plus you have all the on road costs.
So while I am indeed a fan of the latest addition to the Tiguan range I've got to say that the TDI model seems to offer almost as much heart for much less money and although the costs very nearly cancel each other out with the current price of diesel, it's worth noting that the petrol Tiguan does prefer to sip on 98RON premium petrol.
It's a fine car and offers a level of enthusiasm and refinement lost in many of the competitors - just be sure to control your urges when it comes time to ticking option boxes.
CarAdvice Overall Rating: How does it Drive: How does it Look: How does it Go:
Specifications:
Engine: 1984cc DOHC four cylinder (16 valve)
Power: 147kW @ 5100rpm
Torque: 280Nm @ 1700rpm
Induction: Turbocharged & Direct Injection
Transmission: Six-speed automatic gearbox
Driven Wheels: All (4MOTION)
Brakes: Discs with ABS, EBA & EBD
Top Speed: 191km/h
0-100km/h: 8.2 seconds
0-400m: Not Tested
CO2 Emissions: 240g/km
Fuel Consumption: 10.1 litres/100km (Combined)
Fuel Tank Capacity: 64 litres
Fuel Type: 98RON petrol
EuroNCAP Rating: Five star
Airbags: Front, side & curtain
Safety: ESP with Traction Control
Spare Wheel: Space saver
Tow Capacity: 2000kg (Braked)
Turning Circle: 12.0 metres
Warranty: Three Year/100,000km
Weight: 1700kg (Tare)
Wheels: Alloy 17 x 7.0-inch
Road Test the Rivals:
Dodge Nitro (from $38,990)
Ford Escape (from $31,990)
Holden Captiva (from $34,490)
Honda CR-V (from $31,990)
Hyundai Tucson (from $25,490)
Jeep Compass (from $29,990)
KIA Sportage (from $24,990)
Land Rover Freelander 2 (from $49,990)
Mazda CX-7 (from $40,610)
Mitsubishi Outlander (from $31,890)
Nissan X-Trail (from $31,990)
Renault Koleos (from $29,990)
Skoda Octavia Scout (from $39,990)
SsangYong Actyon (from $29,990)
Subaru Forester (from $30,490)
Suzuki Grand Vitara (from $24,990)
Toyota RAV4 (from $31,990)
2009 Volkswagen Tiguan 147TSI Review