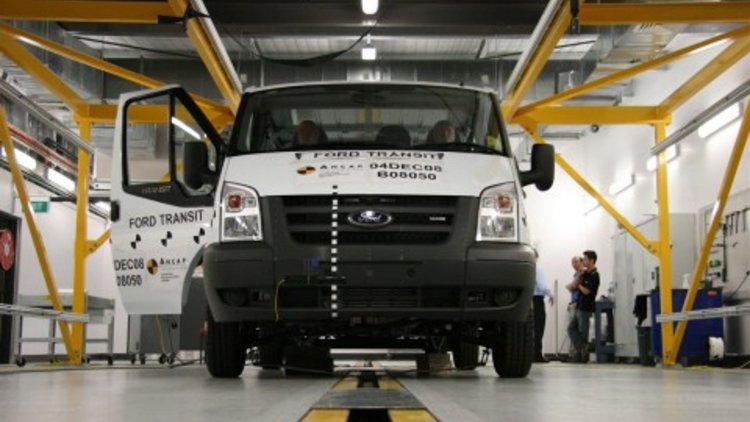 - Anthony Crawford
Heard of ANCAP? It stands for the Australasian New Car Assessment Program and provides potential car buyers with information on how much protection you can expect from your vehicle in the event of a serious front or side crash.
The overwhelming number of our fellow Australians who perish on our roads each and every year, remains alarming. That figure, more than 1600, is near enough to three times the number of Australian troops who died during the Vietnam War.
Worse still, most of these tragic deaths don't even make it into the newspaper, as society has been largely desensitised due to the every day occurrence.
Moreover, the other number you don't hear about, are those who are seriously injured in car crashes, roughly 10 times that of fatalities. So if we take the 2007 number above, its reasonable to suggest that 16,000 people are incapacitated in some way, and will most likely draw on the public health system. The cost to us all is staggering, not to mention the lifelong pain of losing a loved one.
While ANCAP doesn't have anywhere near the size of budget it should have, it does have a serious passion for saving lives on our roads and lobbies both governments and carmakers for constant improvements in car safety devices such as curtain airbags and Electronic Stability Control (ESC) as it prefers to label the feature.
Take ESC or Electronic Stability Program (ESP) as some call it, German authorities say that this remarkable piece of electronic wizardry can eliminate up to 80 percent of all skidding crashes and thus, 35 percent of all fatalities.
It's a similar story in safety conscious Sweden, where out of 500 road deaths each year, ESC can reduce fatalities by 80 to 100.
In the United States, with its enormous car population, up to 56 percent of all fatalities could be avoided with the fitment of ESC.
So why then doesn't the Federal Government make ESC and curtain airbags mandatory on all new car sold in Australia?
I don't have a good enough answer for you, but its something ANCAP is hoping the driving public in Australia will demand when they walk into a new car showroom.
Indeed, perhaps your first question to the sales person should be "What ANCAP star rating is this vehicle?" The same thing if you're a fleet buyer or even a tradesman, looking for a new van or utility.
The last crash test I attended was the optional Pole Test, which Mitsubishi opted to run for the current generation Lancer, at their cost, which achieved an ANCAP five-star rating.
I wrote about that experience and how truly violent and graphic it was when witnessed up close - a small car colliding with a steel pole which is lined up with the driver's head, at 29km/h sideways.
The Lancer is fitted with head protecting side airbags, which was a significant factor in the car achieving a five star rating and the reason you may well live through the real event if it should happen in your lifetime.
While many car companies have heeded the call from both ANCAP and buyers alike for safer cars, commercial vehicles have been slow to adopt such tried and proven safety systems.
The Ford Transit is a hugely successful product globally for Ford, made even more famous when the queen of the Nurburgring, Sabine Schmitz (she's famous for both her BMW M5 taxi rides and endurance racing) drove one around Nurburgring for the British TV series Top Gear.
While it's quite well equipped with creature comforts, safety wise, its not so good, at least with the standard specification, which includes driver's airbag and ABS with EBD only.
If you want a passenger airbag and side airbags, along with Dynamic Stability Control (DSC) with Traction Control, you'll have to option those, but at least they're available at a reasonable price.
Given the sheer number of tradespeople on the road each day, ANCAP rightly intend to test more commercial vehicles so that buyers will have more of a choice when it comes to safety, and the final purchase decision.
This ANCAP strategy can only serve to put more pressure on the manufacturers to include additional safety features as standard kit on these vehicles.
This particular test, which the media witnessed from a protected observation deck, is called the offset frontal crash test and simulates colliding with another vehicle at 64km/h. While you might not think it is all that fast, let me assure you, that the impact of a vehicle this size at this speed, is severe and absolutely terrifying.
As the Transit van collided with the crushable aluminium barrier, the force of the impact actually bounced the vehicle through 90-degrees, so it was facing an entirely new direction.
The test process is highly complex one and it takes three days to prepare the vehicle, with a large number of sensors wired up to the dummy occupants and back to sophisticated measuring equipment, which was secured in the cargo area of the Transit.
The dummies are also marked with various colours on different parts of their bodies, so as to provide noticeable points of impact within the cabin. Although both dummies connected with the dash on impact, there is not way of visually diagnosing the results until the crash data is properly analysed.
There is no question that each and every car crash is a result of many different factors involving both driver and car, but with enough safety systems on board as standard equipment, ANCAP strongly believe that both fatalities and serious injuries can be dramatically reduced.
We will publish pictures and the results of the Ford Transit crash test in a few weeks when the ANCAP results are known but until then, safe motoring.
ANCAP 2008 Ford Transit Crash Test