As you might recall, the Dakar Rally switches continents in January after almost 30 years, and Volkswagen is in Buenos Aires ready and raring to go with four specially prepared 2.5-litre TDI Touaregs for the January 3 kick off.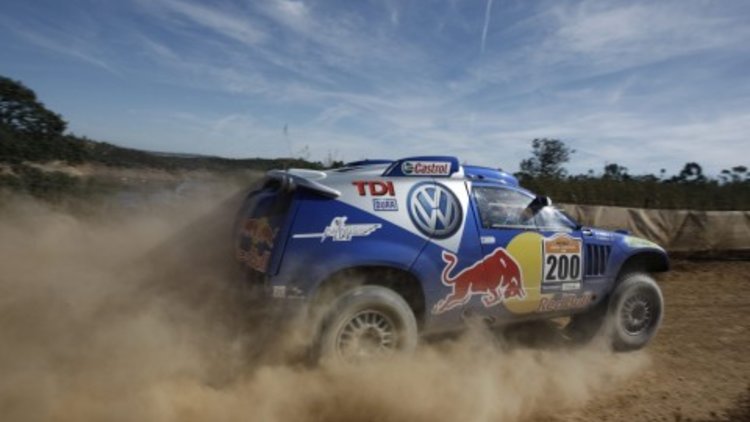 Fifteen competitive legs across 9,500 kilometres will take course from Argentina to Chile – from the Atlantic to the Pacific and back – through some incredibly tough terrain including twice crossing the Andres (at an altitude in excess of 4,000 metres) and a section of the grueling Atacama Desert, both certain to be just as testing as the original Dakar.
The Volkswagen Team this year will feature double World Rally Champion Carlos Sainz (Spain) will be navigated by the renowned cross-country rally co-driver Michel Périn (France); Giniel de Villiers (South Africa) – with four overall wins the most successful Volkswagen driver in cross-country rally sport – is partnered by Germany's Dirk von Zitzewitz; Mark Miller (USA) is teamed with Ralph Pitchford (South Africa) and there is an all-German duo in the form of Dieter Depping and Timo Gottschalk.
"The Volkswagen team is looking forward to the event with eager anticipation," says Volkswagen Motorsport Director Kris Nissen. "The Dakar Rally's debut in South America is one of the biggest challenges Volkswagen has tackled so far. We will be giving everything to add the greatest victory of all to the team's impressive tally of successes. Everyone in the team knows that we're strong enough to reach this goal. Yet the sport – and particularly the Dakar Rally – always offers surprises. We will work with concentration in order to prevail against strong rivals in extremely tough conditions."
The 2009 Dakar Rally gets underway from Buenos Aires on 3 January and finishes back in the Argentinian capital on the 18th.