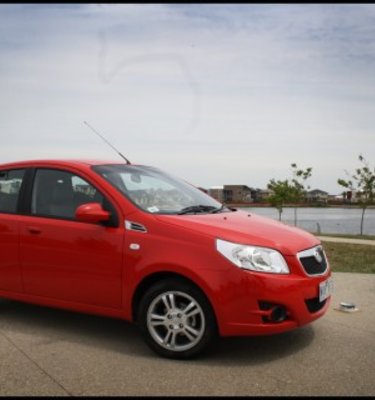 2009 Holden Barina Review
Looking for a deal on this car?
Holden Barina Review & Road Test
Safer, better looking, but stuck in a time warp
Model Tested:
2009 Holden Barina TK9 1.6-litre, four-speed automatic, five-door hatchback - $17,990 (RRP)
Options:
'Style Pack' - ABS & Alloy Wheels $1,190 (Fitted); Metallic Paint $400
Suits City Driving; Looks Good; Four-Star Safety Rating Cheap Interior; Storage Space; Child Seat Anchor Locations
CarAdvice Rating:
- by Rose Harris
There is no denying the fact that Holden has come under heavy criticism in the past for its woeful two-star ANCAP safety rating on the TK Holden Barina.
The new version, the TK9 (Model Year 2009), has seen Holden rectify its safety sins and double the star rating to four and kudos must go to the manufacturer for taking responsibility and improving safety of the small car.
However, it seems to me that the added two safety stars are where the improvements begin and end, and that the Holden Barina appears stuck in a time warp, especially when lined up against its competitors.
Let's talk safety improvements to begin with. The body-shell has been enhanced with three clearly defined load paths to absorb impact and offset front-end collision as well as support the entire structure of the passenger cell over a larger area.
As well, high-strength steel has been used to reinforce the B-pillar and side impact airbags are now fitted as standard. With these added safety features, the Holden Barina has come up to par with its competitors in the safety stakes - finally.
Despite the long list of safety improvements, I was still left feeling somewhat underwhelmed when I took the wheel of the new Barina.
It certainly doesn't feel modern and the plastic's cheap feel is quite prominent. I found myself constantly questioning why you would shell out good money for this when there are so many better options on the market in the same price range.
From the outside, the Barina looks good, it has the city-slick persona and it's silver side air vents and front grill fit in with Holden's new range and it looks, well, deceptively modern from the exterior.
Inside however is a different story. Holden have attempted to pretty up the insides by adding a silver trim along the dash and doors, but there is no hiding the budget feel of this vehicle.
I admit, it is inexpensive and you can only expect so much for the dollars you are shelling out, but having driven quite a few of the competitors, it seems as if Holden just isn't able to stretch that dollar as far as the others can.
There is minimal storage in the front, just a glove box; I like lots of spaces to put bits and pieces. Although they took a bit of finding, there are two cup holders which slide out from the dash and in place of the driver's side above-door handle is a little pocket to keep sunglasses which is a clever idea although mine didn't fit.
Something about the Barina just felt like I had stepped into the 1990s. Maybe it was the automatic gearshift on its long skinny shaft and the clunking nature of it changing through the selections, or it could have been the cheap-sounding indicator.
I will lay it on the table and admit I was once a Daewoo Matiz driver – and I was having flashbacks! Not surprising given the new Holden Barina is based on the old Daewoo Kalos and Daewoo, even masquerading under its Holden run title of GM-Daewoo, isn't exactly known for its luxury rides.
The seats are hard and uncomfortable and there is no footrest for the automatic driver. There is also no risk of information overload with the instrument panel providing the bare essentials.
However, back to basics can sometimes be an advantage with things like the fuel door release and bonnet release easy to find and use. The Barina does have power windows and mirrors which makes life easy and the mirrors are heated to ward off morning dew. The air-conditioning too is effective and reasonably quiet.
Visibility is quite good, and I didn't find too many dramas once in traffic however the A-pillar is a hindrance at pedestrian (zebra) crossings, seemingly in the perfect position to obscure those on foot.
The six-speaker stereo has reasonable tone and clarity offering a six CD tuner, auxiliary outlet and MP3 compatibility. The steering wheel audio controls include mode, seek and power (mute) but I found it a little strange that the volume controls are located on the side of the other controls, effectively putting them behind the steering wheel.
This type of small hatchback isn't designed for family living but I thought I'd give it a shot anyway. The TK9 has three child-seat anchors fitted but two seats would be maximum capacity and there wouldn't be much hope of fitting a passenger between two child seats across the back.
The positioning of the anchors is quite frustrating as they are located on the inside lip of the boot which means pulling anchor straps across the small load space.
I could just fit my three-wheel pram, after removing the wheels, but the anchorage location meant I had to load the pram, and then anchor the child-seats over it, which meant constantly undoing the anchor straps whenever a large item needed to be taken in or out of the boot.
The boot's 220 litres of storage would hold a load of shopping, but not a lot else and it was near capacity with the pram.
I was surprised at the rear legroom, it was more ample than I expected but that will always depend on how far forward or back you have the front seats.
In the driving department, the Holden Barina's 1.6-litre engine is most at home zipping about the city. The 76kW of power is seemingly ample in most situations though with only 145Nm of torque, it is a touch sluggish when fully loaded. I also found Barina takes a good while to get the revs up, but once in top gear (of which there are only four) it coasts along without a problem.
Also, and this may have just been the car I tested, but I found the steering wandered a little at speed and I was having to constantly correct it. The brakes too are also a sticking point for me; I really needed to stomp down on the pedal to come to a complete stop, which could be a little disastrous if you were not expecting it.
ABS is listed as a factory fitted option, an extra $1190 for ABS and 15-inch alloy wheels combined as part of the 'Style Pack'. Not sure why ABS is classed as 'Style'. On the upside, parking is no problem for the Barina; it swings into any space available.
Another box the small car has to tick in the competitive segment is fuel economy with cents being watched now more than ever, and the Barina almost succeeds in the area at 7.6 litres per 100km, which is good economy by general standards. However, something such as the Honda Jazz can flip those numbers around and offer 6.7L/100km - worth considering.
There is no doubt the Barina is a cheap little number with the three-door manual hatch starting at $13,990 and that combined with the lion badge will be enough for plenty of buyers to not look any further. For me it just falls short in too many areas and doesn't stack up against the competition.
CarAdvice Overall Rating: How does it Drive: How does it Look: How does it Go:
Pricing:
Holden Barina TK9 three-door hatch $13,990 (M); $16,790 (A)
Holden Barina TK9 five-door hatch $16,290 (M); $18, 290 (A)
Holden Barina TK9 sedan $16,290 (M); $18,290 (A)
Specifications:
Engine: 1598cc DOHC four-cylinder (16 valve)
Power: 76kW @ 5800rpm
Torque: 145Nm @ 3600rpm
Transmission: Four-speed automatic
Driven Wheels: Front
Brakes: Disc (F) / Drum (R) - (ABS optional)
Top Speed: Not Tested
0-100km/h: 13.7 seconds
CO2 Emissions: 182g / km
Fuel Consumption: 7.6 litres / 100km
Fuel Tank Capacity: 45 litres
Fuel Type: 91 RON Unleaded
ANCAP Rating: Four Stars
Airbags: Dual Front & Side
Safety: Seatbelt Pretensioners, Safety Cell
Spare Wheel: Full Size Steel
Tow Capacity: 750kg (Braked)
Turning Circle: 10.0 metres
Warranty: Three Year / 100,000km
Weight: 1,131kg (Tare)
Wheels: Alloy 15" (As Tested)
Looking for a deal on this car?
2009 Holden Barina Review