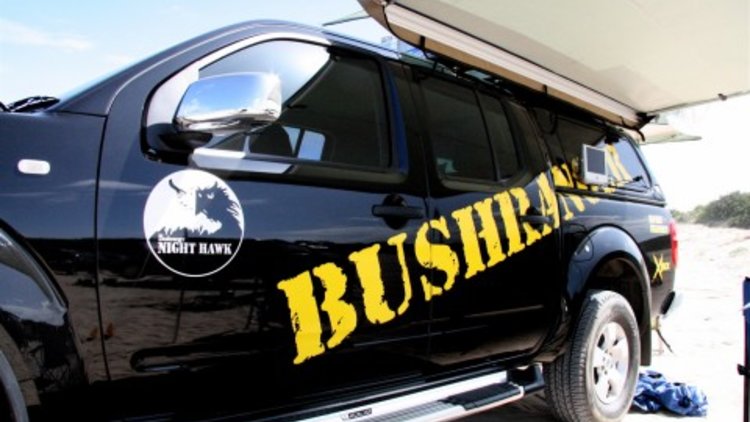 words and photography Anthony Crawford
There's no reason why you can't cross the Simpson Desert in your Subaru Forester or Kia Sportage provided you have the right equipment on board.
No joke, the guys from premium four-wheel-drive accessory brand Bushranger, took a Kia Sportage Diesel across that vast Australian desert last year, where it proved itself capable of negotiating the same harsh terrain as more serious off-roaders, such as the Nissan Patrol and Toyota LandCruiser.
That doesn't surprise me one bit after witnessing first hand, the extraordinary capability of Land Rover's Freelander 2, as it punished some harsh ground from Alice Springs to Kununurra, and the surprising rock crawl abilities of Hyundai's Santa Fe CRDi on some steep tracks off Blackfellas Road in New South Wales.
These so called "torque on demand" SUVs are light and have proven to be highly versatile off road contenders, but venture off the beaten trail into some deep sand or mud, and things may well come to a grinding halt.
That's no cause for panic according to Bushranger Chief Executive Office Evan Black, who doesn't dress like any CEO I've ever met before. I doubt whether Evan gives a toss about Zegna suits or a pair of Barker shoes, but when it comes to well-made 4WD kit and preparing your SUV for off road duty, this is your man.
Bushranger have developed a range of inexpensive off-road accessories, which will allow you and your SUV to tackle some of the more hostile terrain without the fear of getting bogged in the middle of nowhere or worse still, floating away off Stockton Beach on a king tide!
Obviously common sense comes into play no matter what you're driving off-road, but for less than $1000, you can be well enough equipped to get your soft-roader out of most bogs.
After witnessing the various recovery methods yesterday at the Kurnell sand dunes I'm surprised at how effective these relatively simple devices really are.
Even before you venture onto the dunes in your home state, you'll need a decent set of all-terrain tyres, such as the BFGoodridge Long Trail T/A rubber fitted to a Mitsubishi Outlander at the event.
Essentially a road tyre for all kinds of SUVs, including the Honda CRV, Nissan X-Trail, Hyundai Santa Fe, Toyota RAV4 and even the heavyweight Toyota LandCruiser, they are also perfect for traversing sand dunes.
That is, provided you reduce the tyre pressures enough to provide a suitably wide footprint so that the vehicle rolls across the sand rather than the tread biting into it. That's precisely why a light SUV without "low range" can be effective on the dunes.
That said you should check the conditions before screaming off over the sand as optimal tyre pressures may vary depending on how the surface is packed. This is particularly so in drought conditions, when the sand can be incredibly soft and dangerous, especially for all-wheel-drive vehicles without the aide of low range.
Some sound advice from Mick McCulkin of Tri State Safaris who often works with the Bushranger development team, who says to lower your tyres to around 20psi before hitting the dunes and then if you need to, drop them further by 1psi increments only.
Bushranger reckons that the ideal recovery kit would include a decent quality snatch strap, a couple of bow shackles and a 12V powered air compressor (with tyre pressure gauge) for reinflating tyres once you come off the beach.
But they also advise to kit up with some additional items such the wonderfully effective X-Tracta hand winch, which with a little bit of elbow grease can pull you out of almost anywhere.
Dig a little deeper into that recovery kit, and you might find some sand tracks, a tyre repair kit (a must at $39 and dead easy to use) and one these marvellous inflatable jacks called the Xjack Exhaust Jack, which any able bodied person, no matter what age can use effectively, within seconds.
Let's just say you wake up one morning and decide to plan a trip from Alice Springs across to Western Australia in your Nissan X-Trail. You might want to add a set of side steps. Always thought those things looked like 4WD accessory overkill to be honest, but how wrong was I.
As well as being helpful for getting in and out of your SUV or reaching the luggage (even washing it), they provide panel and paint protection from the constant pounding by stones kicked up by those brutal corrugations you so often find in the Outback.
Driving lights are relatively cheap and should be mandatory, if you intend covering long distances in remote areas. They will afford you 'road ahead vision' so that you may avoid colliding with wildlife together with providing plenty of warning for Road Trains, which inhabit those parts. These can be fitted to Bushranger's brilliantly compact XBar without affecting the car's integrity.
Another mandatory inclusion for outback touring would have to be a jerry can or two, for additional fuel and/or water, and don't forget a comprehensive first aid kit, there are a thousand reasons to have one of these on board.
I know this piece might sound like an advertorial for Bushranger but with so many innovative and useful products and such passionate people producing quality products, its hard not to want to give this outfit a plug.
Take their new Wheelie Bin, made from tough PVC it attaches to the rear door-mounted spare wheel, and can be used for temporary storage of wet rubbish or anything wet keeping it outside the vehicle!
If you're used to penthouse living and happen to be up north fishing for Barra' in a river where the odd crocodile may call home, then you'll want to kit up with Bushranger's Open Sky rooftop tent.
It's a brilliant product, which will have you and your partner sleeping under the stars, on top of your vehicle's roof, away from those nasty snakes, crocs and scorpions but with a gentle breeze keeping you cool at night. It even has its own extendable ladder, which is a good deal sturdier than my Bunnings version at home.
Nothing like a hot shower after a day's driving in the outback or perhaps a surf session on a secluded break. No problem, with just a two-connection plug in hose and a drum of water, you can have hot flowing water from a proper showerhead. They call that product The Bushranger Hot Water Shower - what a surprise!
If you are planning to take your SUV on an off-road adventure you might want to at least contact the guys at Bushranger www.bushranger.com for some sound advice on what they reckon you should take with you depending on where you intend travelling.
Whatever brand of 4WD gear you end up buying, make damn sure it's a quality item and not a cheapie, otherwise it could cost you big time.
Bushranger 4WD gear gets serious with SUVs