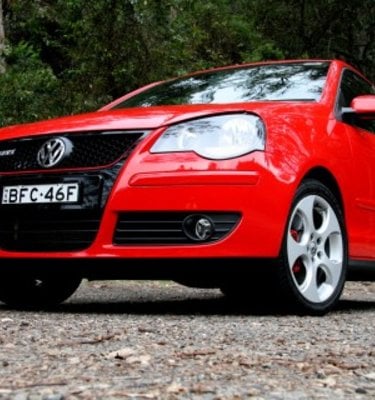 2008 Volkswagen Polo GTI Review
2008 Volkswagen Polo GTI Review & Road Test
"The Polo GTI is a stand out package with potent performance at a price that won't break your bank balance"

Model Tested: 2008 Volkswagen Polo GTI three-door hatch, five-speed manual - $26,990
Options: None fitted
Performance, quality and price
Lackluster interior and notchy gearshifts
CarAdvice Rating:
By Anthony Crawford
From front on, it looks like its big brother, the much praised and revered turbocharged Golf GTI. That would be due to the almost identical black honeycomb grille with red outline, complete with fog lamps and slightly smaller 16-inch (Denver) alloys.
However, despite the twin chrome exhaust tips, rear roof-mounted spoiler and "GTI" badge, the rear styling misses out on that aggressive stance that the front of the car adopts and instead, looks a little too cute for my liking. Perhaps it's the lack of a diffuser style skirt or even the rear tail-light assembly, but it just falls short.
It's not quite the 'tuned' look of its harder edged and more powerful sibling, but with the chassis lowered 15mm over the standard Polo, and riding on low profile 205/45 rubber, it does look a little menacing in your rear vision mirror as you struggle to identify it from the Golf GTI.
There's no leather trim in this option-free specification and that doesn't bother me one bit. No scorched buttocks or burnt inner thighs on those steamy summer days is one reason and the classic GTI 'Interlagos' cloth, is another. There is a superb three-spoke sports leather steering wheel and gaiter, complete with matching red stitching, which does highlight the GTI pedigree albeit discretely.
And while grey is the dominant colour inside the Polo's cabin, additional red stitching on all seat belt straps and various metal highlights do their best to add a little drama to a rather lacklustre interior.
Perhaps I'm being too harsh a critic, as some would argue that the minimalist approach to switchgear and air-conditioning controls in the Polo GTI allows you to better focus and thus exploit the wonderful chassis with which this car is blessed.
There's absolutely no mistaking this edition of the Polo for anything other than a hot hatch, as you strap yourself into the heavily bolstered front pews, throw this car into a corner and you won't budge.
While it looks decidedly harmless from a side on view, make no mistake; this scaled down Golf GTI packs a sting and a half. With the same 1.8-litre, turbocharged, in-line four-cylinder engine that powered the Mark ΙV Golf GTI up until 2004, performance is class leading.
That's not surprising, weighing in at just 1164kg with 110kW and a highly usable 220Nm of torque coming on song at just 1950rpm, this pocket rocket will leave you with a great big grin on your face.
Drive it with a decent dollop of enthusiasm and acceleration from a standing start will leave many larger capacity cars in the dust. Where this thing really shines is its impressive mid range punch and third gear through to fifth will make you wish you were at Eastern Creek on a track day.
Top speed is a license cancelling 216km/h and that all important 0-100 sprint takes just 8.2 seconds although, I'm aware that faster times of below eight seconds have been recorded.
While I can think of very few flaws in this little 'go fast' package, one would have to be the slightly notchy gearbox but it's still a quick shifting unit in the hands of any enthusiast.
Despite its relative light weight, Volkswagen has chosen to go with some overly large rotors for fade free braking and quick stops. You want to hope that in the event of an emergency stop, you don't have a tailgater behind you, such is its stopping power.
The suspension and handling is well sorted, too, and after a few runs up a particularly twisty section of well-cambered road, I was more than impressed with the car's flat cornering.
The Polo GTI eats bends for breakfast, lunch and dinner, and does so with consummate ease. There's little bodyroll and the car is just so nimble and planted in and out of corners, thanks in part to its pinpoint accurate steering and suspension tuning.
If it's possible to drive this car without a trigger happy right foot, then you may well see fuel economy numbers close to 8.0-litres/100kms and an environmentally friendly CO2 emission output of just 190g/km.
As a three-door only car, you might be asking yourself if the Polo GTI is practical enough for a small family. The answer is yes, yes, yes. The front seats fold and slide forward with the slightest of effort, opening up a wide aperture for kids and adults alike to take their rear seat positions with stacks of head and legroom.
Even with the rear seats left upright there's still plenty of space for the weekly grocery shopping. Lower the rear seats though and luggage volume expands to a massive 1030 litres, large enough to carry two surfboards or a mountain bike.
There's a stack of creature comforts in the car and like in all current Volkswagens, the standard audio system with eight speakers produces an excellent note across the range. My only gripe on this front, is the lack of either an auxiliary input or better still, a dedicated iPod connector as standard equipment, given the massive penetration of this Apple phenomenon throughout the world.
There's no centre console box either, but there are large sliding draws under each front seat and a stack of clever storage spaces to more than make up for the loss. You'll also like the innovative front cup holder too, which magically pops out of the fascia.
Safety wise in this light car segment, you can't go wrong with the Polo. Six airbags including driver and front passenger airbags, driver and front passenger seat mounted side airbags and curtain airbags front and rear are class leading.
Active safety systems are equally well covered with the Polo GTI sporting ABS brakes and electronic brakeforce distribution along with Electronic Stability Program (ESP) with Anti-Slip Regulation (ASR) and Electronic Differential Lock (EDL).
The paintwork on our Polo GTI test car for those interested, is called 'Flash Red' one of just two flat colours in the range of five on offer although, Black Magic or Reflex Silver, are by far the stand out paint jobs for this model.
"If you do your homework its highly doubtful you will come up against another performance hatch close to this price, which crams so much 'go' into such a small package as does the Polo GTI"
CarAdvice Overall Rating: 4/5
How does it Drive: 4.5
How does it Look: 3.5
How does it Go: 4.5
Specifications:
• Engine: 1781cc four cylinder inline petrol
• Power: 220kW @ 1950rpm
• Torque: 110Nm @ 5800rpm
• Induction: Turbocharger
• Transmission: Five-speed manual
• Driven Wheels: Front
• Brakes: Front ventilated discs/rear sold discs, ABS with EBD
• Top Speed: 216km/h
• 0-100km/h: 8.2 seconds
• CO2 Emission: 190g/km
• Fuel Consumption: 7.9 litres per 100km
• Fuel Tank Capacity: 45 litres
• Fuel Type: 98RON petrol
• ANCAP Rating: Four star
• Airbags: Dual front and side, curtain airbags front and rear
• Spare Wheel: Full size alloy
• Turning Circle: 10.6 metres
• Warranty: Three-year/100,000km
• Weight: 1190 kg (Tare)
• Wheels: Alloy 16 x 6.5-inch with 205/45 R16 tyres
2008 Volkswagen Polo GTI Review