You might recall that some time back we bought you news of Jeep's intention to build an uncompromised multipurpose non-military variant of the Wrangler to be known as the J8.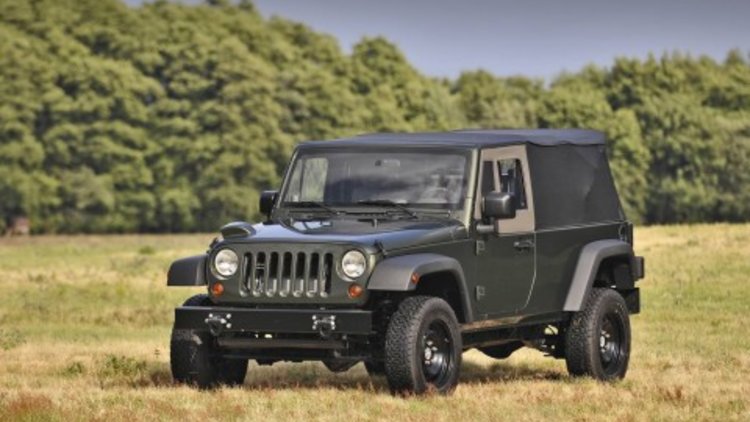 The vehicle, which is to see action in work for groups such as aid and humanitarian type organisations, geological survey teams and other miscellaneous commercial applications has today been officially announced as ready to build with the vehicles to come from Chrysler LLC and the Arab American Vehicles Company (AAV) Cairo assembly plant.
"We're pleased to recognise this important milestone and the role of both Chrysler and the Arab Organisation for Industrialisation," said Hussein Mustafa Mohamed, Chairman, Arab American Vehicles Co. "The launch of the incredibly versatile Jeep J8 and the anticipated demand for its export is an economically significant event for Egypt."
The Jeep J8 marks the brand's return to commercial and military vehicle production with a vehicle designed to meet the needs of both government and non-government organisations and agencies.
Available in two-door extended pickup bed, or a four-door multipurpose configuration the J8 will be produced with numerous vehicle-body and seating configurations in either right or left hand drive.
"The Jeep J8 combines legendary capabilities and dependability that makes the Jeep Wrangler and Wrangler Unlimited famous, with unmatched cargo capacity and an exceptional towing rating," said Thomas Hausch, Chrysler LLC Vice President - Europe, Middle East and Africa. "The Jeep J8 is also an exceptional value, priced below other vehicles designed for humanitarian and military work. Jeep vehicles debuted in 1941 as the workhorse of the military. The Jeep J8 brings us back full circle. With a 67-year reputation for off-road capability and utility in both civilian and military applications, Jeep is the benchmark."
Based on the MY08 Wrangler Unlimited the frame has been reinforced and allow payloads up to 1,339 kg. Axles, brakes and suspension components are engineered specifically for more demanding military and civilian government use, including utilising a leaf spring suspension in the rear.
Under the bonnet a 2.8-litre four-cylinder turbo diesel engine produces 118 kW and 400 Nm to allow a 3,500kg towing capacity. Power is delivered through Jeep's Command-Trac 4x4 system. The engine is mated to a five-speed automatic transmission.
The J8 also features a bonnet mounted snorkel that affords it a 762mm wading depth, and with a special air filtration system, can operate in sandstorm conditions for up to five hours.
Although the J8 is not intended for combat situations, it is armour capable and with its heavy duty bumpers and tow eyes (as seen on the Hummer H3) can be easily transported by airplane or helicopter.
Despite the J8's obvious intended purpose, we can't help but wonder if it'll become the next Hollywood style Hummer-esque vehicle of choice.
Jeep J8 production under way