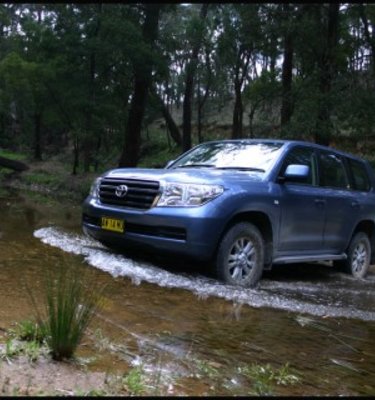 2008 Toyota LandCruiser GLX Turbo Diesel review
2008 Toyota LandCruiser GLX Turbo Diesel Road Test
This hybrid-esque, fuel efficient monster ticks all the boxes.
Model Tested:
2008 Toyota LandCruiser GXL Turbo Diesel 6-speed automatic - $81,328
Options:
Amazing fuel economy; interior room; towing ability; off-road capability Lack of features; price; interior/exterior design
CarAdvice Rating:
- by Paul Maric
At a time when fossil fuel reserves are dwindling and traffic congestion is increasing, it's anyone's guess why four-wheel-drives are still popular amongst the masses.
One of the most popular serious 4WDs is the Toyota LandCruiser. With a steady history in Australia, the LandCruiser is renowned for its durability, versatility and ease of operation.
So I saddled up in the GXL, turbo-diesel variant to see if there was any logic to the purchase of such a massive 4WD.
Throw in a bit of mud-flinging out in the bush, a little bit of city driving and a stint of mountain driving and you have yourself a fully fledged road test.
Toyota has thumbed its nose at the public in something of show of corporate arrogance and prices have increased sizeably from the previous generation LandCruiser, while features have decreased.
It's Toyota's belief that people who want to buy the LandCruiser will do so, regardless of its price.
That's why it astounded me somewhat to see very little in the way of features in the GXL model. Despite the face that it's a base model, it really did lack common features you would find in other $80,000+ 4WDs.
However, I bit my tongue and went on, in the hope of seeing what the LandCruiser was really about.
Climbing into the 'Cruiser is a bit of fun, with the big step up from terra firma being eased by grab handles. Once onboard, a rather pretentious starter button is used to fire up the behemoth.
Under the bonnet lies 4.5-litres of twin-turbocharged V8 diesel engine. Producing a staggering 650Nm of torque and 195kW of power, you would expect the LandCruiser to chew through fuel. Not quite.
In fact, I was astounded at how little fuel it actually used. Although there was no trip computer in the base model, I calculated the fuel use to be just under 10.0 litres per 100km – amazing.
Towing is also taken care of courtesy of a 3.5-tonne towing capacity. Considering the torque, you could be towing a small house and it would be hard to notice the difference in pulling power.
The new LandCruiser is also quite driveable for such a large 4WD. It will be the first off the lights when lined up next to pretty much anything. Even with a full load of eight people on board, the LandCruiser moves along briskly with little hesitation.
Brakes are an important factor on a rig this size and you will be pleased to hear that Toyota has covered this aspect. Measuring 340mm at the front and 320mm at the rear, the brakes pull up the LandCruiser in remarkable fashion.
Jump on the anchors and the front end tips forward, bringing the meaty Toyota to a halt in no time.
As you would expect, corners are met with distaste. There is a considerable amount of body roll and sudden changes of direction are certainly not recommended! That goes without saying though in a vehicle this size.
Off the beaten track, the LandCruiser can't be beaten. With dedicated 4WD and a myriad of gizmos and gadgets, there is little stopping this 2.7-tonne monster when it comes to climbing muddy hills and tackling river crossings.
The petrol variant gets a 'Crawl' feature, which works both in ascent and descent. Crawl allows the vehicle to climb a grade at three different speeds. The computer manages the traction control to allow maximum grip and limited slip.
Although the diesel variant doesn't get Crawl, it does receive Downhill Assist Control (DAC), which modulates the ABS to bring the LandCruiser down a hill in an orderly fashion.
The interior is a bit of a mixed bag. It is well built and feels sturdy, but is covered with plastic and looks extremely dated – especially the radio fascia! It looks as though it was sourced from the first iteration of the much maligned Avalon.
There were also a few build issues with the airbag surround. The front curtain airbag cover was loose and could easily be pulled back to expose the pyrotechnics – not very pleasing upon first inspection.
Hauling luggage and people is the LandCruiser's forte though. With an ability to seat eight people , plus ample luggage space, it's not hard to see why this Toyota is so versatile and during the loan, I loaded eight adults in the car. It was bit hard for the third row of passengers to get in and out, but once settled they were quite comfortable.
The LandCruiser range comes in three variants, the GXL, VX and Sahara. Pricing ranges from $70,735 for the V8 petrol GXL, right up to $107,809 for the turbo-diesel Sahara.
The model tested by CarAdvice retails at $81,328 and each model carries a $10,593 premium for the diesel engine.
Although the price difference is massive just for the engine, it is worth every cent. It is extremely superior to the V8 petrol version, which – as you can imagine – goes through a tremendous amount of fuel.
Despite the shortfalls in features and the higher price, the LandCruiser Series 200 is a good purchase for those after a serious 4WD that offers serious grunt and bucket loads of room.
Just bypass the base model though, it really feels quite cheap when you consider the asking price. Your best bet is to stretch to either the VX or Sahara model.
CarAdvice Overall Rating: How does it Drive: How does it Look: How does it Go:
Specifications:
Engine: 4461cc V8
Power: 195kW @ 3400rpm
Torque: 650Nm @ 1600rpm
Induction: Twin turbocharged
Transmission: Six-speed automatic
Differential/Driven Wheels: All-wheel-drive
Brakes: ABS with BA
Top Speed: N/A
0-100km/h: N/A
0-400m: N/A
CO2 Emissions: N/A
Fuel Consumption: 10.3L/100km
Fuel Tank Capacity: 93-litres
Fuel Type: Diesel
ANCAP Rating: N/A
Airbags: 10 airbags
Safety: ESP with TC
Spare Wheel: Full size
Tow Capacity: 3.5-tonne
Turning Circle: 11.8-metres
Warranty: 3-years/100,000km
Weight: 2720kg
Wheels/tyres: 17-inch, 285/65 R17
2008 Toyota LandCruiser GLX Turbo Diesel review