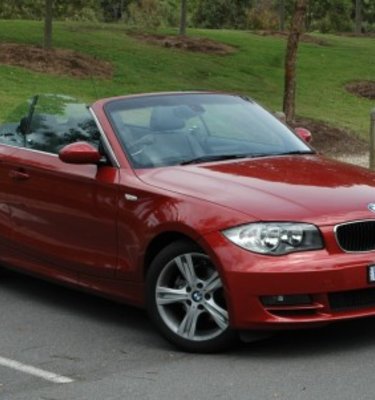 2008 BMW 125i Convertible Review
2008 BMW 125i Convertible Review & Road Test
Sexy, Powerful, Classy and Affordable!
Model Tested:
2008 BMW 125i Convertible 6-speed Auto - $66,721
Looks, performance, handling, practicality, price, iDrive
Options list, not the 135i
CarAdvice Rating:
- Words by Alborz Fallah - Photography by Tristan Schoonens
There is a whole world out there that many are completely unaware of. You see, if you're actually reading this, you probably already know a car is not simply a tool to get from A-to-B, it's a statement of individuality, it's a statement of passion.
The car that you drive day to day defines you, you spend countless hours in it and it gives others a basic first-impression of who you are. These days when image can be the difference between success and failure, the car has become the ultimate tool for self-expression.
Of course, this brings us to the ultimate question and the reason any of us here at CarAdvice have a job. Which car should you buy that can give you the best of both worlds, practicality and presence? Of course some of us want a little more than just presence, sure it's fun to have a good-looking car, but what's the point if you can't take the roof off?
The convertible lifestyle is one that is shared by a few and envied by most. Nothing can revitalise the soul more than a drive through beautiful roads as the gods smile down on you.
There are a fair number of convertibles on the market today, much more than at any other time. You can start with the Peugeot 207CC, there is the European offerings from Ford and Holden and you have the likes of the Volkswagen EOS and the Volvo C70. Then, of course, you have the serious Germans, such as BMW. The model range begins with the BMW 1-series convertible and goes all the way to the glorious (and topless) M6.
The weather was beautiful in sunny Brisbane, so with a little help from our friends at BMW, I decided to find out exactly how it feels to live with a convertible for a week.
The test car was a gorgeous 125i optioned with BMW's six-speed automatic transmission with racing style gearshift paddles mounted on the steering wheel. But let's stop here for a second.
Before you buy a convertible you have to decide a few things. Firstly, why are you buying it? Is the convertible factor the only reason? Do you also value driving dynamics and road presence?
There are convertibles and then there are convertibles. The BMW 1-series range has some times been referred to as the 'poor' man's 3-series, which is far from true. Initially, even I had asked for the 3-series convertible for the test as I figured a 1-series might not be adequate, and then came the surprise.
The Volkswagen EOS has long been my favourite reasonably priced convertible, it's simply a brilliant car, but there is one annoying feeling that always pops up in the back of my head. Where is that power going, to the front of course?
The BMW 1-series convertible starts at just $52,900 for the 120i manual, which is powered by a 2.0-litre engine putting out 115kW and 200Nm. Not a lot, but for $52,900 for a Beemer convertible, it's a great start.
Here is the first thing you need to know about the 1-series convertibles, like every other BMW, a 50:50 weight distribution is the aim with a front engine rear-wheel-drive setup. Don't be fooled by the sporty credentials of other convertibles; in fact simply don't be fooled by the front-wheel drive myth. Given a short wheelbase a front wheel drive can be sporty, but why sacrifice handling when there are alternatives?
The EOS and the Audi A3 cabriolet, the 1-series' rivals are both driven through the front wheels. You can argue all you like, but the final outcome is simple, regardless of how you look at it, you'd rather be driving a rear-wheel drive (or all-wheel-drive) than a front wheel drive, especially if handling and dynamics are a requirement.
Here then, is where BMW shines. The 1-series convertible can easily be labelled a practical car for anyone that still feels young at heart. Not only do you get to enjoy the convertible lifestyle but you're also in charge of a sports car.
The 125i test car sits in the middle of the 1-series range. Despite the 125 badge, it's actually powered by a 3.0-litre, in-line six-cylinder engine, which puts out a very respectable 160kW and 270Nm. All of that means it will get from 0-100km/h in just 6.9 seconds (manual), and let's be honest that's pretty quick. Quick enough to easily beat its German rivals from VW and Audi.
However, it's not just about straight line speed, it's about driving dynamics, handling and character. Perhaps the only other convertible within a reasonably similar price range that can compare to the 1-series' handling finesse, is the Mazda MX-5, but as I am sure you realise, these two cars are worlds apart.
Let's just ignore the numbers for now, because I want to tell you what it feels like to 'own' a 125i. First there are the looks. From the front the 1-series looks like a more aggressive version of its bigger brother, the rear is a matter of taste. Like most cars I review, I leave judgement to my panel of 'experts' a selection of four females aged between 21 and 45 years and four men aged between 22 and 51 years. The vote for looks; well it was six to two in favour of the 1-series.
Sitting inside, there is a whole lot of black. From the steering wheel to the seats to the dashboard to pretty much everything else. It can be a little overwhelming at first. Seats are comfortable and provide excellent side support for those spirited drives.
The iDrive system is a breeze, this car is aimed at successful young city-folk and unless you're still incapable of operating your mobile phone, the iDrive requires no manuals or any other instructions.
Driving around Brisbane, whether it's late on a Saturday night through the crowded streets of Fortitude Valley or on a quite Sunday drive up Mt Glorious, the 125i definitely turns heads. The "multi-layer, highly insulated, electro-hydraulically folding fabric roof" takes just 22 seconds to operate and even works at speeds of up to 40km/h.
Speaking of the roof, it's available in black or beige, or if you so desire, in anthracite finish complete with a silver effect. This BMW only feature gives a rather unique sparkling finish.
Take one for a drive around some twisty roads, with the roof off of course, and you'll soon start to fall in love.
Corner after corner, the 125i is a delight. I'd hate to make such a ridiculous comparison, but the 1-series' chassis rigidity somewhat reminds me of the Aston Martin Vantage convertible, a car that in my eyes defines convertible finesse.
The six-speed automatic gearbox is best left to its own, although you can play with the perfectly mounted gearshift paddles, I found it much easier to simply let the car do its own work, even during enthusiastic drives.
I took the 125i around Mts Nebo and Glorious and even though it's no M3 convertible, the car behaves itself quite well with minimal body roll through corners and great steering response. Power is linear and the engine delivers a sweet sound when pushed.
That said, this is a convertible for city dwellers, even though it's just as comfortable on the highway as it is stuck in a traffic jam, and the benefits of such a compact design mean it's easy to park and navigate around town.
Some look at BMW as a brand too technical for its own good, many fail to realise that Germans have soul too. BMW prides itself on making every one of its cars sporty. If that weren't true it would have long ago gone for a front-wheel drive layout to save cost. So before you start wondering why you shouldn't go for the Audi or VW instead, think about that for a minute.
Practicality is a given. If you don't have kids, the 1-series convertible is easy to live with. The boot (260-litres of space with the roof folded) provides enough space for a week's shopping or two golf bags. If more is required, an additional 45 litres of space is available with the roof up.
The back seats can take two adults without too much hassle (although not recommended for long trips).
Fuel consumption is mixed, drive it with a little bit of flare and expect around 11L/100km, officially it uses 9.1L/100km. The 125i can run on 91RON to 98RON petrol but 98RON is recommended.
I would usually not bother to mention the safety as it's top notch from brands such as BMW but to put your mind at ease, the 1-series has received five-star rating in European crash tests. The range comes standard with six airbags - two dual stage front airbags, two side airbags and two head airbags - plus a whole heap of other safety features.
Being a BMW, the options list is simply enormous, this has long been the biggest criticism of all German manufacturers, as the starting price can be somewhat optimistic by the time you've optioned up your dream car.
My only real complaint with the 125i is that it isn't the 135i! Although an extra $16,000 is needed to upgrade, the twin-turbo, 3.0-litre engine is far too tempting to resist for anyone that takes pride in his or her car's performance. I suggest that you don't drive the 135i if you are looking at the 120i or 125i as the range-topper will simply blow your mind and you'll be forced to gather that extra $16K!
After one week with the 125i, I came to the conclusion that although it's more expensive than its rivals, the rear-wheel-drive dynamics, coupled with the car's good looks make it the better choice. You can take it to the beach, a night on the town, or even down the road to get the week's shopping. You will not feel as though you are limited in what you can do just because it's a convertible.
If you want to reinvigorate your soul at a low price, but one that gives you entry into an exclusive club, then a 1-series BMW convertible should be at the top of your shopping list.
The question I have to ask myself; can I live with a 1-series BMW convertible as a day-to-day car? Sure, as long as it's the 135i!
CarAdvice Overall Rating: How does it Drive: How does it Look: How does it Go:
Specifications:
Engine: 2,996 cc six-cylinder in-line 24 valve
Power: 160kW @ 61000 rpm
Torque: 270Nm @ 2500 rpm
Induction: Naturally aspirated
Transmission: six-speed automatic transmission with steering wheel paddles
Differential/Driven Wheels: Rear
Top Speed: 236km/h
0-100km/h: 7.5 seconds(6.9 manual)
CO2 Emissions: 217g/km
Fuel Consumption: 9.1L/100km combined
Fuel Tank Capacity: 53-litres
Fuel Type: 98RON petrol (recommended)
EuroNCAP Rating: Five star
Airbags: Six
Tow Capacity: 1200kg braked, 700kg unbraked
Turning Circle: 10.0 metres
Warranty: 3 year/unlimited kilometre
Weight: 1540 kerb
Road Test the Rivals:
2008 BMW 125i Convertible Review