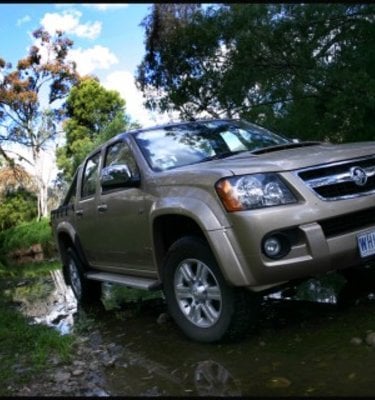 2008 Holden Colorado LT-R 4x4 Review
2008 Holden Colorado LT-R 4x4 Review & Road Test
Strong and efficient but a touch underdone
Model Tested:
2008 Holden RC Colorado LT-R Crew-cab, 3.0-litre, turbo- diesel, 4x4 automatic - $47,990 (RRP)
Options:
Metallic Paint $300 (Fitted - Imperial Blonde)
Towing capacity, strong & economic diesel Fit & finish, suspension set-up, engine noise
CarAdvice Rating:
- by Matt Brogan
It would seem that the Holden Rodeo and Chevrolet Colorado have eloped to Thailand and returned with a cut-price bastard love child; introducing the all new Holden Colorado.
Although it is essentially based on the Rodeo platform, albeit with re-pressed Colorado sheet metal, Holden's new light commercial is altogether a different machine, and despite looking markedly familiar from the outside at least, is not quite as well screwed together as I recall its predecessor being.
The upshot of this is that the Colorado has a marginally cheaper price tag than the Rodeo, which may appeal to some, but as with most things made for a price, there is a great deal of compromise apparent, not a good thing with competition so close.
Being the range topping LT-R tested, our Colorado offers side and rear steps, alloy wheels, front mud flaps, front fog lamps, remote central locking, six-disc CD tuner, trip computer, cruise control, power windows and mirrors, tilt adjustable leather clad steering wheel, cloth trim and air-conditioning, but get up close and personal and it is evident that the finer points of the Colorado are a little on the underdone side, in fact were it a steak, it'd still be mooing.
The interior is cheap and nasty, with harsh, poorly finished plastics, low grade cloth, crude switch gear (especially on the ventilation controls) and a general discontinuity of décor and tone that wreaks of parts bin throw together. I also had the lower dash fascia come off on to my feet on day one of our time together - not a good start.
Now sure, I'm being a little critical here, but it's not entirely undeserved, for my week and a half with the Colorado have presented quite a few issues, the sum of which have left a bad taste in my mouth.
The steering has unusual and unnerving neutrality for about 30 degrees each side of centre before progressively firming through the remainder of the turn. Although at lower speeds this may well be convenient, it is an undesirable sensation at highway speeds – especially when overtaking.
Match this to a longer than necessary ratio and you will find small corrections and even lane changes on the open road require far more input than should be appropriate – not to mention the bus-like 12.6 metre turning circle.
ABS calibration is noticeably overly eager, almost instantaneous, which can make for some awkward moments when negotiating undulations or steep descents off-road, though on the black stuff it seemed of little bother, applying itself well to the urban environ.
Some of the more trivial issues include reversing sensors that are not to be trusted and Bluetooth reminiscent of an after-market installation from a phone retailer (affixed to the top right-hand side of the windscreen). Incidentally, I could not pair this to my phone for love or money.
The six-CD audio system is weak of tone considering this is the top-of-the-range model and also offers poor reception, add to that the fact that the display cannot be read during daylight hours and you've got a recipe for one unhappy road tester.
Instrumentation lighting cannot be dimmed with the remainder of the dash and is also of a contrasting colour to ancillary controls. This shouldn't worry you too much though because the headlamps are like candles in jam jars so should you wish to travel at night you'll be far too focused on what's happening in front to worry about panel lights.
There's a curious harmonic resonance at 110km/h, which sees a pulse or vibration if you will travel through the steering column and into your wrists, it also obscures the reflection from the rear-view mirror.
The back seats are quite upright and not well padded which makes for a bone jarring ride, especially off-road, and are in all honesty only really suitable in terms of width for two adults.
On the bright side, the 3.0-litre, 120kW, common-rail, turbo-diesel engine, despite being rather raucous, is quite strong and offers a steady 333Nm from just 1600rpm. It's a comfortable performer on the open road or under load though sadly is let down by its four-speed transmission.
The automatic gearbox offers no selectivity (manual mode) and despite being quite smooth of shift, is too delayed in kick down, often jumping back two gears instead of one to counter the poor reaction time. Still it somehow affords the Colorado decent fuel economy with our 10-day test returning 10.2 litres per 100km with combined use on and off road, city and highway (variable loads including some moderate towing).
Suspension is a lot softer than is usually expected of a light commercial, which comes compliments of a torsion sprung wishbone front and rigid leaf rear arrangement meaning Colorado offers an abundance of body roll. This not only effects handling, but off-road capability and steering input when towing as well (payload is claimed at 968kg and all diesel Colorados now offer a 3000kg braked towing capacity).
The Colorado LT-R is equipped with dual front airbags, the aforementioned ABS, and offers a three-star ANCAP rating. Though we hasten to point out that ANCAP based these results on the Rodeo with the Colorado having not yet seen testing.
It's unfortunate that the Colorado has seen a slip in the standards that made the old Rodeo such a credible contender in this category and though I don't want to sound like I'm putting the boots in, the Colorado is what it is and competition is very tight - so shop the market thoroughly before buying.
CarAdvice Overall Rating:
How does it Drive: How does it Look: How does it Go:
Specifications:
Engine: 2999cc OHV four cylinder (8 valve)
Power: 120kW @ 3600rpm
Torque: 333Nm @ 1600rpm
Induction: Common-rail & turbocharged
Transmission: Four-speed dual-range automatic
Differential/Driven Wheels: LSD/four-wheel
Brakes: Disc/drum, ABS with EBD
Top Speed: Not Tested
0-100km/h: 16.8 seconds
CO2 Emissions: 237g/km
Fuel Consumption: 9.0 litres per 100km
Fuel Tank Capacity: 76 litres
Fuel Type: Diesel
ANCAP Rating: Three star*
Airbags: Dual front
Spare Wheel: Full size alloy
Tow Capacity: 3000kg (Braked)
Turning Circle: 12.6 metres
Warranty: 3 year / 100,000km
Weight: 1932kg (Tare)/968kg (Payload)
Wheels: Alloy 16 x 7.0-inch
*ANCAP test result based on Rodeo as Colorado has not yet been tested.
Road Test the Rivals:
CarAdvice will be road testing various 4×4 utility models head-to-head in late December - stay tuned.
2008 Holden Colorado LT-R 4x4 Review