Volvo has announced its R-Design styling pack has been extended to include the XC90 and V70 range.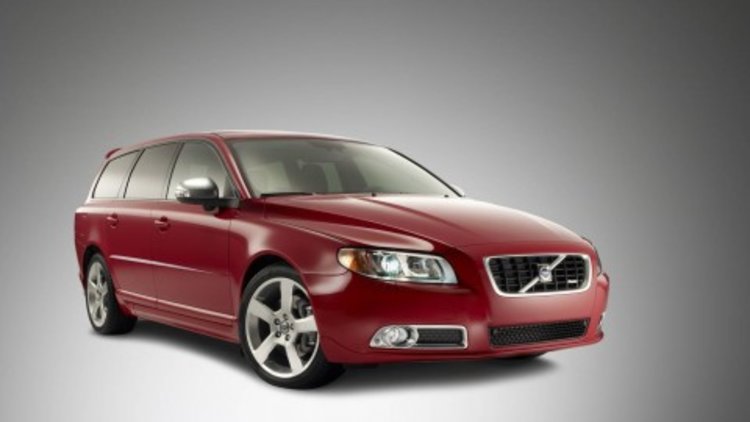 The optional R-Design pack adds both exterior and interior features to enhance the performance appeal of the Volvo range.
The new Volvo V70 T6 R-Design gains 18-inch Cratus alloy wheels and lowered, sports-tuned suspension comprising higher-rated anti-roll bars and bushings.
A colour-match rear spoiler, matte satin finish grille and exterior mirrors and 90 mm chrome exhaust pipes complete the look on the outside.
"The possibility of tailoring one's car to suit personal tastes is becoming increasingly important to car buyers today. R-Design has been developed for buyers who want a sporty look for their cars," said Senior Vice President, Marketing, Sales and Customer Service for Volvo Cars Gerry Keaney.
Inside, the R-Design package adds extra side bolstering to the two-tone sports leather seats, leather-rimmed R-Design steering wheel, new instruments with blue inserts, a sports shift lever and aluminium trim highlight.
The expansion of the R-Design package to the XC90 range will also see it replace the XC90 V8 Sport in showrooms.
The XC90 V8 R-Design is fitted with Volvo's Dynaudio Premium Sound system, comprising 12 speakers and a six-stack CD player, Bi-Xenon headlights with washers, Auto Dim rear view mirror, Rain Sensor wipers and the Interior Air Quality System (IAQS).
A new quad-exhaust system produces a more aggressive engine note, with higher-rated anti-roll bars, firmer shock absorbers, sports-tuned speed-dependent steering and larger 19-inch alloy wheels.
The R-Design option is $3,700 for the C30, S40 and V50 models, $4,175 on the V70 and $6,000 on the XC90 range.
C30, S40, V50 R-Design
Bodykit with spoiler
Exclusive 17" R-Design alloys on the C30, S40 and V50 (18" available on C30 for $1600)
Twin chrome exhaust
Satin matt finish to side mirrors and grill
R-Design Ultrasonic trim
Sports steering wheel, gear shift knob and pedals
R-Design embossed off-black Vulcaflex upholstery and cream leather seats
R-Design instrumentation
R-Design floor mats with contrasting piping
V70 R-Design
Lowered chassis (20mm front; 15mm rear)
Colour-coded rear spoiler
Full leather sports seats with embossed R-Design logo
Exclusive 18" R-Design alloys
Twin 90 mm chrome exhaust
Satin matt finish to side mirrors and grill
Sports steering wheel, gear shift knob and pedals
R-Design instrumentation
R-Design floor mats with contrasting piping
XC90 R-Design
In addition to the R-Design enahncements for the C30, S40, V50:
Higher-rated anti-roll bars, firmer shock absorbers, sports-tuned speed dependent steering
Dynaudio Premium Sound
Bi-xenon lights with washer system
Auto dim rear view mirror
Rain sensor wipers
Interior Air Quality System
Quad exhaust system
Exclusive 19" R-Design alloys (20" alloys are available for $1600)
Leather sports seats
Satin matt finish to side mirrors and grill
Sports steering wheel, gear shift knob and pedals
R-Design instrumentation
R-Design floor mats with contrasting piping
Volvo extends R-Design pack to V70 and XC90