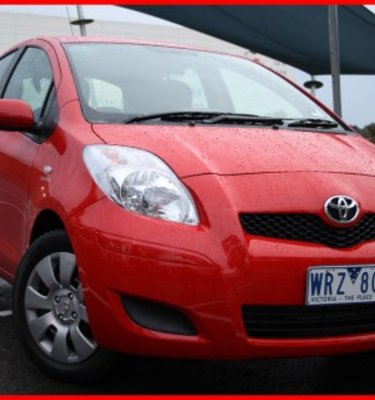 2009 Toyota Yaris Review and Road Test
Yaris loves big city life
Model Tested:
2009 Toyota Yaris YRS five-door hatch, 1.5-litre, five-speed manual - $17,990 (RRP)
Options:
Safety Pack $750 (fitted); Metallic Paint $300
Economical, Safe, Built for City Driving, Price Instrumentation Position, Clutch Feel, Boot Space
CarAdvice Rating:
- by Rose Harris
In the current economical climate where every dollar is being watched like a hawk, a new car purchase can unfortunately see safety take a backseat to price. However, Toyota have managed to combine a four-star ANCAP safety rating with an affordable price tag in the new Yaris range to bring the much loved favourite to the top of the table in the light hatch stakes.
The Yaris YRS five-door hatchback was built for city living. Its economical fuel consumption and operating costs combined with the compact nature of its design makes it the perfect vehicle for the daily work commute, the uni student or budget conscious couple.
The safety features include anti-skid brakes, electronic brake-force distribution, brake assist, Toyota's impact-absorbing Safe-T-Cell, front SRS airbags and seatbelt pre-tensioners as standard.
Add on the optional Safety Pack and the Yaris provides even more peace of mind with front-seat side and full length curtain airbags. With its four-star rating, the Yaris is a leader its segment, doubling the score of some of its nearest rivals.
However, when it comes to family living you may as well forget about it. I attempted to use the Yaris as a dedicated daily vehicle for my family (two adults and two kids) and found it too be a bit of a squeeze.
While the back seat comfortably accommodates two child seats, jamming a standard three-wheel pram in to the boot is only just possible after removing the pram wheels and taking out the boot floor panel so the pram is sitting directly on the spare tyre.
And you wanted to actually bring the groceries home? No way. The Yaris was obviously not built to accommodate the cargo load that comes with transporting a family. That said, if rear passengers aren't a consideration, the 60:40 split fold rear seats can be slid forward to make more boot space or folded down to further enhance the cargo area.
There is no disputing the fact that Yaris is a popular little car, leading the market sales in the light passenger car division year-to-date, although it took me a while to warm to the stylings. When I first got in, I was surprised to see the instrument panel was still located in the centre of the dash (as per the Echo predecessor), and not behind the steering wheel where I am so used to looking.
I guess it is all just a matter of what you are accustomed to, but I found having to divert my eyes left and down to check the speed (rather than straight down) was a little distracting. The concave LED display is however quite simple to read with a tacho, fuel gauge, odometer and large digital numeric speedometer.
At first I wasn't a fan of the speedo, but as I got in to some serious driving, I found the big green numbers in my peripheral vision were a constant reminder of my speed and made me much more conscious of sticking to the limit - perhaps it has some merit afterall.
The 1.5-litre engine carries an ample 80kW of power for city driving, but with only 141Nm of torque, does take a bit of pedaling from standstill. Keep busy on the gearbox though, and allow it to rev and you'll find Yaris has plenty of guts to buzz in and around the city.
In the five-speed manual I tested, I found the clutch to be rather stiff for a light car and finding and holding its friction point was awkward, which resulted in quite a few stalls - much to the amusement and frustration of my colleagues. The Yaris is an economical little car though, consuming just 6.1 litres per 100km (combined).
To avoid the stalling, I found myself revving the car slightly to make sure it would take off rather than jolting to a stop, which I imagine isn't going to be great for the clutch long term. So for me, it's auto all the way, especially in peak hour.
Yaris did however provide a reasonably quiet ride once on the run and felt quite stable on the road. It didn't feel overly light-footed nor top heavy as can some small cars, which further enhanced my view of this being the ideal city vehicle. With easy maneuverability, the compact nature of the Yaris is an obvious advantage when swinging in to tight parking spaces.
While it may be pretty typical in the looks department, there is nothing to really dislike about the styling on offer, but similarly, there's nothing overly unique about it either. It is however neat and has that 'zippy' feel to it which carries across in to the interior decor.
Functional and practical, but a little more plastic, there are just a few reminders of the inexpensive nature of the car. The dash top sunglasses keepers have a 'plasticy' sound when you close them, the glovebox feels rather weak and the cloth trim of the seats has a sandpaper-like feel.
I did like the stereo though and found it pumped out sufficient sound for a small car. The head unit also has MP3 compatibility and the ability for you to plug in your iPod or MP3 player. Air-conditioning and ventillation is effective, and the control knobs are nice and big, and very easy to use when driving.
I like the positioning of the driver's side electric window controls too. They are mounted high on the arm rest so you don't have to take your eyes off the road for long to adjust the windows. The go-kart sized steering wheel carries simple volume and track selection controls and a mode button as well.
I didn't have any major issues with visibility, despite the rear pillars being quite thick. I did however find the doors took a bit of closing, they needed a good hard push to lock in properly.
It is a little perplexing to me as to why Toyota haven't included cruise control in the Yaris, even as an option. Keeping costs down is obviously a main factor, but some of the Yaris' competitors do offer cruise and it of course aids in keeping the car economical.
Overall, while the Yaris doesn't measure up to the family challenge, it is definitely a great city car for singles or a couple just starting out. From just $15,190 it's also a great first car that I'm sure Mum and Dad wouldn't mind pitching in for given the level of safety on offer.
With Toyota kicking plenty of goals in the new car market, the Yaris is sure to keep reeling in those in search of saving those extra cents at the bowser.
CarAdvice Overall Rating: How does it Drive: How does it Look: How does it Go:
Pricing:
YR Hatchback: 3-door $15,190 (M) / $16,790 (A)
YR Hatchback: 5-door $16,390 (M) / $17,990 (A)
YRS Hatchback: 3-door $16,840 (M) / $18,440 (A)
YRS Hatchback: 5-door $17,990 (M) / $19,640 (A)
YRX Hatchback: 3-door $19,390 (M) / $20,990 (A)
YRX Hatchback: 5-door $20,540 (M) / $22,190 (A)
Rush LE 5-door Hatchback: $18,390 (M) / $16,890 (A)
YRS Sedan: $18,240 (M) / $19,890 (A)
YRX Sedan: $20,790 (M) / $22,440 (A)
Specifications:
Engine: 1.5-litre, four-cylinder VVTi
Power: 80kW @ 6000 rpm
Torque: 141Nm @ 4200 rpm
Transmission: Five-speed manual
Brakes: Disc/Drum with ABS, EBA & EBD
Driven Wheels: Front
0-100km/h: 12.1 secs
Top Speed: 175km/h
Fuel Type: 91RON ULP
Fuel Tank Capacity: 42 litres
Fuel Consumption: 6.1 litres per 100km (Combined)
CO2 Emissions: 145g per kilometre
Safety: Front Airbags (Safety Pack optional)
ANCAP Rating: Four Stars
Spare Wheel: Full Size Steel
Turning Circle: 9.4 metres
Towing Capacity: 700kg (Braked)
Warranty: 3 years/100,000km
Weight: 1030kg (Tare)
Wheels: 15-inch steel