We saw the Kizashi 3 concept at this year's Sydney Motorshow and like many others, we were most impressed. Perhaps one of only a handful of good looking cars at the show, we are wondering just how much longer it will take Suzuki to join the mid-sized sedan market.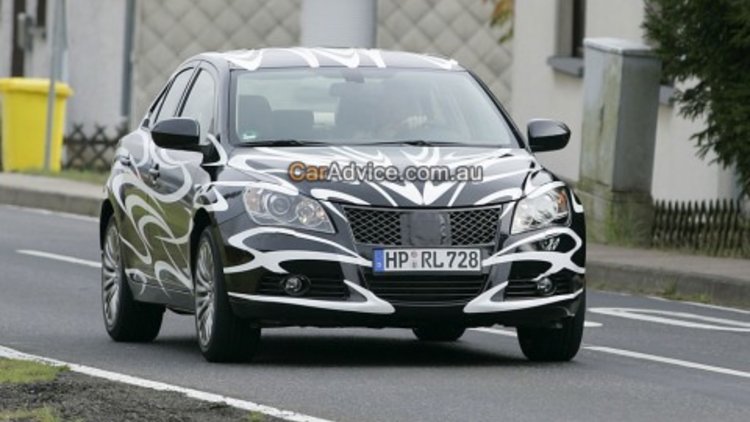 The concept Kizashi is powered by a 3.6-litre V6 engine (mated to a 6-speed automatic transmission) featuring plated cylinders – a weight and space-saving technology that evolved from lessons learnt by Suzuki's MotoGP and World Rally Championship motorsport teams.
The production version Kizashi (pictured here) will be built in Sagara, Japan, and is expected to arrive at dealerships in early 2010. Suzuki is pitting the Kizashi up against Toyota's Camry, Mazda6, Epica etc.
Apart from the 3.6-litre, there should also be a 150+ horsepower 2.3-litre 4-cylinder engine on offer as well (not yet confirmed for AU).
The V6 will be driven via an advanced i-AWD (All-Wheel Drive) system while the 4-cylinder is expected to be front-wheel drive.
Specifications for the Kizashi 3 concept (not the production Kizashi) are below:
Specifications:
Powertrain: Front engine, all-wheel drive with i-AWD system
Seating capacity: Five
Tyres: 255/30ZR21 9.5J
Wheels: 21-inch, nine-spoke, aluminium
Engine: 3.6-litre DOHC 24-valve V6
Transmission: Six-speed automatic
Maximum power: 220 kW
Overall length: 4,650mm
Overall width: 1,900 mm
Overall height: 1,450mm
Wheelbase: 2,800mm
Body colour: Kizashi Silver
2010 Suzuki Kizashi spy photos