When most new models arrive in Australia, we at the CarAdvice office tend to get absorbed in the moment, after all, that's our job. But when the new Audi RS-6 landed this morning, well... let's just say we got a little bit excited.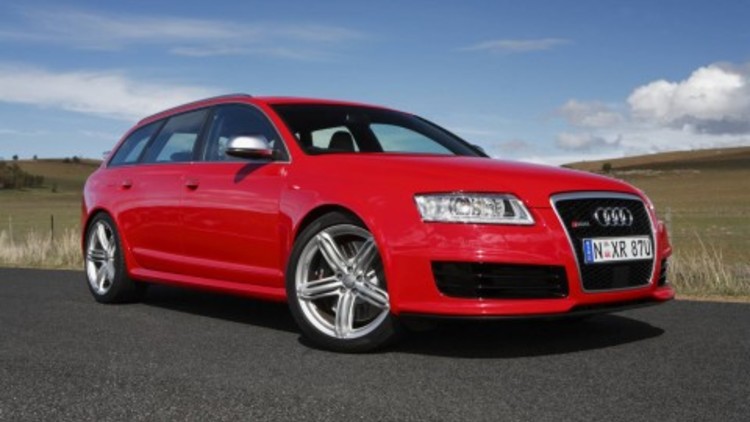 With it's 5.0-litre twin turbo V10 producing 426 kW and 650 Nm through Audi's renowned Quattro all wheel drive system, not to mention the superb handling all wrapped in a package most punters would shrug off as just another wagon, it's enough to make a grown man drool.
First deliveries are to clever customers who'd planned ahead and ordered one of these babies. They will be delighted that their hard earned $270,946 have scored them a wagon that is truly unrivalled in terms of power, style, exclusivity and of course quality.
And for family buyers, the RS-6 remains a practical everyday wagon, even offering (up to) 1,660 litres of luggage space. Besides, I can't think of a kid on the planet who wouldn't smile at being picked up from school in one of these.
The 4,991 cc TFSI V10 uses dry-sump lubrication and two turbochargers with up to 1.6 bar of boost pressure. Peak torque of 650Nm is available from 1,500 to 6,250rpm with maximum power of 426kW generated between 6,250 and 6,700rpm for linear pull all the way to an electronically-limited top speed of 250 km/h.
0-100km/h in dealt with in 4.6 seconds, in case you have better things to do, and as always the aural symphony on hand is pure bliss.
Audi's revised six-speed tiptronic transmission has a reaction time of just one tenth of a second, and has had shift times halved compared to that of the model it replaces. Steering wheel mounted paddles are included for manual shifting and to make things even more enjoyable, the Quattro drive train is said to be "rather biased toward the rear".
Dynamic Ride Control or DRC (part of the RS-6's standard 'Sports Suspension Plus') reduces pitch and roll by utilising hydraulic lines and valves connected diagonally to the opposing pairs of shock absorbers. When cornering, the flow of fluid to the shock absorber of the compressing outside front wheel increases, providing firmer support and reducing roll. DRC also offers a choice of three settings – sport, dynamic and comfort.
The ESP system has a slightly delayed threshold to ensure the electronic nannies don't take all the fun out of things, but is still on hand to bring you in to line should anything untoward occur.
20-inch alloy wheels with six-pot aluminium calipers up front clamp down on 390 mm brake disks. The rear dics measure 356 mm and features a single-piston floating brake caliper. The floating steel discs also feature large cooling ducts and axial perforations for enhanced performance and reducing weight.
Outside RS-6 is differentiated by a single-frame grille, large air intakes, adaptive xenon headlamps, LED daytime running lamps, pumped guards, rear diffuser and integrated tailgate spoiler - oh and who could forget - two large oval exhaust pipes.
Inside a colour monitor featuring analog and digital TV reception, electric tilt/slide glass sunroof, satellite navigation, dual-zone climate control, front and rear parking sensors, three spoke leather sports steering wheel (with flat-bottomed rim) and a Bose surround sound system. RS-6 also gains a boost pressure indicator in the instrument cluster.
A sedan version is expected to join the Avant in the first quarter of 2009.
2009 AUDI RS-6 Avant arrives down under