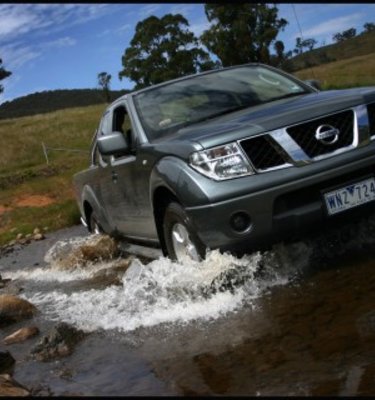 2008 Nissan Navara ST-X 4X4 King Cab Review
Current Pricing Not Available
2008 Nissan Navara ST-X 4X4 King Cab Review & Road Test


A capable contender in a field full of posers
Off-road capabilities, very easy to drive, torquey engine
Door vibration, small jump seats, weak air-conditioning

CarAdvice Rating:
- by Matt Brogan
It's a bigger utility than some of the competitors too, with pumped guards, flattened sides, and a large yet affable face it's one of those vehicles that looks just as natural on the building site as it does in the bush, and is certainly no slouch at performing well in either environment.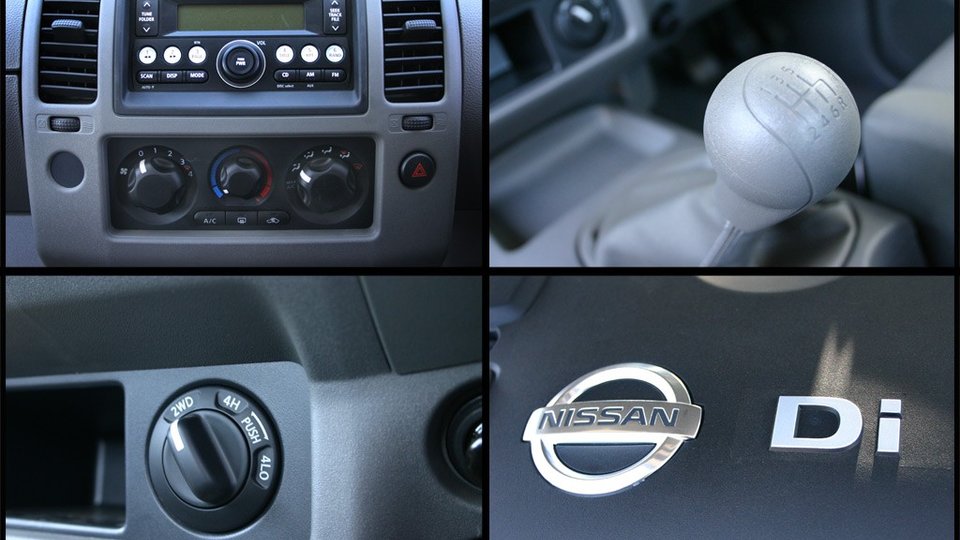 Although it's unlikely to win any fashion awards, the Navara is attractive enough to live with day-to-day, and doesn't appear to be trying too hard at being something it's not. An honest, what you see is what you get approach I guess you could say with no underlying nasties.

The seating position is very upright, and bigger blokes will struggle with the 'jump' seat's shallow thigh pad. I wouldn't even recommend it for the kids. Best to say they're for temporary use only, and leave it at that.
I guess the upshot to that is that yes, you get a bigger cabin, and yes you can get two more people in – legally – if need be, and sure you also gain a longer tray than you would with a dual cab, so it's worth considering if you don't need a four-seater all of the time.

The 126kW of power is delivered at 4000rpm to allow car like flexibility in traffic and smooth acceleration when overtaking, without the need to be overly anxious on the gearbox, a habit some turbo-diesels seem to exhibit a little too freely.

The 4WD system features auto-locking front hubs and is changeable on the fly, being operated by an electronic switch, as opposed to the traditional transfer case lever. Navara also offers a limited-slip rear differential as standard.

Approach and departure angles were acceptable for the level of terrain you'd expect to tackle in a 4WD utility, though the break over angle did feel a little compromised on some larger Irish culverts, even when approached on the diagonal. Anyone contemplating more off-road use (e.g. farmers) may wish to investigate a lift kit to raise Navara above the 205mm ground clearance for this very reason.

Capable disc/drum braking with late threshold ABS, with EBA, for off road use, effortless clutch action and well weighted steering all add to the feeling of Navara's well built and capable persona, all of which make the vehicle as easy to drive as a family sedan – but a lot more fun on the weekends.

Fuel consumption too is a little on the greedy side of average with our week of urban, highway and off-road use returning 11.7 litres per 100km, almost two litres above that advised by the manufacturer.
Navara ST-X King Cab comes standard with cloth trim, six-CD tuner, cruise-control, power mirrors and windows, tilt adjustable steering column, headlamp height level adjuster, front fog lamps, remote central-locking, air-conditioning, 16-inch alloy wheels, side steps, sports bar, tub liner, front and rear mud flaps and dual front airbags.

CarAdvice Overall Rating:
How does it Drive:
How does it Look:
How does it Go:
Specifications:

Engine: 2488cc DOHC four-cylinder (24 valve)
Power: 126kW @ 4000rpm
Torque: 403Nm @ 2000rpm
Induction: Turbocharged common rail
Transmission: Six-speed, dual-range manual
Differential/Driven Wheels: Rear LSD/All
Brakes: Disc/drum with ABS & EBA
CO2 Emissions: 264g/km
Fuel Consumption: 9.8 litres per 100km (Combined)
Fuel Tank Capacity: 80 litres
Fuel Type: Diesel
ANCAP Rating: Three star
Safety: Dual front airbags
Spare Wheel: Full size alloy
Tow Capacity: 3000kg (Braked)
Turning Circle: 13.2 metres
Warranty: 3 year/100,000km
Weight: 1981kg (Tare)/939kg (Payload)
Wheels: Alloy 16 x 7.0-inch
Road Test the Rivals:
CarAdvice will be road testing various 4x4 utility models head-to-head in late December - stay tuned.