The fifth episode of Top Gear Australia endured a further plummet in ratings this Monday despite a promising line-up of segments, with just 435,000 viewers tuning in to see their Hamilton Island antics.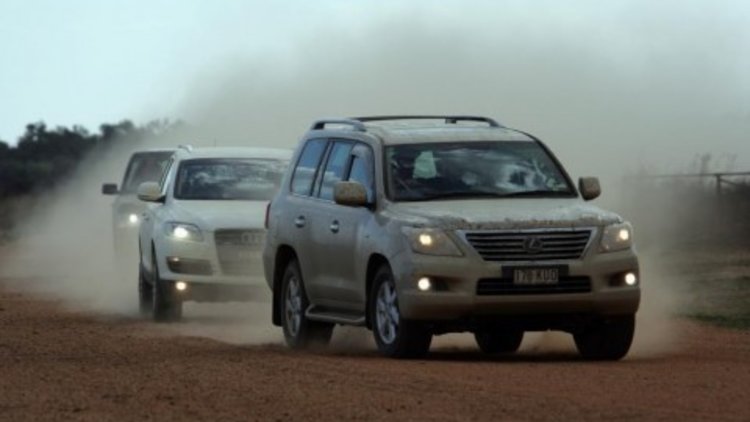 Despite this, their ambitions are only increasing with the next episode promising an entertaining line-up as well as a highly anticipated 'Star in a bog standard' car.
The trio go on an epic 2,400km journey from the Simpson Desert to the North Queensland coast line in a follow-up to the Toorak tractor phenomenon.
With Charlie in the luxurious Lexus LX 570, Warren in a hi-tech Range Rover Vogue TDV8 and Steve driving the sporty Audi Q7, the team see if these so called four-wheel drives are any good off-road.
"I have been to a tonne of dinner parties where people have said "My 4WD is good enough to go to Kakadu if I wanted to". Now everybody knows that they probably never will so we thought we would help with bragging rights for the next party," said Steve Pizzati.
Along the way - just in case it's too easy - they will come across a series of challenges as well as having to put up with each other.
Not only that, but their only form of luxury over the journey will be the cars themselves, with Cox, Warren and Pizzati having to camp out under the stars throughout their trip.
Charlie, not a fan of being one with nature, said, "When I was a kid about 12 years old on the family camping holidays I used to lie back at night and look back the stars and think to myself "When I grow up I am going to get really rich so I never have to go camping again"."
Closer to civilisation, Charlie Cox takes the powerful Mercedes SL 63 AMG for a cruise, "A car this stylish can even make a mug like me look good, well not that bad anyway."
But certainly a highly-anticipated segment - especially for a few members of the CarAdvice team, will be Australian jazz legend and car enthusiast James Morrison as the 'Star in a bog standard car'.
James previously hosted his own Australia motoring show over a decade ago with 'Behind the Wheel' - you can catch the original pilot episode right here on CarAdvice.
Top Gear Australia episode 6 preview