After capturing images of the Mercedes-Benz E63 AMG sedan lapping the Nurburgring just a few weeks ago, our photographers have managed to capture our first glimpse of the new estate variant.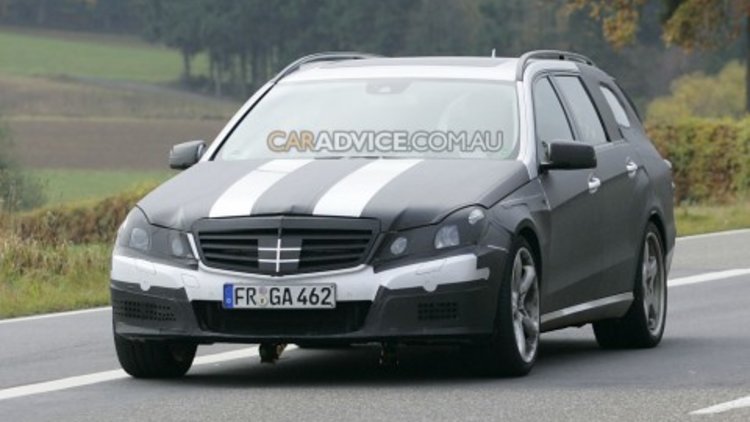 With its official reveal at the Frankfurt Auto Show only six months away, Mercedes is obviously eager to do some final fine tuning before it enters the public spotlight.
Mercedes will abandon its SBC technology in favour of conventional brakes - albeit with the inclusion of wet-weather disc wiping and wheel-selective cornering brake control.
Ceramic discs will also likely be introduced into the new AMG range, as featured on the model caught in these spy shots.
The next E-Class will share many characteristics with the S-Class including the wheel-arch extensions, rising character line below the door handles, massive bumpers, and greenhouse.
A sculpted wide-frame grille, aggressive 'nostril' air intakes and a wedge-shaped profile should give the E63 a dominant silhouette.
Driver assistance aids will play a major role in the new E-Class, boasting lane-departure warnings, an eye-movement monitor, traffic-sign identification, road-condition sensors, and stability control that accounts for crosswinds, camber changes, and tire wear.
Expect Mercedes' usual range of petrol and diesel V6 and V8 engines with a flagship naturally-aspirated 6.3-litre V8 engine churning out over 370kW.
2010 Mercedes-Benz E63 AMG Estate spied