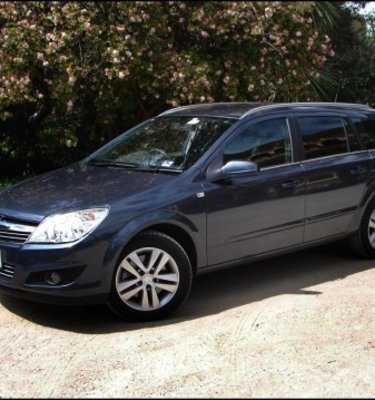 2008 Holden Astra TDCi Wagon Review
2008 Holden Astra TDCi Wagon Review & Road Test
Astra TDCi Wagon looks great in the drive-way
Model Tested:
2008 Holden AH Astra TDCi Wagon 1.9-litre, turbo diesel, six-speed automatic - $32,490 (RRP)
Options:
Metallic Paint $360 (Fitted)
Strong Engine, Elegant Looks, Well Kitted, Great Brakes Average Transmission, Rear Leg Room, Stereo Controls
CarAdvice Rating:
- by Matt Brogan
In retaining the Astra wagon, Holden has placed itself in the unique position of being the only car company in the country to offer the body shape on this size of car. Furthermore the added incentive of a frugal diesel under the bonnet should be enough to send most family buyers into a spin.
From the outset Astra looks terrific, it has for some years now, and perhaps that's part of the problem. For as handsome as it is, we've all seen it, and maybe it's time for a little nip and tuck. Still with 16-inch alloy wheels, front and rear fog lamps, adjustable halogen headlamps, chrome accents and roof rails, as well as that imposing angular front end, Astra is still a great looking car in spite of its age.
The cabin space too is enjoyable and youthful without being so bold as to date quickly, and for the most part is usable and ergonomic with good all round visibility. Some plastics are a little on the cheap side, namely atop the dashboard, but they don't detract from the appearance too markedly.
Seating for five is both generous in proportion and rather on the supportive side of comfortable, but around town where Astra spends the majority of its time, this is off little consequence.
If you have older kids or lanky teenagers, the rear leg room may be a touch on the tight side for longer trips, especially if the front seat passengers are reasonably tall. For a young family with kinder or primary school kids it's more than ample.
The 454-litre cargo area offers a large usable space and the addition of a retractable cargo blind to keep your belongings safe, or your groceries out of the sun, is a bonus. Better still, the weekend trip to the nursery or hardware store needn't be a bother with the overall area able to be expanded to 1549 litres using 60:40 split fold rear seats.
There's a good list of standard features in here too with cruise control, power windows and mirrors, flip key remote central locking, semi-automatic climate control, single MP3 compatible CD tuner (with auxiliary input and steering wheel controls), adjustable steering column, full function trip computer and finally electronic indicator switches that are this time located on the right-hand side of the steering wheel.
The cloth trim has a pleasant feel to it and is seemingly durable - great for those with kids and dogs - while the leather steering wheel is very nice under hand, especially on long trips when urethane ones seem to give you sweaty palms.
If I was to fail the Astra's interior on one thing along it would be the stereo control buttons of the centre fascia. They are far too plentiful, fiddly and distracting, and as the stack is set at 90 degrees to the floor, you do have to pull back in your seat a little to see exactly what you are pressing.
I found it's best to think of this whole cluster as 'set and forget' when you're on the move and stick to using the steering wheel controls until you have a chance to stop. Get the whole thing as you want it in your garage before setting off, it's not only safer, but far less frustrating.
The orange centre screen whilst informative, can be a little hard to read when you're on the go thanks to its smaller lettering, and is difficult to see in daylight hours, especially if you're wearing polarised sunglasses.
It does however offer a wide array of information which is beneficial to the driver including audio settings, trip computer stats, fuel usage and ambient temperature, but again, perhaps save reading these until stopped at the lights or the servo.
Up front the Astra is motivated by a rather antiquated 1.9-litre turbo-diesel featuring a single overhead cam with two valves per cylinder. The engine is turbocharged and uses a common rail injection set up which affords the little oiler 88kW at 3500rpm and a rather strong 280Nm of torque from just 2000rpm.
Noise levels at idle are however rather intrusive but these do calm down once you're moving. There's also a substantial amount of turbo lag off the line which buyers more familiar with the instant response of a petrol engine may take some time in getting used to.
The six-speed automatic too is a little off the mark and can be overly eager to kick down a gear, even under very slight acceleration. It is also reluctant to select sixth gear until well above 90km/h which does little to improve what should be an economic driving experience around town. I find it is best to override the gearbox by using manual mode for this reason and select top gear yourself. For the record our urban average was 8.2 litres per 100km.
Once you're out of stop-start traffic though, the Astra livens up and becomes a very different car. With long legs and remarkable pull from north of 80km/h, highway cruising is effortless and the engine seems to barely have to work at all, even with four adults on board. Overtaking is brief and rewarding especially when utilising the dash-mounted 'Sport' button to further sharpen response.
Astra uses electro-hydraulic power steering which has a nice enough feel to it under most circumstances, and let's face it, most buyers won't exactly be throwing the little wagon around too hard. Should you wish to though, you may find a little inconsistency in the level of feedback offered and a substantial amount of rack chatter through the wheel on mid-corner bumps.
Though the Astra feels a little on the stiffer side, the strut front/torsion beam rear suspension setup remains uniform and very predictable with reassuring levels of settled handling despite the load carried. Coupled to standard ESP and Traction Control you're left with a car that feels sure footed on the road, and who doesn't appreciate that?
Strong brakes and a superb pedal feel seemingly offer shorter stopping distances thanks to Astra's standard Cornering Brake Contol, Electronic Brake Assist and Brake Force Distribution (all part of the four-wheel disc brake ABS system), features more often seen on more expensive prestige brands.
With dual front and side airbags rounding out the safety list it is easy to see how Astra offers such safe family motoring, even managing a maximum five-star EuroNCAP rating.
So if you're after a safe, reliable and torquey little European styled wagon that's reasonably good on fuel, the Astra may be worth a serious look. It's a pleasant drive has a solid feel about it and above all else, looks great in the drive way.
CarAdvice Overall Rating: How does it Drive: How does it Look: How does it Go:
Specifications:
Engine: 1910cc OHC four-cylinder (8-valve)
Power: 88kW @ 3500rpm
Torque: 280Nm @ 2000rpm
Induction: Common Rail & Turbo
Transmission: Six-speed Automatic
Driven Wheels: Front
Brakes: Disc with ABS, CBC, EBA & EBD
Top Speed: 194km/h
0-100km/h: 9.8 seconds
0-400m: Not Tested
CO2 Output: 192g/km
Fuel Consumption: 7.1 litres/100km
Fuel Tank Capacity: 52 litres
Fuel Type: Diesel
EuroNCAP Rating: Five Star
Safety: Front & Side Airbags, ESP & TCS
Spare Wheel: Full Size Steel
Tow Capacity: 1250kg (Braked)
Turning Circle: 10.85 metres
Warranty: 3 year/100,000km
Weight: 1350kg (Tare)
Wheels: 16 x 6.5-inch Alloy
Road Test the Rivals:
Astra TDCi Wagon currently has no direct competitors.
2008 Holden Astra TDCi Wagon Review