The popular Toyota Yaris has received an increase in both safety and comfort with the release of its face-lifted 2009 Yaris hatch and sedan range.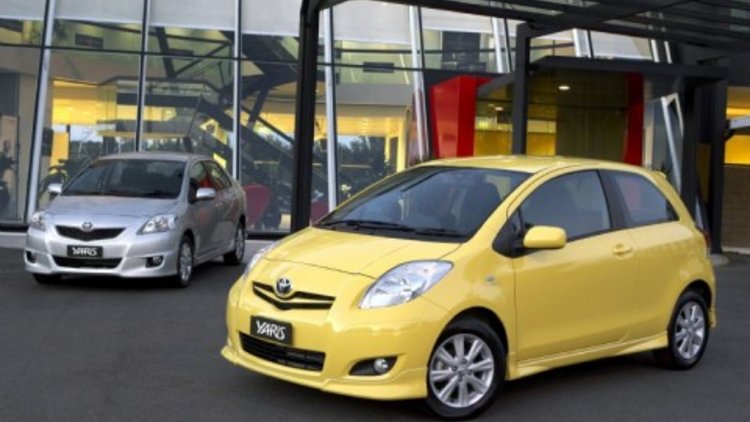 Yaris manual versions have also managed the maximum five-star rating on the Federal Government's Green Vehicle Guide with fuel consumption for 1.3-litre Yaris manual models coming in at 6.0 litres per 100km (and CO2 output of just 141grams/km) based on the official combined cycle (figures for the 1.5-litre manuals are 6.1 litres/100km and 145 g/km).
The new Yaris hatch has improved headlamps with increased reflector area for a longer and increased spread of light as well as comfort improvements which include the adoption of telescopic steering column adjustment on entry-level YR hatch. YRS and YRX models also pick up illumination for the steering wheel-mounted audio switches.
Toyota has also increased the number of assist grips in all Yaris models, and now supplies two remote keys with each vehicle. As well an automatic gear shift position indicator has been added to the dashboard of all automatic sedan models.
All new Yaris models have improved Jacquard-weave seat trim, with individual Dark Grey patterns to differentiate between model designation while similarly, exterior body kits for both YRX hatch and sedan have been refreshed, and a new body-coloured radiator grille insert has been adopted with the hatchback body kit.
Other exterior refinements include new front and rear bumpers, new front grille and new LED stop lamps within the tail light assembly. A new wheel cover design on YR and a new eight-spoke 15-inch alloy wheel design on YRX round out the changes.
All Yaris grades are available with an optional Enhanced Safety Pack, with additional SRS airbags. Entry prices for Yaris remain at $15,190 for the 3-door YR and $16,390 for the 5-door YR, both with manual transmission.
2009 Toyota Yaris upgrades