2008 Jaguar XF V8 vs Lexus GS460 Sports Luxury Road Test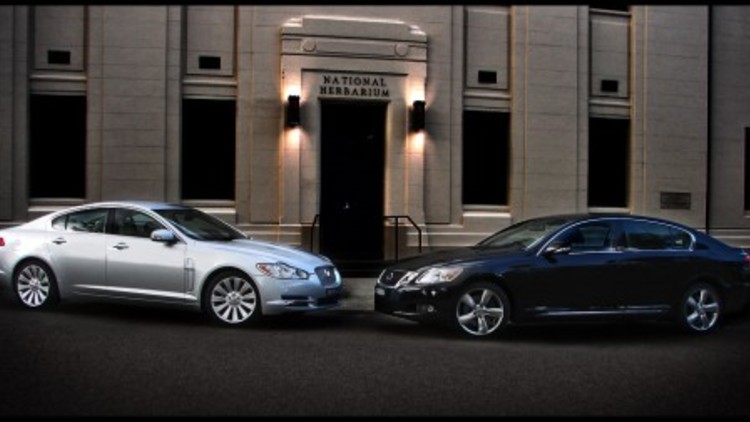 Models Tested:
2008 Jaguar XF V8 - $134,830 (RRP)
2008 Lexus GS460 Sports Luxury - $139,492 (RRP)
Options:
Jaguar: Design and styling; technology; character. Lexus: Features; price; cabin noise.
Jaguar: Lack of features; low-end torque. Lexus: Front and rear head room; boot space; brake feel.
CarAdvice Rating, Jaguar: (4.25)
CarAdvice Rating, Lexus: (4.00)
- by Paul Maric; photos by Matt Brogan.
If you were ever after an alternative to the BMW 5-series or the Mercedes Benz E-class, you really only had one option – the Lexus GS. Jaguar's S-type was only an option if you thought the moon landing was a hoax, or if you believed that speed limits save lives.
With that said, Jaguar finally realised that Lexus was pillaging a share of the market dedicated to people who hated endless option lists, and Teutonically efficient cars.
It was only logical then that we lined up the two left-of-fielders to see if they really were a match for the German products, while also figuring out if Jaguar's latest attempt was worth its name.
Jaguar XF V8 –
I donned the top hat, tweed jacket and tan slacks to head off and collect the Jaguar test vehicle. My recollection of Jaguars of yesteryear has always been that of elegance, luxury and prowess.
After arriving at Jaguar I was somewhat surprised to find my ensemble of clothing was about 40-years too old for the car. Much to my surprise, I was faced with a modern, aggressive looking car with a design to unsettle even the strongest German supporter.
Jaguar has stepped into the 21st century – and beyond – with the all-new Jaguar XF. Although the headlights are a bit hit and miss with some, the rest of the car can't be faulted from a design perspective, with An Aston Martin-esque rear end, gorgeous flowing lines from the bonnet to the boot and a side profile to arouse diehard greenie Toyota Prius supporters.
If the exterior wasn't enough to win you over, the interior would surely strike the right chord. One of the first things you notice is the lack of a traditional gear lever. Instead, Jaguar uses a rotating knob that rises from the centre console. A heartbeat style throb is emitted from the starter button, which needs to be stabbed to get the 4.2-litre, 219kW V8 engine burbling.
The V8's fuel economy is officially 11.1-litres/100km, which was just shy of what I achieved on test. A sprint from 0-100km/h takes around 6.5-seconds, which was about on the money when tested.
The interior is on par with the exterior in terms of design and innovation. A touch-sensitive glove box opener, along with touch-sensitive overhead lights are bound to keep passengers entertained for hours.
Rear legroom is pretty good for a vehicle of this size. Although it's a five-seater, two adults can comfortable fit abreast along the back seat, while the front seat passenger is offered a plethora of legroom.
The XF line-up begins with the 2.7-litre diesel model at $108,350, there is also a 3.0-litre V6 petrol version for the same price. The V8 model being tested though retails at $134,830. The range topper – the supercharged 4.2-litre V8 – is priced at $173,170.
The part where this Jag really had to succeed was with on-road dynamics and without wishing to sound like a paid advertorial, Jaguar has hit the nail right on the head. From the moment you begin moving, you know this is a special machine. Subtle suspension and superb body dynamics make this cat a pleasure to steer.
Paddle shifters on the steering wheel allow manual gear selection, while a 'Sport' mode allows for retention of gears and a sporty drive. The naturally aspirated V8 being tested lacks torque from the lower end of the rev range and really needs revs before it gets singing – the engine note is worth the wait though.
There's a bit of body roll when pushing hard through corners, but it's nothing that can't be tamed. The brakes are pretty impressive, with great brake feel throughout the entire application.
I was disappointed to see a lack of some features, such as heated seats in the premium V8 model. But full iPod integration, along with memory card compatibility was a bonus.
It was hard handing back the keys to Jaguar's all new XF. I was continuously enthralled by its menacing, yet subtle presence. Nobody was able to guess it was actually a Jaguar and it turned heads everywhere it went.
It's hard to imagine Jaguar not succeeding with this car; the main clincher will be the price. It's a decent sum of money for a model with no cachet in the market place – yet.
But, if I was buying, I'd skip the German opposition and I'd have one of these pussies in the garage without a moment's hesitation – it really is that good.
CarAdvice Overall Rating: How does it Drive: How does it Look: How does it Go:
Specifications:
Engine: 4196cc eight-cylinder (32 valve)
Power: 219kW @ 6000rpm
Torque: 411Nm @ 4100rpm
Induction: Multi-point injection
Transmission: Six-speed automatic
Driven Wheels: Rear
Brakes: Disc with ABS & EBD
Top Speed: 250km/h
0-100km/h: 6.5 seconds
0-400m: N/A
CO2 Emissions: 264g / km
Fuel Consumption: 11.1 litres / 100km (Combined)
Fuel Tank Capacity: 69.5 litres
Fuel Type: 98 RON petrol
EuroNCAP Rating: N/A
Safety: ESP, TCS, Front & Side & Curtain Airbags
Spare Wheel: Space saver
Tow Capacity: N/A
Turning Circle: 11.48 metres
Warranty: 3 year/100,000km
Weight: 1749kg (Tare)
Continue for the Lexus GS460...
Lexus GS460 –
Amidst the rivalry between the Germans – Mercedes and BMW – Lexus has been slowly chipping away at their market, stealing the punter who is sick of paying devilish amounts for options that really should be standard.
Lexus hates options so much that they don't actually have any available on the GS460; the 'Sports Luxury' guise it comes in is fully loaded.
The test vehicle was black and looked superb both while rolling and stationary. The blasé colours Lexus press vehicles normally come in detract from their true sense of style, but the black certainly brought out the best in the car.
Chrome highlights and 18-inch alloy wheels give the GS460 a sporty look. Minor design changes accompanied the new engine in the GS mid-life facelift. Other changes also include indicators in the wing mirrors and minor tweaks to the headlights – barely noticeable, but there nonetheless.
The somewhat uninspiring key fob can be left in the driver's pocket, allowing a grab of any door handle to unlock the car.
Once inside, black is back – apparently. The only signs of colour come from the 'wood grain' steering wheel and 'wood grain' door and centre console inserts. While the Jaguar's dashboard is leather bound, the Lexus GS460 uses a rubbery plastic along the dashboard and along the doorsills. It looks a bit cheap in comparison, but rebounds to the touch.
When I mentioned the GS460 is fully loaded with features. I wasn't joking! A 14-speaker Mark Levinson sound system, along with heated and cooled seats eclipse the XF's offering. Not to mention the radar cruise control, electric rear sunshade and DVD player.
Rear seat leg and headroom is severely compromised in the Lexus. The sloping roofline is bad news for tall passengers, while legroom is stolen by a low-slung driver and front passenger seat. The seats are comfortable though, with adequate side and bottom support.
Boot room is also a bit on the meagre side at 430-litres, compared to the Jag's 500-litres, which means that it's only the golf clubs that will fit in the boot – forget about the tennis gear!
Much like most Lexus vehicles, an emphasis is placed on tranquillity and solace. Turn over the engine and it would be anyone's guess that it's a V8. The quiet nature extends to the cabin where a pin can be heard dropping at cruising speed.
The GS460's driving dynamics around town are enjoyable. The steering is easy to manoeuvre and parking is a breeze with good visibility and a high-resolution reversing camera.
Hit the mountains though and the GS is a mixed bag. The steering feel is good and there is enough communication through the wheel to keep most happy, it's the power delivery that is the main concern.
The gearbox has a mind of its own. You really need to mash the pedal right down to the floor to get the revs climbing; the sport mode really doesn't work hard enough to deliver the torque required. The brakes are pretty good though, pulling up the GS in noticeable fashion when stomped on. But, they have very little feel when attempting to modulate pressure, they certainly don't fill the driver with confidence.
Body control is okay, but there is a decent amount of body roll, which creeps in when approaching the limits.
Under the bonnet you will find a 4.6-litre V8 that produces 255kW of power and 460Nm of torque. An eight-speed automatic gearbox controls the shifts, while power is sent through the rear wheels.
Expect the V8 to use around 11.0-litres/100km. My fuel use was around 12-litres/100km, slightly higher than the official figure. A dash from 0-100km/h takes 5.8-seconds – slightly optimistic in my opinion.
The GS line-up begins with the GS300 at $99,240, while the GS460 retails for $139,492. There is also a Hybrid V6 version, the GS450h, available for $128,899.
If value for money is a consideration of yours, it's hard to look past the GS460. It features a hauling V8, a myriad of features and the reliability of a Lexus package.
It has its downsides though. The lack of rear head and legroom, along with iffy handling characteristics will be the clincher for some buyers.
CarAdvice Overall Rating: How does it Drive: How does it Look: How does it Go:
Specifications:
Engine: 4608cc eight-cylinder (32 valve)
Power: 255kW @ 6400rpm
Torque: 460Nm @ 4100rpm
Induction: Multi-point injection
Transmission: Eight-speed automatic
Driven Wheels: Rear
Brakes: Disc with ABS & EBD
Top Speed:N/A
0-100km/h: 5.8 seconds
0-400m: N/A
CO2 Emissions: N/A
Fuel Consumption: 11.0 litres / 100km (Combined)
Fuel Tank Capacity: 71 litres
Fuel Type: 98 RON petrol
EuroNCAP Rating:5-star
Safety: ESP, TCS, Front & Side & Curtain & Knee Airbags
Spare Wheel: Full size spare
Tow Capacity: N/A
Turning Circle: 10.5 metres
Warranty: 4 year/100,000km
Weight: 1789kg (Tare)
Wheels: 245/40 R18
CONCLUSION-
If the decision were based on looks alone, I would hand the win to the Jaguar without even thinking twice. But, the decision isn't based just on looks.
Lexus' GS line has been around for three years now. It received a minor facelift just recently and had the new '460' motor thrown in for extra power and better fuel efficiency. It improved on an already competent package.
So we know that Jaguar's new XF looks stunning and drives like a true cruiser should, but it is severely compromised when it comes to features. The GS receives heated and cooled seats, along with a premium Mark Levinson sound system; while both the Bowers and Wilkins sound system and heated seats are options on the Jaguar.
The other issue with the Jaguar is its limited 'experience' in this field. The XF is the first of its kind and we're yet to see how well it will fare in the marketplace in terms of reliability and durability.
The result for this comparison is far closer than I thought it would be. The Lexus GS460 brings features, reliability and even more features to the table. The Jaguar XF V8 on the other hand brings absolutely polarising styling and a drive to envy.
After considering the pros and the cons, the win goes to the Jaguar XF – but only by a small margin.
If you can compromise on features, the Jaguar offers a superior drive, additional leg and headroom, along with a brilliant engine and gearbox combination. At the end of the day, these aspects will most likely swing the majority of buyers.
2008 Jaguar XF V8 vs Lexus GS460 review