Toyota will race debut the first of four TRD Aurion Aussie Racing Cars in next weekend's Nikon Indy 300 race on the streets of Surfer's Paradise, Queensland.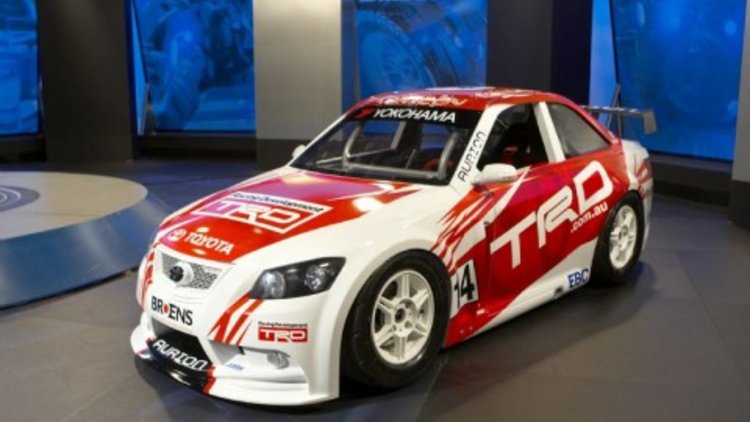 The exciting Aussie Racing Cars compete nationally at V8 Supercar events, as well as the Indy 300 and the Australian Grand Prix with Toyota is the first manufacturer to directly support entries in Aussie Racing Cars.
Toyota Australia motorsport manager Todd Connolly said Aussie Racing Cars are an exciting category that offer thrilling wheel-to-wheel racing.
"We're really pleased to join such a competitive, popular and entertaining series," he said. "Toyota sees it as an ideal grass-roots category for young drivers to learn and make their way up the ladder in motor sport."
The 450kg Aussie Racing Cars have identical mechanical specification to ensure close competition and to put the emphasis on driver skill. They have a moulded body (a caricature of the vehicle on which it is based), a space-frame chassis and 1.2-litre Yamaha engine that delivers 91kW at 11,500rpm.
Todd Connolly identified two synergies with the new TRD Aurion Aussie Racing Cars and Toyota.
"Yamaha has been a Toyota technical partner for the last four decades and developed the latest Corolla dual-VVT-i-equipped engine," he said. "CATIA, who sponsor our Formula One team and Australian rally team, provided the software to design the TRD Aurion look-alike body for the four new cars."
The first TRD Aurion Aussie Racing Car to hit the circuit has been nominated as a "guest" car that will feature different motor sport personalities at each event. It is finished in the same livery as TRD's 2008 Targa Tasmania class-winning TRD Aurion.
Race commentator and V8 race driver Neil Crompton will debut this car at Surfer's Paradise, with an added exterior feature. The car will have its roof painted as a bandanna to support CanTeen's October 31 National Bandanna Day for young people living with cancer.
Todd Connolly said he hopes the car's appearance at the Nikon Indy 300 event would help raise awareness of CanTeen's largest annual fund-raising day, when it aimed to sell one million bandannas. There will be a hospitality area at the circuit for CanTeen families from South-East Queensland.
Indy gets under way this Thursday with further information available at www.indy.com.au
TRD Aurion to race at Indy