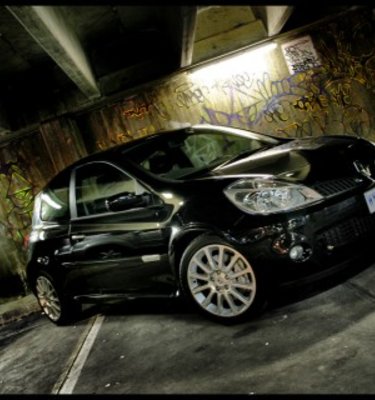 2008 Renault Clio RS197 Review
2008 Renault Clio RS197 Review & Road Test
The epitome of three door fun
Model Tested:
2008 Renault Clio RS197 2.0-litre, six-speed manual hatch - $36,490 (RRP)
Options:
Playful Character, Grip Levels, Braking Performance
No Spare Wheel, Fuel Consumption, Price Tag
CarAdvice Rating:
- by Matt Brogan
As hot hatches go, the Clio RS197 is best described as an entree serving of Thai Green Curry. It's smaller, and still has a bit of kick to it, but it's not so hot that you end up with blurred vision and the, err, sweats the next day.
That's not to say the Clio RS197 isn't any good, or that it isn't hot enough, in fact given our archaic speed limits and sub-standard roads, this little hatch is in its element most of the time. What this translates to is a car that is playful and fun in most situations - and within the confines of the state limit - and just how many cars can you say that about these days?
Pumped out guards give the Clio RS197 an attitude all of its own without being overly lairy or 'boy racer'. A rear diffuser harbouring twin exhausts and the fatter stance are, from a distance at least, the only tell tale signs that the little three-door means business.
Vented front guards, projector type halogen headlamps (with washers and manual height adjustment), subdued roof spoiler, side skirts, the addition of front fog lamps and neat 17-inch alloy wheels, coupled with some subtle badging, go the rest of the way to rounding out the external styling differences above that of a standard Clio (not yet available in Australia).
But looking the goods is only part of the equation with the Clio RS197. The true guts of the matter is that this little black beast has had some attention paid to the performance and handling attributes of what is already a terrifically balanced chassis.
For you and me, this simply means go-kart like chuckability that is guaranteed to bring a grin to just about any one up for a touch of - how should I put this delicately, rapid cornering - without jarring every bone in your body in the process.
Powered by a warm 2.0-litre, DOHC engine (with variable valve timing) the Clio RS197 develops a respectable 145kW at 7250rpm and an acceptable 215Nm at 5550rpm. It's not a big score, but the Clio's not a big car, and at just 1221kgs the motivation is fun, fluid and lithesome, provided you stay on cam (just north of 3250rpm).
Independent strut front-end and torsion beam semi-independent rear - both with stabiliser bars - hang over the 1520mm track and 2585mm wheelbase for a wide and long spread that makes cornering a hoot. Mountains of grip, a touch of lift-off oversteer and rapid turn in (thanks to sweet speed proportional power steering) make the Clio RS197 wickedly sharp through challenging roads and more agile than any same class competitor I've yet driven.
The ABS and ESP thresholds are set very late so as to maximise your entertainment before being brought in to line, and though the black top fun is limitless, a gravel road will soon show up the short wheelbase and wide tyres with Clio's handling proving about as simple as herding cats when on the dusty stuff.
There's no dissonance about the engine and exhaust either, it's positively delightful and surprisingly deep, quite reminiscent of the A-Series engines in the original Morris Cooper S though with less in the way of induction noise, but perhaps that's just me showing my age.
Braking performance is immense when you consider the size of the car with the big Brembos activating the hazard lights under hard braking (a Renault safety feature), such is the level of G-force on offer here. The upshot is you can brake very late into corners and give bigger, more powerful competitors, the slip.
Inside Clio RS197 boasts suede RenaultSport (front) seats, alloy-look shift knob and door handles, stainless steel drilled pedals, tidy little leather wrapped steering wheel (complete with red stitching at top and centre for peripheral vision cuing through the twisties), trip computer, single MP3 compatible CD tuner (with satellite controls), cruise control (with speed-limiter function), power windows, heated power mirrors and last but not least - single zone climate control air-conditioning.
The decor is perhaps a little drab, but with so much happening in front of the windscreen you're hardly likely to care.
In fact you'll be grateful for the simplicity of supportive buckets, neat pedal box and quick throw gearshift if you're in any way inclined to drive the Clio RS197 the way it was intended.
On the practicality side of things, Clio RS197 offers five seats, four of which are completely usable (and quite easily accessible for a three door) and a rather large boot that offers 288 litres of space with the shelf on and seats up. If you flip down the 60:40 seats and toss the shelf in the garage, the boot space can be expanded to 1038 all told.
Four-wheel ABS with EBD, ESP with Traction Control, Front and Side Airbags all come standard to keep you safe and though the Clio RS197 has not yet been EuroNCAP/ANCAP tested, Renault's history tells us a five star result is par for the course.
If I had to pick on the car at all I would say the fuel efficiency is a little on the heavy side with combined driving returning us low 11.0L/100km for most of the week. You'll probably excuse this in the interests of fun, but it is certainly a result well in excess of the claimed 8.4 litres per 100km (ADR tested on 95RON fuel).
With its price on par with Ford's Focus XR5 Turbo, and pushing dangerously close to Golf GTi, Honda Civic Type-R, etc money, you could be forgiven for thinking the ClioRS197 is a little off the money, and to an extent you'd be right. Believe me, this thing is a barrel of monkeys and is as much fun as I've had at or under the state limit in a long time - a definite four steering-wheel drive!
CarAdvice Overall Rating: How does it Drive: How does it Look: How does it Go:
Specifications:
Engine: 1998cc four-cylinder (16 valve)
Power: 145kW @ 7250rpm
Torque: 215Nm @ 5550rpm
Induction: Multi-point injection
Transmission: Six-speed manual
Driven Wheels: Front
Brakes: Disc with ABS & EBD
Top Speed: 223km/h
0-100km/h: 6.9 seconds
0-400m: N/A
CO2 Emissions: 199g / km
Fuel Consumption: 8.4 litres / 100km (Combined)
Fuel Tank Capacity: 55 litres
Fuel Type: 95 RON petrol
EuroNCAP Rating: N/A
Safety: ESP, TCS, Front & Side Airbags
Spare Wheel: Sealant (Can Type)
Tow Capacity: N/A
Turning Circle: 11.0 metres
Warranty: 3 year/100,000km
Weight: 1221kg (Tare)
Wheels: Alloy 17 x 7.5-inch
2008 Renault Clio RS197 Review