A Toyota Yaris driven by Andrew Andersz and Gary Luton achieved the highest overall fuel economy in the 2008 ALD Fleet World MPG Marathon.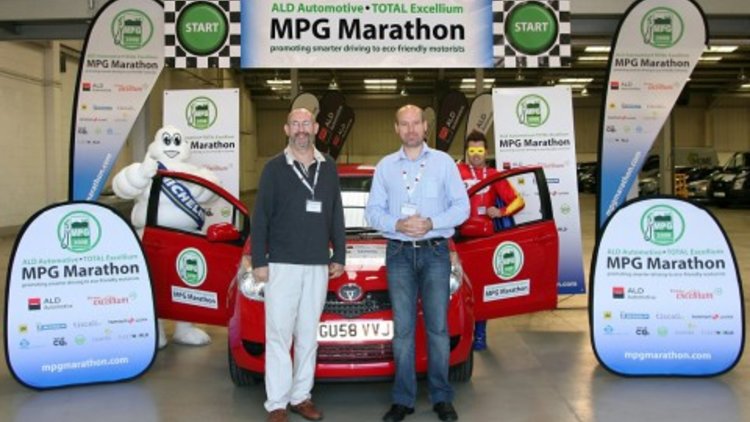 Seeing off stiff competition and winning Toyota top spot for the third year running, the unmodified Yaris 1.4-litre petrol achieved 84.66 mpg (2.77 litres per 100km), the highest figure attained out of all the 39 vehicles which took part in the 400-mile challenge last week.
The result represented a 34.81 per cent improvement over the official combined consumption figure of 62.8 mpg (3.74 litres per 100km). The cross-Britain route was designed to include all aspects of motoring, with different types of roads and driving conditions.
Winners for the last two years in a Toyota Aygo, James Sutherland and Richard Hill from Peak Performance, recorded the highest overall figure for a petrol engine in their 1.0-litre car with 82.39 mpg (2.85 litres per 100km), improving on the 78.39 mpg (2.99 litres per 100km) they achieved last year in the same vehicle.
Richard Balshaw, General Manager for Toyota Fleet said "Achieving the highest overall consumption in both diesel and petrol classes has highlighted the efficiency of Toyota engines across the board. With a raft of new models due in the coming year with even stronger fuel efficiency and lower CO2 emissions, Toyota will remain highly competitive in the fleet market."
Ross Durkin, Publisher of Fleet World added, "It's not what you drive, but how you drive that makes the difference. Naturally if you drive carefully in a vehicle which is already highly economical you will reap double the benefit, as the performance of the Toyota Yaris in this year's event clearly demonstrated."
For further tips on economic driving from CarAdvice's own Karl Peskett please click here.
Toyota wins economy marathon