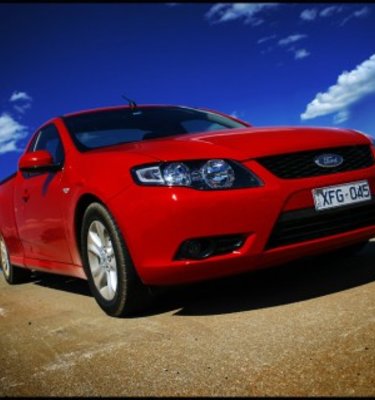 2008 Ford Falcon R6 Ute Review
2008 Ford Falcon R6 Ute Review & Road Test
Weekend warrior or tonka-tough Tradie, R6 is all the Ute you'll ever need
Model Tested:
2008 Ford FG Falcon R6 style side 4.0-litre, six-cylinder, five-speed automatic utility - $30,795 (RRP) / $34,105 (As Tested)
Options:
Metallic Paint $400; Climate Control $2160 (Fitted); ESP $750; Prestige Sound $700 (Fitted); LSD $495; One Tonne Suspension $495; Safety Enhancement Pack $600; Technology Pack $450 (Fitted); 17-inch Alloy Wheels $1000
Power Delivery, Handling, Payload, Feature List
Ambiguous Model Placement, Steering Wheel Size
CarAdvice Rating:
- by Matt Brogan
As Australians, we're proud to claim the utility as our own, just look at the population attending the Deni Ute Muster each year. It's a vehicle firmly ingrained in our culture, and as it was Ford who first provided us with a coupé-utility that could "take the pigs to market Saturday and the Missus to church on Sunday", - an analogy where you certainly don't want to mince your words - what better ute to review than this one.
Though it's highly unlikely we'll see pigs up back these days, the ute still has a massive uptake here in Australia, both as a workhorse and a show pony, and with the style and substance offered in the new R6 it's not hard to see why.
The R6 sits above the base Falcon Ute, but below the XR6 essentially replacing the XLS to offer a blend or compromise if you will of sporty looks but trade tough practicality. This puts the R6 in a slightly confusing and rather lonely position against direct rival Holden, as its base model Omega ute sits below and the SV6 ute above the R6 respectively.
From the outside R6 is unpretentious and robust with a hint of sporting flair thrown in for good measure. Much like potential owners, R6 is trade tough, but still manages to run some product through its hair each morning. The FG series kinetic front, 16-inch alloy wheels, subtle side skirts and sports rear bumper all lend a more aesthetically pleasing exterior over the base model Falcon ute's more mundane appearance.
Cabin space and refinement has improved markedly from the BA/BF series the FG replaces and is noticeably quieter and more ergonomic in layout. The seating position offers greater flexibility in adjustment and is more accommodating, all the controls are functionally more sensible, and the décor more uniform and appealing throughout.Space behind the seats is also very handy for someone who'll use the R6 as their primary vehicle.
Propelled by Ford's legendary 4.0-litre, DOHC, in-line six, R6 delivers an assiduous 195kW at 6000 revs and brawny 391Nm of torque at 3250 rpm. It's not afraid to rev out but also manages to achieve an ADR fuel consumption result reflecting an average 11.7 litres per 100km (combined). Somehow our test vehicle managed to better these results with a week of very mixed driving conditions, weights and weather returning a very impressive 10.4 litres!
Our Vixen (red) test vehicle was coupled to a five-speed automatic transmission though a six-speed manual is available as standard. The drive on offer is noticeably more refined and decisive than the four-speed offering it replaces, but is still not a mark on the sensational ZF six-speed, which is only available in higher end and performance model FGs.
Underneath R6 rides on Virtual Pivot Control Link front and Hotchkiss (leaf) rear suspension providing a passably smooth ride and very impressive handling characteristics, which though not overly harsh, are not as refined as coil based competitors. The upshot of this is greater carrying capacity, but more on that soon.
Steering is a vast improvement in all FG models and the R6 is no exception. There's a lot more road feel and the turn in rate is quicker which is actually unusual for a ute. It does help the package feel more together front to rear, despite the leaf springs, and isn't at all an issue to live with - even with a load up back, which is when most utilities have a front end that feels light and unsettled.
Payload can be optioned to a full tonne up back in style side or alloy tray formation (1220kg all told including passengers and fuel) and with the box fitted, as per our test unit, offers generous internal dimensions of 1843mm L x 1224mm W x 442mm H. R6 also has a braked towing capacity of up to 2300kg.
Obviously R6 comes with power steer, cloth seats and air-conditioning, but it also features sports suspension, a flush fit tonneau cover (style side only), poly bed liner, cruise control, single MP3 compatible CD tuner (with 3.5mm input jack), power windows and mirrors, remote central locking, four-way power seat, 16-inch alloy wheels, a rather large leather wrapped steering wheel, side skirts, fog lamps and dusk sensing headlights.
Safety comes courtesy of ABS with electronic brake force distribution, dual front airbags and optional ESP. It may not seem much, but R6 still manages a very respectable four-star ANCAP rating, which is a reassuring score for what is essentially a commercial vehicle.
Better still R6 can be optioned to include Prestige Sound (112W six-CD tuner), larger 17-inch alloy wheels, climate control (single zone) or with a Safety Enhancement Pack (Side Airbags and Perimetre Alarm) and/or Technology Pack (Bluetooth connectivity and iPod Integration) for a little more personality.
The R6 represents a tough, reliable and value-for-money means of getting yourself in to FG commercial and whether you're the weekend warrior or tonka-tough tradie it is sure to prove just about all the ute you'll ever need.
CarAdvice Overall Rating: How does it Drive: How does it Look: How does it Go:
Specifications:
Engine: 3984cc DOHC in-line six cylinder (24 valve)
Induction: Multi-Point Injection
Power: 195kW @ 6000rpm
Torque: 391Nm @ 3250rpm
Transmission: Five Speed Automatic
Brakes: Discs with ABS & EBD
Driven Wheels: Rear
Fuel Type: 91 RON petrol
Fuel Tank Capacity: 81 litres
Fuel Consumption: 11.7 litres per 100km
CO2 Emissions: 280 grams per kilometre
Safety: Dual Front Airbags, ESP (Optional)
ANCAP Rating: Four Stars
Service Interval: 12 month / 15,000km
Spare Wheel: Full Size Steel (16-inch)
Turning Circle: 11.5 metres
Towing Capacity: 2,300kg (Braked)
Warranty: 3 years / 100,000lm
Weight: 1600kg (Tare) / 1220kg (Payload)
Wheels: Alloy 16 x 7.0-inch
Road Test the Rivals:
Holden VE Omega Ute - $28,990 (RRP)
Holden VE Commodore SV6 Ute - $36,990 (RRP)
2008 Ford Falcon R6 Ute Review