Suzuki is set to steal the limelight at this year's Australian International Motor Show when it unveils the latest in its acclaimed Kizashi series of concept cars.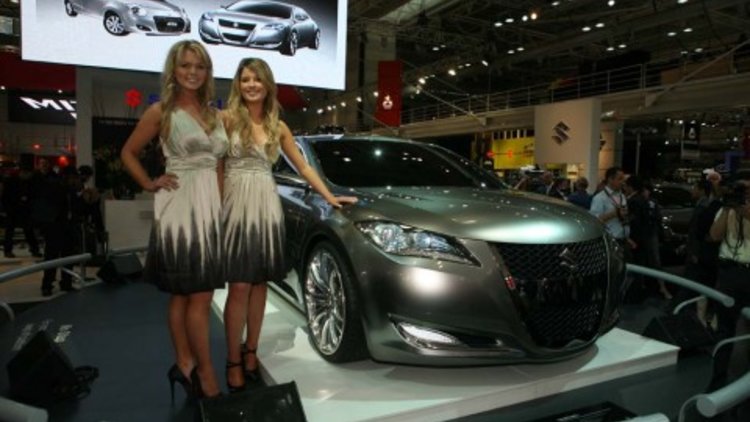 Kizashi 3 previews Suzuki's plans to enter the hotly contested medium passenger car segment with a high performance sports sedan.
The concept is powered by a 3.6-litre V6 engine featuring plated cylinders – a weight and space-saving technology that evolved from lessons learnt by Suzuki's MotoGP and World Rally Championship motorsport teams.
The 220 kW VVT engine is teamed with a paddle-shift six-speed automatic gearbox and Advanced i-AWD (All-Wheel Drive) system.
Suzuki says Kizashi - a Japanese word meaning prelude or foretaste - is a clear sign of things to come from the brand.
"This concept represents a new direction for Suzuki in that it takes our expertise with smaller sporty vehicles and translates that into the midsized segment," said Suzuki Australia General Manager Tony Devers, "We believe Kizashi will break the mould of typical midsized or family vehicles, when it goes into production next year."
Suzuki grew sales to over 2.3 million motor vehicles world-wide last year and says a new medium segment car is essential to achieve further sales growth.
While a firm timetable is still to be announced, Devers said production of the exciting new mid-sized sedan would begin in late 2009.
"Our engineers are also considering the possibilities of hybrid-powered and state-of-the-art clean diesel versions of the car," said Devers, "The Concept Kizashi series was developed by Suzuki's Advanced Design Group to reflect, it says, "the strong, honed physique of a dynamic athlete in motion."
The bulging bonnet, wide track abbreviated overhangs and aggressive wheel and tyre combinations convey an underlying strength and performance orientated image.
Kizashi is designed to accommodate the diverse lifestyles of customers who want to stay with Suzuki when purchasing larger, midsize cars.
Specifications:
Powertrain: Front engine, all-wheel drive with i-AWD system
Seating capacity: Five
Tyres: 255/30ZR21 9.5J
Wheels: 21-inch, nine-spoke, aluminium
Engine: 3.6-litre DOHC 24-valve V6
Transmission: Six-speed automatic
Maximum power: 220 kW
Overall length: 4,650mm
Overall width: 1,900 mm
Overall height: 1,450mm
Wheelbase: 2,800mm
Body colour: Kizashi Silver
Suzuki Kizashi 3 concept 2008 AIMS