The all-new Ferrari California has made its Asia-Pacific debut at AIMS, just one week after its world premiere in Paris.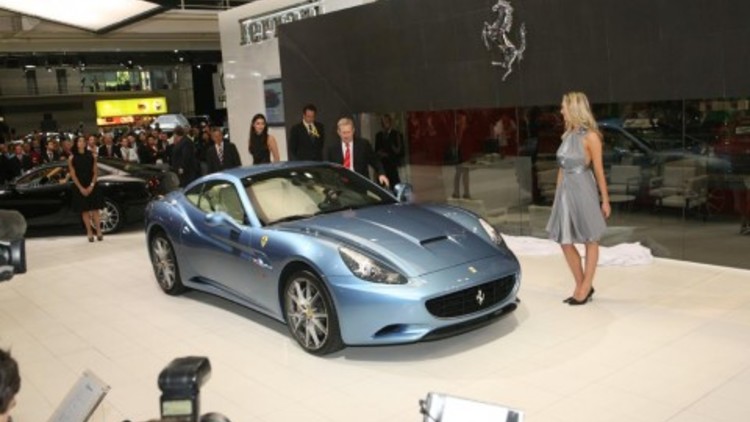 Ferrari has aimed the new model at sports car buyers seeking greater versatility, and as such the California is the first model from the marque to feature a folding hardtop roof.
The California is also the first Ferrari to feature a V8 engine mounted in a mid-front position behind the line of the front wheels.
The engine is an all-new design displacing 4.3-litres and featuring direct fuel injection and a "flat" crankshaft.
It generates 338kW @ 7,500rpm with a torque curve that Ferrari says enhances vehicle dynamics and provides maximum driving pleasure.
The V8 is mated to a traditional Ferrari transaxle featuring a seven-speed dual clutch transmission that boosts the car's performance and comfort, while reducing fuel consumption and emissions.
The California features a new multi-link rear suspension system and is also equipped with the F1-Trac traction control system that made its debut on the much-lauded 599 GTB Fiorano.
In line with the rest of the current range both chassis and bodywork are all-aluminium, including the folding roof.
Ferrari says aerodynamics of the California have been honed to ensure a refined ride for passengers, no matter if the hardtop is up or down.
The launch of the California marks the re-birth of a classic Ferrari name, first used on one of the most sort-after Ferrari models of all time.
An original 1961 Ferrari California sold at auction earlier this year for $US 5.4 million – an all-time record for a Ferrari road car.
"We are both proud and honoured that Australia has been chosen as the second public display of this important new car, and just days after its world debut," says Kevin Wall, General Manager for Ferrari at EAI, the Australian and New Zealand importer.
"The Ferrari California is, like its famous predecessor, a highly significant model for Ferrari.
"It takes Ferrari into a new market sector and sales expectations for the new model are clearly revealed by the all-new production facility that has been built to produce the California. We are both proud and honoured that Australia has been chosen as second public display of this important new car."
Following the launch of the new Ferrari California at the Australian International Motor Show, deliveries will start in mid 2009 when prices and local specifications will be announced.
Ferrari California 2008 AIMS