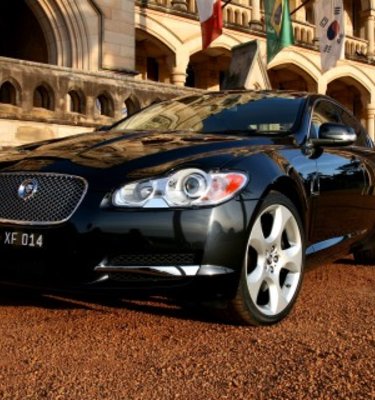 2008 Jaguar XF SV8 Review & Road Test
Current Pricing Not Available
2008 Jaguar XF SV8 Review & Road Test
Options: Sunroof - $3920

silky smooth engine and gearbox, brilliant handling, class leading interior
Headlight assembly styling
CarAdvice rating: (4.5)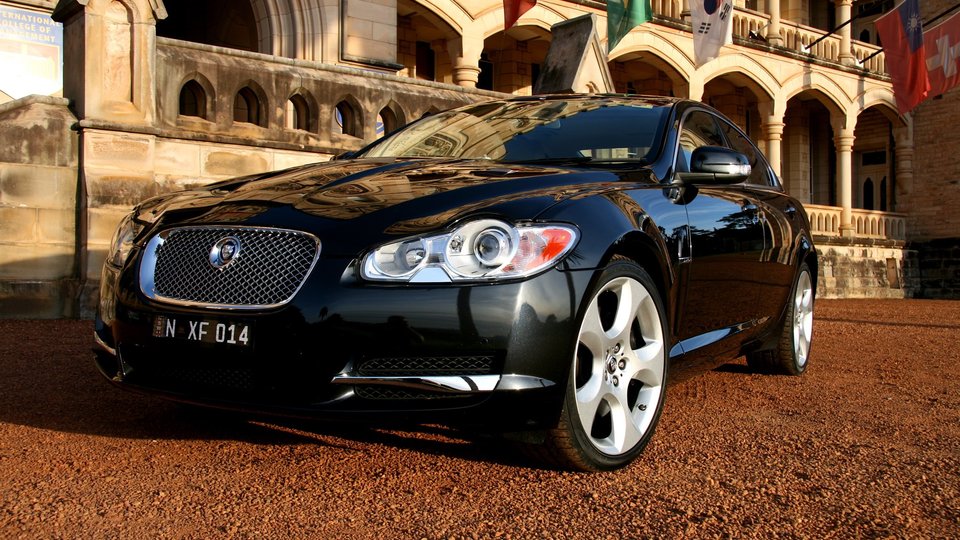 Jaguar needed to pull a rabbit out of the hat with its replacement for the retro-styled S-Type or things would look rather shaky about now.
Under enormous pressure, Callum and his team have pulled it off. Jaguar has produced a car that set's a new class benchmark and offers buyers a worthy alternative to the proliferation of 'made in Germany' fare.
And at precisely the same time, the air-conditioning vents rotate open in the flush metallic fascia like a well-rehearsed team of synchronised swimmers. It's quite a treat to watch and suitably impressive for any passenger.
It's a similar scenario with the touch button for the glove box although, I note that my colleague in Perth Karl Peskett, who recently reviewed the V6 petrol XF, could only get it to function after repeated attempts, but I had no such issue and found it a joy to use.
It's particularly good if your music is on an iPod as you can scroll through individual songs, playlists, artists or albums with consummate ease, and to think that some manufacturers still supply cassette decks. What on earth are they thinking!
The piece de résistance in the XF entertainment department has to the Bowers & Wilkins 440W sound system. If this is not one of the best in car audio units on the planet then I am tone deaf in both ears.
I could rave on further about how much I like the interior in the new Jaguar with its real wood veneer, clean styling and every conceivable luxury item known to man, but this being the XF SV8 and the hot rod in the line up, with 306kW and 560Nm, there are more urgent things to report.
The compression ratio is different for the SV8 or it maybe that I am anticipating the almost instant thrust available courtesy of the rotor-type supercharger, but there's no doubting that this is the "hot" version.
Once the rev counter nudges 2000rpm, you are aware that 86 percent of max torque is pulling you along, but keep your foot planted, and all 560Nm will come on song at 3500rpm, then you're really moving!
Its not just the car's performance that impresses but more how refined the power delivery is. It's so quiet around town that at low revs you can barely hear the warmed V8 ticking over. Its every bit as quiet as the Lexus GS460 and that is some call.
That's not to say that the boffins at Jaguar have forgotten about the importance of engine note in a car like this, they haven't.
Twist the drive selector to Sport, punch the right pedal and you'll be rewarded with chorus of V8 power and supercharger performing in perfect harmony. The problem is you will want to listen to this cat's growl over and over again.
It gets better, stay in "Sport" setting but hit the button with the chequered flag symbol (that engages the dynamic mode), and you are ready for business with gear ratios held to near redline before shifting up. If you want to completely disable the DSC, then that's fine too, the chassis will beg for it.
Whilst I'm a massive fan of Volkswagen's double clutch gearbox (DSG), it is nowhere near as smooth shifting as what Jaguar have employed in the XF. For an old school six-speed transmission, shifts are astonishingly smooth and fast. Engage the super quick paddle shifters and you could enter Targa Tasmania in a stock XF SV8.
The odd thing is though, that although the XF is a large sedan capable of carrying five adults, behind the wheel, it drives more like a coupe. There were times I completely forgot that I had four doors, such is the superb handling characteristics of this car.
Class leading torsional rigidity is one reason and the SV8's sophisticated CATS (Computer Adaptive Technology Suspension) shared with the XK Coupe, is another.
It's a complex damper management system, which electronically adjusts the shocks within milliseconds depending on road surface and driving style. This is easily one of the quickest acting systems with which I have ever driven.
The balance between performance and comfort is simply extraordinary. You can keep pushing the car's limits seemingly without any nasty side effects.
Not only will the car power into and out of corners with rock solid stability, there's rarely any loss of traction while doing so. Moreover, the ride is always comfortable despite the huge 20-inch wheels and low profile tyres.
For a car that handles this well, I expected potholes and other tarmac imperfections to move the XF around a little, but there's none of that. Any hole in the road is utterly neutralised by the SV8, allowing it to hold a steady line through fast moving corners, no matter what the road surface is like.
CarAdvice Overall Rating:
How does it Drive:
How does it Look:
How does it Go:
• Engine: 4.2-litre V8
• Induction: Supercharger
• Power: 306kW @ 6250rpm
• Torque: 560Nm @ 3500rpm
• Transmission: Six-speed automatic with paddle shift
• Brakes Front: Ventilated front discs 355mm x 32mm
• Brakes Rear: Discs 326mm x 20mm
• Driven Wheels: Rear
• Top Speed: 250km/h (limited)
• 0-100km/h: 5.4 seconds (claimed)
• Fuel Type: 98RON
• Fuel Tank Capacity: 69.5-litres
• Fuel Consumption: 12.6-litres/100kms
• Safety: Front and side airbags (driver and front passenger), side curtain airbags, ABS, Cornering Brake Control (CBC), pedestrian contact sensing, front seat whiplash reduction system
• Spare Wheel: 18-inch space saver
• Turning Circle: 11.1
• Warranty: 3 years/100,000km plus 24 hour roadside assistance
• Weight: 1842kg
• Wheels: 20-inch alloys