Japanese giant Mazda has a plan, it's called the Sustainable Zoom-Zoom plan and the aim is to not only create more fuel efficient cars but to keep the passion alive.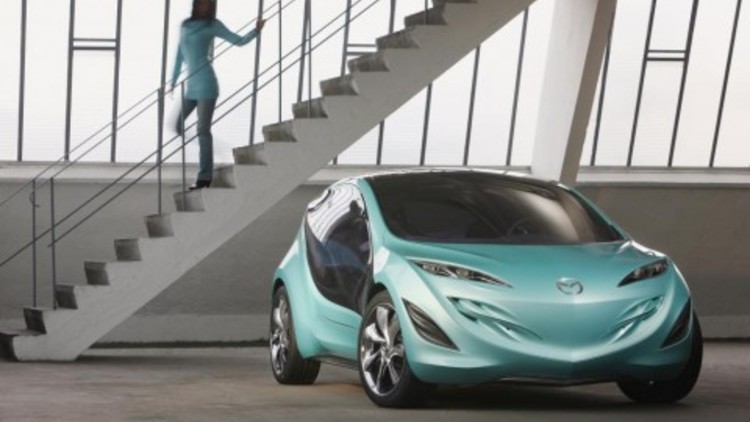 Specifically, the Hiroshima based manufacturer wants to cut improve the average fuel economy of Mazda vehicles sold globally 30 per cent by 2015 (over 2008 levels).
In order to do that, Mazda will need to develop a new range of internal combustion gasoline and diesel engines as well as begin working on lighter cars and more intuitive technologies.
The first step is the company's new unique Smart Idle-Stop System (SISS) and direct injection engines which will hit the market sometime next year. Moving forward, 2011 will see a whole new powertrain lineup, meaning new petrol and diesel engines and transmissions across the entire range.
Mazda hopes to achieve a 20 percent fuel efficiency improvement but this stage. This will be helped along by efforts in weight reduction of at least 100 kilograms or more per model.
Now, back to focus of the article, say hello to the Mazda Kiyora concept which will be on display at the Paris Motor Show very soon. The car is the future, according to the company. Not only is it more fuel efficient but, apparently, it's still exciting to look at and drive.
"Mazda Design has been working hard over the past two years to develop an exciting new design message with its Nagare series," says Peter Birtwhistle, Chief Designer, Mazda Motor Europe. "Mazda Kiyora is the latest iteration of that philosophy."
Perhaps an indication of a future Mazda2 (the concept is 10cm shorter than the current Mazda2), the Kiyora is made from a rigid and lightweight carbon-fibre body structure powered by a tiny 1.3-litre direct injection engine (with CO2 emissions of under 90g/km).
The entire car has been designed with new ideas in mind. For example the roof of the Kiyora is transparent, for an open-air feeling on the inside and has photovoltaic solar cells which provide electricity for the car's interior systems.
To save weight the doors and side windows are essentially one single unit (badly named as Windoors) and function as both. Mazda has given up on glass, instead choosing plastic, which provides the same transparency and refraction properties as glass, and the strength of a thin-panel door, but with far less weight.
From the inside the instrument cluster has turned to water. Mazda calls liquid-skin display technology, a system that mimics the rippling that water makes when you touch it with your finger. When the Kiyora is turned off, the interface looks like ice, frozen and hard. When the car is switched on, the display appears to turn into water!