Mazda has officially unveiled its next generation MX-5 Roadster at the Paris Auto Show today, boasting an all new look which reflects Mazda's current design philosophy.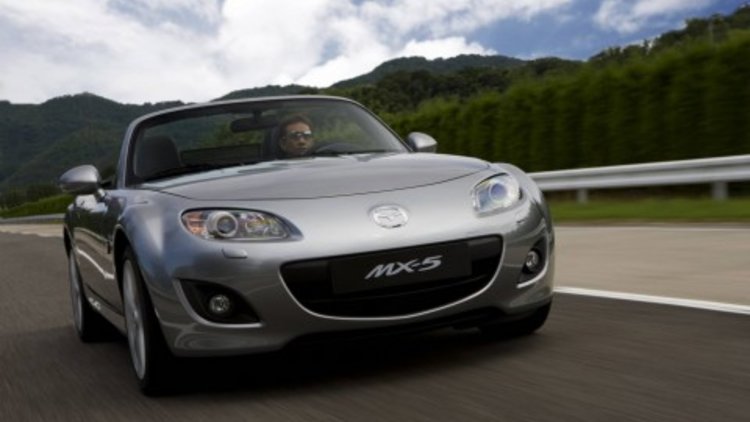 The new model continues to uphold the original "Jinba-Ittai" or "horse and rider as one" concept which made the original such a success.
Two models are available, the MX-5 and MX-5 Roadster Coupe which features the "origami" retractable hard top roof.
Aside from the obvious difference in the choice of roof material, these two models also boast several other distinct design differences.
Whereas the soft-top version has a fin-type grille, the Roadster Coupe has a mesh grille that is framed by a chrome ring - these subtle changes also extend to the headlamps, fog-lamps, door handles and rear brake light.
The Mazda has always been more focussed on balance rather than performance when it comes to the MX-5, as a result the new model produces an identical 118kW peak power and 188Nm for the 2.0-litre unit.
However, delivery and throttle response have been dramatically refined, with the rev limiter now set 500rpm higher to 7,500rpm and peak power kicking in 300rpm later at 7,000rpm.
The crucial 500 rpm increase in the rev limit has been enabled by a forged crankshaft (this ensures the required rigidity at high engine speeds), fully floating pistons and newly designed valve springs.
The engine note is equally as important to Mazda engineers, having increased the rigidity of the plastic surge tank in the intake manifold to produce a clearer note through the rev range.
The slick 6-speed manual transmission has also been refined, with the meshing surfaces of the 1st–4th triple-cone synchronizers are now carbon coated, and the 3rd–4th synchronizer diameter has been increased resulting in smoother upshifts.
A six-speed automatic gearbox is also available which now incorporates a paddle shift function and new Active Adaptive Shift (AAS) which monitors the gradient of the road and frequency of corners to recognise enthusiastic driving and change gears accordingly.
Inside the new MX-5, comfort has been improved with road noise dropping by 2.1dB compared to the old model; this is complimented by stiffer door modules and by newly added reinforcements on the No. 2 crossmember.
The new Mazda MX-5 is due to arrive in Australian showrooms by 2009; specific availability and pricing will be announced closer to the release date.
2009 Mazda MX-5 global details