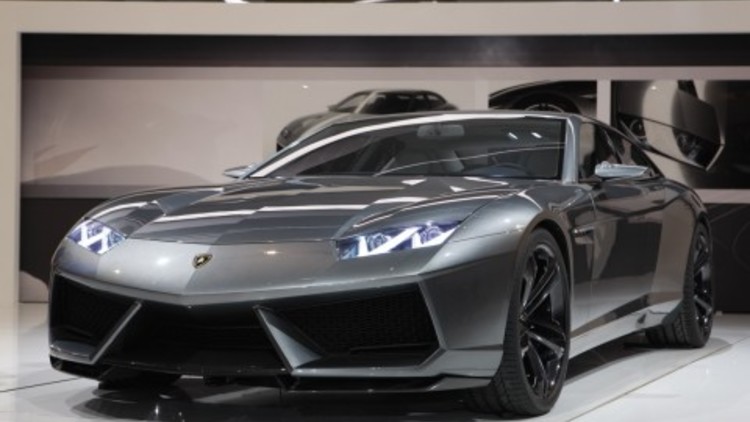 It's official, Lamborghini may well have built the worlds best looking four-door concept car but at this stage, it is only a concept and therefore lags behind the Porsche Panamera and Aston Martin Rapide.
My bet is though, that Lambo boss, Stephan Winkleman has already given a green light to the Estoque and we can't wait for it to go into production in Sant'Agata.
Make no mistake, the Estoque is a sports car in true Lamborghini style and DNA: "extreme, uncompromising and unmistakably Italian"
Four seats and ample luggage space, this four door Lamborghini is billed as an "everyday Sports car".
You'll have to agree, it's a superb looking car. Long wheelbase, low profile and a feast of Lamborghini accents, none more obvious than the 23-inch rear wheels.
It's the first time in the company's history that they have built a sedan and its fair to say that some diehard supporters of the brand may not like the idea of Lamborghini and four doors in the same sentence. Boo-hoo to them.
Lamborghini haven't specified a driveline for the Estoque but there are a number of tantalising possibilities. The V-10 from the Gallardo LP 560-4 would be hard to go past, given its significant torque output and permanent all-wheel drive.
There's is also talk of a turbocharged V8 derived form the Gallardo but even more interesting, is the idea of a V8 hybrid or super high performance turbo diesel. Whatever they choose, you can guarantee it won't be underpowered.
The design accents are all Lamborghini from the Y-shape LED rear light clusters and hexagonal fuel caps on both sides of the car.
You'll also notice the the small Italian flag on the front wings. We love that Italian heritage stuff.
Lamborghini are talking about comfort for four people over long distances, so you can assume that there will be plenty of legroom and space with four individual seats, which will be electrically adjustable.
High-end Nappa leather is the upholstery of choice and a large LCD screen will control vehicle and route information. A top shelf audio unit and rear seat entertainment system will be included in the package.
The new category of super sports sedans just got hotter with the Lamborghini Estoque concept. Let's hope a new production line at Sant'Agata is already busy building it.
Original Article
---
After weeks of tantalising teasers and rampant speculation, Lamborghini has finally unintentionally unveiled its latest concept - the Estoque.
Our earlier predictions have been confirmed, with the Estoque boasting a four-door, front-engined layout as Lamborghini's response to the Rapide and Panamera.
These first official images of the entire concept were leaked earlier today by a French website, much to the dismay of Lamborghini who no doubt had a few more teasers lined up.
Added speculation continues to suggest the Estoque will borrow the 560hp V10 engine from the LP560-4, along with part of its design DNA.
The front splitter is pure LP560-4 whilst the rear tail lights are unmistakably Reventon in origin.
For now this is merely educated speculation; however the full details will be released tomorrow when the Paris Auto Show begins.
Lamborghini Estoque four-door concept leaked