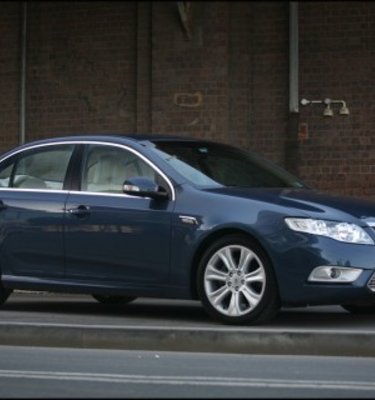 2008 Ford G6E Turbo Review
2008 Ford G6E Turbo Review & Road Test
Power, performance, poise and price... the G6E Turbo ticks all the boxes.
Model Tested:
2008 Ford G6E Turbo 4.0 litre six cylinder automatic sedan - $54,990 (RRP)
Options:
Matching Alloy Spare $250; 19" Alloy Wheels $2000; Satellite Navigation $2290; Safety Enhancement Pack $500, Tow Pack $495
Performance, Economy, Comfort, Price Tag
Interior Fit & Finish, Forward Console Lay Out
CarAdvice Rating:
- Words by Matt Brogan, Photos by Paul Maric
When you go to the breeder to pick out a new puppy you're told to go for the one who's most lively, the one that stands out as being more interesting than the others or is simply the first to bound up and lick your face. Similarly from the moment I first saw the G6E Turbo at Ford's FG Falcon unveiling I knew this was the pick of the litter and for me at least, was the one to take home.
Okay, so it didn't lick my face, that would have been plain weird, but it did have a calling about it, a stand out quality that told me it was serious, fast but by the same token livable and luxurious - what's not to like?
From the outset it is a very handsome car. Every line and each contour just seem to follow and flow in to the next seamlessly, without being gaudy or pretentious. It's almost understated in it's design which is just one of the qualities I most love about this car.
There is no shouting, no vibrant paintwork or bookshelf spoiler, just a subtle lip on the boot lid, a couple of small and well placed badges and a slightly more purposeful stance over those 18-inch alloys to hint that this is no mortal Falcon.
Inside the piano black finish of the centre console and sumptuous creamy leather trim almost mask the performance credentials lurking beneath the surface, in fact were you to leave the engine switched off, you'd swear black and blue oval you were in nothing more than a new generation Fairmont Ghia. Turn that flip key and give it a little kick in the guts and it soon becomes crystal as to the intent of the G6E Turbo.
Under that soft flowing bonnet lies the same 270kW turbocharged power house fitted to the XR6T, which under full noise generates a 533Nm burst of torque from 2000rpm all the way to 4750 rpm - and what a noise it is, the euphonious force fed in-line six-cylinder sounds orchestral and remains deep, all the way to the red line.
The performance results that ensue are electric, and the entertainment value therein is one of the more pleasurable outcomes of driving the G6E Turbo. Most challengers to a quick saunter from the lights were left dumbstruck when the "family sedan" had annihilated them, whilst with the Dynamic Stability Control - Ford's take on ESP - switched off it was I left wondering where I was amid a thick Dunlop fog.
Cog swapping comes compliments exclusively of a six-speed ZF automatic that in my opinion is by far the best gearbox available in an Australian produced car.
The ZF is brilliantly decisive and is just as happy popping quick changes for a sprint down the overtaking lane as it is dawdling around town. The only addition I could have asked for would be some shift buttons or paddles on the steering wheel.
Steering feel (along with driving position) was one of the biggest headaches for the previous BA/BF series and Ford has done well to ensure the issues were addressed for FG. Offering a far more neutral and balanced feel, the steering offers quicker turn-in and sharper front-end feel over the predecessor, as well as far less column vibration.
The suspension set up too has benefited in making for not only a better handling package, but one that rides in a more settled manner, is easier to manage when evasive maneuvering is required and offers a more calm, quiet and comfortable ride - a brilliant mix all round.
Up back G6E Turbo loses the LSD fitted to its XR6T cousin, but given the more family orientated packaging this is probably a good thing. The final drive ratio comes in at 2.73:1 which makes for very economic highway cruising, in fact for my week of combined driving I managed an average of 11.6 litres per 100km.
Staying at this end of the car G6E Turbo of course offers Falcon's famous large boot (531 litres) and also features 60/40 split fold rear seats for those occasions when a little more space is required.
Towing capacity is de-rated from the 2300kg normally on offer in Falcon to 1600kg for transmission cooling reasons, but given most people are unlikely to use the G6E Turbo for little more than the bikes or a jet ski, it's more than ample.
With a house full of airbags, ABS, EBA, EBD and one of the most well calibrated ESP systems available in an Australian built car, the G6E Turbo has the safety aspect covered as well to ensure safe motoring for the family buyer.
Some aspects of the interior did hint that fit and finish was a little lacking with our model showing displacement in the joins around the Human Machine Interface (HMI) screen, driver's door handle and auxiliary input plug.
I also find the left over taxi/police pack tray at the forward end of the console a little unsightly as compared to FPV rivals, but those trivial items aside, the G6E Tubo feels and appears well built.
For the price, the G6E Turbo offers a level of performance unrivaled in an Australian built luxury sedan and what's better still is that it won't deplete the funds each time you fill up. Power, performance, poise and price ... the G6E Turbo ticks all the boxes.
CarAdvice Overall Rating: How does it Drive: How does it Look: How does it Go:
Specifications:
Engine: 3984cc DOHC six-cylinder (24 valve)
Power: 270kW @ 5250rpm
Torque: 533Nm @ 2000 - 4750rpm
Induction: Intercooled turbo & multi point
Transmission: Six-speed automatic
Differential/Driven Wheels: 2.73:1 / Rear
Brakes: Disc with ABS, EBA & EBD
Top Speed: Not Tested
0-100km/h: 5.18 seconds
0-400m: 13.43 @ 173km/h
Fuel Consumption: 11.7 litres/100km (ADR)
Fuel Tank Capacity: 68 litres
Fuel Type: 98 RON petrol
ANCAP Rating: Five star
Airbags: Front, side & curtain available
Safety: ESP with Traction Control
Spare Wheel: Space saver
Tow Capacity: 1600kg (Braked)
Turning Circle: 11.0 metres
Warranty: 3 years/100,000km
Weight: 1715kg (Tare)
Wheels: Alloy 18 x 8.0-inch
2008 Ford G6E Turbo Review