It's been 10 years since the four-door flagship of the Bentley range was released. 1998 saw the introduction of the Arnage - a stately, luxurious sedan with all the Bentley hallmarks of immense torque, precise handling and cossetting opulence.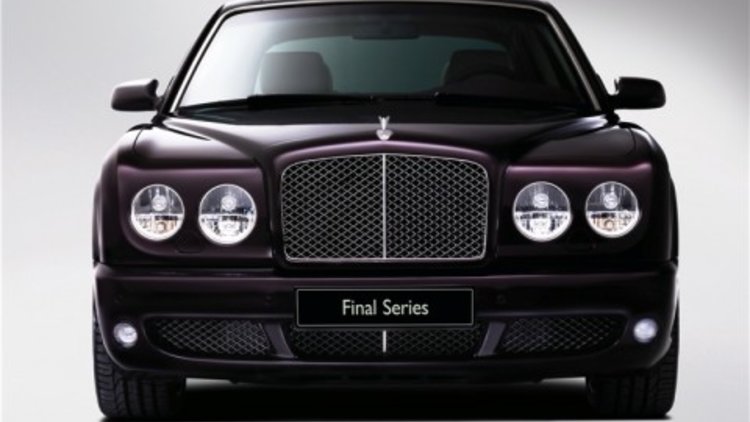 This morning, however, Bentley has announced that the last run of Arnages will be released under the Final Series banner.
A run of 150 cars will be built, but then folks, it's all over. 90 years of tradition is wrapped up in these last cars, and it also marks the 50th anniversary of the 6.75-litre V8 that we've come to know in so many Bentleys.
However the real kicker in the press release is this line: "Arnage Final Series also signals the end of an era, as Bentley prepares for the future."
We'll have to wait and see what that means. In the meantime, the Arnage Final Series is touted to be the ultimate expression of the meaning behind the Bentley name.
For example, you get a choice of 42 paint colours, 25 interior leather colours, three different wood trims (which are real wood, of course), and a retractable flying "B" bonnet mascot. There's Final Series badging on the wings, Final Series treadplates, a Final Series flask and shot glasses, cocktail cabinet, document storage, and of course, two picnic tables, and four Bentley umbrellas, with wooden handles, no less.
Bentley has also moved with the times, with the entertainment centre head unit getting an SD card slot, and IPod input, as well as USB, Mini USB, and a 3.5mm auxillary jack. Of course, Naim audio is standard.
But it's under the bonnet that things really heat up. Using the same engine as the Brooklands, the Arnage final series gets the full-welly twin turbocharged V8, with 373kW and a colossal 1000Nm of torque. ZF's supreme six-speed automatic bolts up to it for smooth shifting, and it will move this 2.6-tonne sedan from 0-100km/h in 5.5 seconds.
"The Final Series is the perfect model to give our Arnage flagship a splendid send off," said Stuart McCullough, Member of the Board, Sales and Marketing. "Handcrafted at Crewe, this exclusive run of 150 cars represents the ultimate expression of Bentley luxury and effortless power."
No word on pricing or Australian allocation as yet (our Bentley contact is at Crewe at the factory right now), but as soon as we know, we'll pass it on. In the meantime, expect a review of the Continental GT Speed in the coming weeks.
Bentley Arnage Final Series