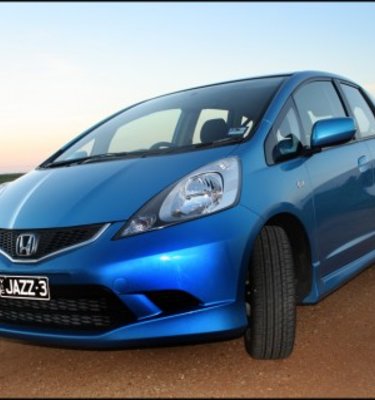 2009 Honda Jazz VTi-S Review
Looking for a deal on this car?
2009 Honda Jazz VTi-S Review & Road Test
Who said life wasn't meant to be easy?
Model Tested:
2009 Honda Jazz VTi-S 1.5 litre manual hatch - $21,590 (RRP)
Options:
Metallic paint $300 (Fitted – Cerulean Blue); Bluetooth $700; rear parking sensors $585
Economy, versatile design, ease of use, value for money
Front leg room, rear blind spots, short service intervals, no ESC
CarAdvice Rating:
- words and photography by Rose Harris
In a word, the Honda Jazz is 'easy'. It is easy to drive, easy to look at and easy to live with. In the small car stakes, Jazz has come out a winner with its design, economy and all-round accessibility making it the perfect runabout for the work commute while being equally suited to a family weekend away. It succeeds in providing great value for money and pushes the limits of what typifies a small car.
While you won't be breaking any speed records, the 1.5 litre, four-cylinder, SOHC engine provides just enough oomph, whilst manageability is at a premium with light steering that doesn't compromise stability. There is nothing laboured about this jazzy number, gear changes are smooth and accurate and the highly responsive steering makes parking a breeze. Despite its miniature frame the Jazz sticks to the road providing peace of mind on both sealed and unsealed surfaces.
The attempt at reducing driver distraction stuck out for me, starting with the design of the dash and instruments. Commonly used controls, such as those for the ventilation system, are close to the driver and are both large and simple to use. The cruise control is easy to use, just a matter of two button pushes and the LCD stereo display is easy to read (including the added bonus of song and album information) but isn't overly bright which comes in handy for night driving.
Positioning on the steering wheel of the audio, info and cruise control buttons means you aren't accidentally pushing buttons when trying to steer. The stereo throws out great sound and also has an auxiliary connection to rig up your iPod or MP3 player. If I had to fault it, I'd say the dash is a tad 'plastic', which I feel does cheapen the car, but in terms of layout and design, still scores high points.
The instrument display isn't crowded with too much information which is a big plus for me. It is a "back to basics" layout comprising three large red dials – tachometer, speedo and fuel gauge. I especially like the size of the fuel gauge, so you are always reminded of exactly how much is left in the tank. A small LCD screen in the middle of the dials allows you to flick through other information such as fuel consumption and trip time.
The Honda Jazz is yet another one of those 'beeping' cars, must be aimed at the American market, which becomes a little annoying at times. It beeps when the door is open, if seatbelts aren't on, if the key is left in when the driver's door is open and if the headlights are left on, still it may help prevent a flat battery I guess.
The futuristic design of the car looks great on the road and is also functional, the front pillars have been bought forward, adding an extra panel of window just at the back of the side mirrors. The extra glass gives a much more spacious feel, detracting from the compact nature of the Jazz. Large side mirrors add to visibility, but the depth of the side pillars do make a quick blind spot check a little challenging.
I'll be honest; I have had my small car issues in the past and never dreamed of attempting a family weekend away in such a class of car. However, I was pleasantly surprised by the Jazz. It has more space than first meets the eye; I was able to fit a pram and luggage (or a good load of shopping) in the boot. The boot is also at a great height for lifting a pram or similarly heavy items in and out.
Two child seats easily fit in the back seat and the Jazz is equipped with three full child seat anchors across the rear roof. However, the anchor straps do cut across the rear window, reducing visibility and carrying space. When a toddler is in a child seat, it puts them right at the door handle level, but the tried and tested child lock averts any disasters. The rear seats also have space to stash extra bags underneath which I found very handy.
Legroom for the front seat passenger is limited though, there is no hope of opening the glove box without amputating the passenger's knees and I also found myself punching the passenger in the leg when changing into first or second gear. But space issues are always going to be there in a small car, it is after all a small car!
I missed the central console but loved the many (ten in total) cup holders, most notably the one on the right hand side of the steering wheel which means no looking down to find your coffee while driving. If kids aren't involved and the cargo space is what you are after, the back seats fold down to create more space to fit anything from a surf board to more luggage.
The cargo space jumps to 848 litres with the seats folded as opposed to 337 litres with them in place. Honda has come up with a 'magic' seat system which means the seats literally fold down in one easy action, no yanking, pulling or digging out the instruction manual required.
In the current climate of high petrol prices, economy is also a big plus for this little number. The highest I saw the consumption climb was 6.3 L/100km in peak hour traffic with it dropping to 5.9L/100km on the open road. Although filling up for the first time had the line of Friday evening petrol station goers behind me seeing red until I figured out you push the fuel door to open it, so don't go searching for the release lever. The fuel door does lock with the central locking.
The ride is quite comfortable, the only issue I had with the seats themselves was that the headrests adjust too easily and can be knocked out of position with the slightest touch.
Although safety is a priority with side curtain airbags, seatbelt indicators for all passengers and super bright brake lights, it isunfortunate that the engine/automatic gearbox combination that Honda Australia has chosen precludes the inclusion of Electronic Stability Control(ESC).
However, Honda is working with the engineers in Japan to bring this vital safety feature to the Australian version of the Jazz as soon as possible.
All in all, this is a great little car for your money. A compromise on space brings fantastic fuel economy and an easy, user-friendly car that is hard to fault.
CarAdvice Overall Rating: How does it Drive: How does it Look: How does it Go:
Pricing:
Honda Jazz GLi $15,990 (M) / $17,990 (A)
Honda Jazz VTi $19,170 (M) / $21,490 (A)
Honda Jazz VTi-S $21,590 (M) / $23,920 (A)
Specifications:
Engine: 1497cc SOHC four cylinder (16 valve)
Power: 88kW @ 6600rpm
Torque: 145Nm @ 4800rpm
Transmission: Five speed manual
Brakes: Four-wheel discs with ABS
Driven Wheels: Front
Fuel Type: 91RON petrol
Fuel Tank Capacity: 42 litres
Fuel Consumption: 6.4 litres per 100km (Combined)
CO2 Emissions: 151g/km
Safety: Front, Side & Curtain Airbags
EuroNCAP Rating: Four stars
Service Interval: 6-month/10,000km
Spare Wheel: Full size alloy
Turning Circle: 9.8 metres
Towing Capacity: 1000kg (Braked)
Warranty: 3-year/100,000km
Weight: 1090kg (Tare)
Wheels: Alloy 16 x 6.0-inch
Road Test the Rivals:
Looking for a deal on this car?
2009 Honda Jazz VTi-S Review