2008 Dodge Journey First Steer
Some wag had to say it on the media launch for the all-new Dodge Journey crossover and they did - "it's not so much the destination as the Journey that counts".
-David Twomey
They weren't far wrong either as the Journey will really count for the Dodge brand in Australia as it has the potential to become the US brand's top selling vehicle in Australia.
Chrysler Australia Managing Director, Gerry Jenkins, was being a bit coy about sales numbers at today's launch but admitted he expect at least 100 a month from the seven-seater that will be classified as a People Mover in Australia.
The Journey is called a crossover-SUV in other countries, including its home in the USA, but that's because those markets also get a four-wheel drive version.
In Australia the Journey will be restricted to just two-wheel drive, but to be frank that's no great concern as most people who buy it will never take it anywhere they are likely to need more than two driven wheels.
Mr Jenkins said the all-new Dodge Journey was engineered to meet life's changing demands by offering a unique combination of versatility and flexibility in a sporty design package.
He added that it took on the practicality of a people mover, the flexibility of an SUV and the overall efficiency of a passenger car.
"Active life styler's expectations will be exceeded with so many user friendly amenities on the all-new Dodge Journey."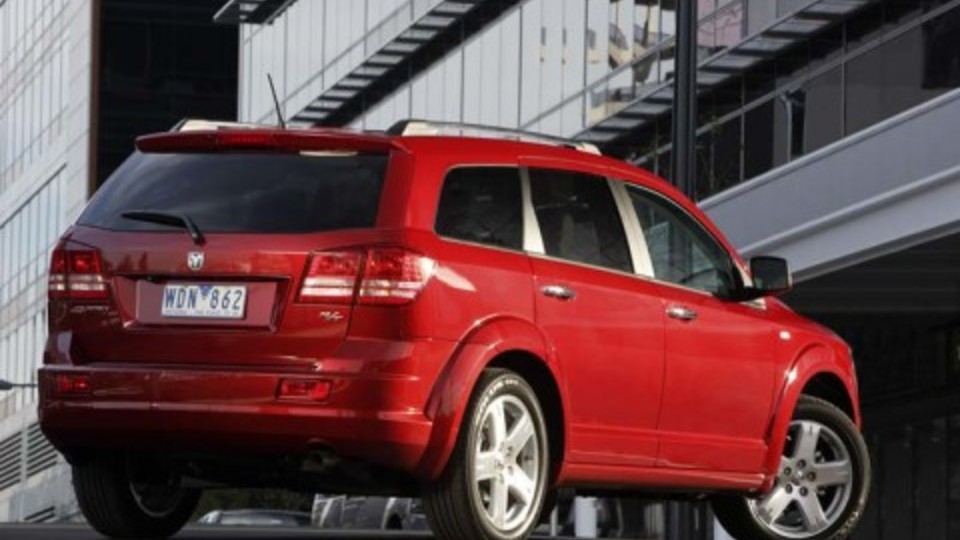 "This is a unique vehicle that will appeal to a crowd of consumers who want a reasonably priced, fuel efficient vehicle with seven seats today - not tomorrow."
Mr Jenkins said the power-train choices for Dodge Journey have Australian customers in mind - a 2.7-litre V6 petrol engine linked to a six-speed automatic transmission, which is standard across the range.
Also on offer is a 2.0-litre turbo diesel engine, sourced from Volkswagen, that's matched to a Chrysler-Getrag produced six-speed, dual-clutch automatic transmission.
"Offering Journey to the Australian market was an easy decision - seven seats, six airbags, ESP, automatic transmission and Dodge good looks are all standard across the range," said Mr Jenkins.
Clever, flexible seating and storage combinations include standard seven-passenger seating with spacious cargo room and all the safety equipment consumers expect from Dodge. Spacious storage bins, hidden in the floor and under the front passenger seat cushion, combined with two fuel-efficient power-train options, make Dodge Journey flexible and functional.
The Journey features two engine and transaxle combinations that are aimed at meeting the needs of a diverse group of buyers. These include a quite fuel -efficient and powerful 2.0-litre turbo diesel engine – sourced from VW, plus Chrysler's 2.7-litre V6 engine, coupled to a six-speed automatic transaxle.
The 2.0-litre turbo diesel engine is available on the range-topping Journey R/T and Chrysler Australia says it positions the Journey competitively in its class for power, torque, acceleration and fuel economy.
Maximum power is 103kW and peak torque is 310Nm. The 2.0-litre engine achieves fuel consumption ratings of 7.0 L/100km with the all-new six-speed dual-clutch automatic transaxle.
It's certainly the engine of choice in the Journey and on our 300+ kilometre launch drive we averaged a credible 8.4L/100km.
The diesel engine and dual-clutch gearbox combination could become available in the entry level SXT if there is sufficient demand, according to Chrysler Australia MD, Gerry Jenkins.
Currently the Journey SXT and R/T arrive with a 2.7-litre, V6 engine as standard. The 2.7-litre engine comes coupled with a six-speed automatic transaxle, and produces 136kW and 256Nm of torque.
The 2.7-litre petrol engine delivers useful performance and a fuel consumption rating of 10.3 L/100km (combined), which was close to what we achieved on our introductory drive.
Storing things "under the front seat" takes on an entirely new meaning thanks to the Dodge's innovative Flip 'N Stow in-seat storage. The front-passenger seat cushion is hinged and, when flipped forward, reveals a bin that is large enough to store a purse, umbrella, PDA or MP3 Player when the seat cushion is down.
The Dodge Journey rear doors open 90 degrees, making it easier for people to get in and out of the second row and gain access to the available third-row seat.
The Journey also features stadium seating, which gives passengers in the second and third row the ability to see outside the vehicle, which is especially helpful for keeping young passengers entertained on long drives. The second-row is 40 millimetres higher than the first row. The available third row sits another 17 millimetres higher than the second row and 57 millimetres higher than the first-row seats.
Located in the floor behind the front-row seats are two standard under-floor storage bins that are designed to hold drinks plus ice or other items, conveniently out of sight.
For added convenience, the bins feature latching lids and removable, washable liners, so they are easy to clean. The second row also slides rearward 60 millimetres, for 120 millimetres of total seat travel, providing extra legroom for taller passengers.
The available third-row seat is easy to operate and get into thanks to Dodge's Tilt 'N Slide second-row seats.
With the push of a single lever on the side of the seat back, seat cushions easily fold upward and the seat slides forward. The 50/50-split-folding third-row seat provides enough room for two passengers on an as-needed basis and the seatback reclines six degrees to make the ride even more comfortable.
A rear in-floor hidden storage bin located behind the third-row seat is standard on all models.
The Dodge Journey also features two types of seat upholstery, Chrysler's 'YES essentials' stain-resistant, odour-resistant, anti-static seat fabric is standard on the SXT, while leather trim is standard on R/T models.
At the media launch Chrysler made much of the fact that it was the first non-European carmaker to offer dual-clutch technology, which it sees as providing much improved fuel efficiency and light overall weight, both commendable features in any vehicle, and especially one that weighs in at over 1700kgs.
Interestingly the Journey is larger than both the Ford Territory and the Toyota Kluger and is just a little shorter than Holden's new Commodore Sportwagon.
Chrysler Australia definitely sees the Journey as a competitor to both the Territory and the Kluger.
So what's it like? Well there's still that impression that the American's have yet to discover the tactile interior finishes that the rest of the world has known for a long time but the improvement is very noticeable.
The trim and quality of fit and finish is a major step up for a US product, although the Journey is actually built in Mexico, and the R/T in particular looks very stylish with attractive chrome bezels on the audio and air-conditioning elements of the centre console.
The R/T we drove also featured the latest version of Chrysler's MyGIG entertainment system, which now features a 30-gigabyte hard-drive plus Bluetooth phone connectivity, IPod integration and 360-watt Infinity audio system.
On the road the petrol-engine SXT we drove was quiet and refined in its ride and handling, which unfortunately only served to highlight the slightly thrashy nature of the V6 engine's operation.
It struggles when presented with hills and immediately wants to drop down a gear and start revving to keep the Journey up to speed.
In the diesel engine R/T there was no such problem and the additional torque of the engine meant it cruised along happily in top gear, without the need to hunt for lower ratios unless the inclines were substantial.
Even then it was a strong pull from the diesel that meant the overall progress was a much quieter affair and we'd have to say that this combination is the preferred option.
The dual-clutch gearbox is a very smooth operator that gives the feel of an automatic, rather than the automated-manual feel that Australia's have become accustomed to from the likes of VW's similar DSG gearbox.
That said it is refined and pleasant to use and works well.
Overall the Dodge Journey is a well priced and well presented addition to the family vehicle market in Australia and we would think it should be on the shopping list of anyone looking for a multi-purpose family orientated mode of transport.
Model line-up
Dodge Journey SXT- 2.7L petrol V6 and six-speed automatic
Dodge Journey R/T- 2.7L petrol V6 and six-speed automatic
Dodge Journey R/T CRD- 2.0L turbo diesel and DCT six-speed auto-manual
Options
MyGIG Entertainment system$3250
Power sunroof$2000
Second row video screen$1500
Rear park assist$400
Premium paint$300
Sunscreen glass (SXT only) $300
Pricing
Dodge Journey SXT $36,990
Dodge Journey R/T$41,990
Dodge Journey R/T CRD$46,990
2008 Dodge Journey First Steer