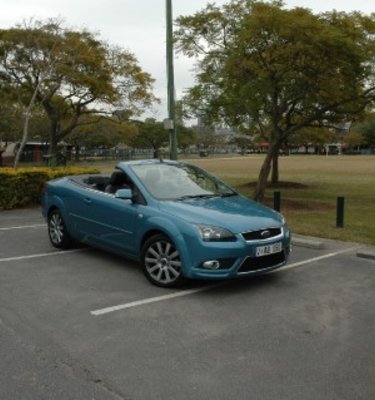 2008 Ford Focus CC Review
Current Pricing Not Available
2008 Ford Focus CC Review & Road Test
Stylish, stereo, interior, practicality
Engine, gearbox, handling, price
CarAdvice Rating:
Here in sunny Brisbane it's hard to dislike convertibles, the weather is nearly always perfect, the sun is out, the wind is minimal and people usually smile at you when you have the roof down. With those pleasant thoughts in mind, I drove out to Ford headquarters to pick up, what would surely be another worthy convertible on the market.
At $47,490 for the automatic Focus CC, this convertible from the Blue Oval is by no means cheap. To put that price into perspective, the Peugeot 207CC which is arguably the best small convertible on the market is priced at $39,990 for the manual turbo (granted it's smaller than the Focus).
The Focus is priced directly against its main rival, the similarly sized Holden Astra TwinTop convertible, which starts at the exact same RRP.
Whilst driving the Focus enthusiastically may not be all that pleasant, sitting inside is a different story. Apart from the already mentioned Sony audio system, which offers iPod connectivity, Bluetooth and MP3 compatibility, there are heated (front) leather sports seats (driver's gets power height adjustment), proper rear bucket seats with head restraints, dual-zone climate control and even a cooled glovebox to keep your drinks at optimal temperature.
As a package, the Focus CC will appeal to many. With a great interior and pleasant looks it ticks the right boxes. However it will find it a challenge to compete with the Astra TwinTop as the Opel-sourced Holden presents a better overall package.
CarAdvice Overall Rating:
How does it Drive:
How does it Look:
How does it Go:

Specifications:
Engine: 2.0-litre Duratec 16V four-cylinder
Power: 107kW @ 6000rpm
Torque: 185Nm @ 4500rpm
Transmission: Four-speed automatic
Brakes: Discs with ABS, EBA & EBD
Driven Wheels: Front
Fuel Type: 91RON Petrol
Fuel Tank Capacity: 55 litre
Fuel Consumption: 8.3 litres/100km (Combined)
CO2 Emissions: 199 grams per kilometre
Safety: ESP, front & curtain airbags, Rollover Protection Device
Warranty: 3 years/100,000kms
Weight: 14650kg