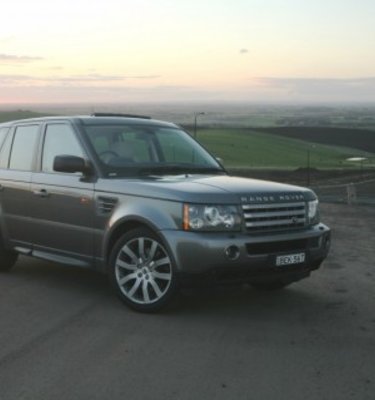 Land Rover Range Rover Sport Supercharged review
Looking for a deal on this car?
2008 Land Rover Range Rover Sport Supercharged Road Test
Model tested: Land Rover Range Rover Sport Supercharged
Recommended Retail Price: $136,000.
Options fitted: None fitted.
Styling, the noise, off-road ability, oh and the noise
Fuel consumption, no reverse camera
CarAdvice rating: (4.25)
- Review by Paul Maric
When a new baby enters the world, it's showered with gifts and attention.
When Land Rover's Range Rover Sport entered the world, the oldest of the sport's siblings was showered with not only a tub-thumping V8, but also a supercharger.
Coupled to that supercharger was the meanest set of exhausts this side of Ferrari.
Ladies and gentlemen, welcome to the Land Rover Range Rover Sport Supercharged.
Open the cabin door and you'll find splashes of leather and woodgrain, our test vehicle had dark woodgrain, along with a beige interior, which made it stand out nicely from the crowd – pity about how quickly it was dirtied though!
Interior space is pretty good. You wouldn't have any dramas fitting in a small family, while entertainment consists of LCD screens built into the driver and passenger seat headrests.
The great thing about these is that you can select individual programs to operate on each. One person can be watching TV, while the other watches a DVD or the device attached to the TV-in ports. Wireless headphones help deliver sound, while it can also be projected via the stellar Harman/Kardon sound system.
Unfortunately, heated seats don't make it to the standard features list. On a top of the line model, this is a big disappointment!
Harman/Kardon is known for its brilliant sound systems and the Sport's sound system is no exception. Sporting 13-speakers, the LOGIC7 sound system includes an active sub-woofer and an in-dash 6-stack CD-player.
Outside the cabin, the Supercharged reeks style with 20-inch, 10-spoke wheels, unique badges and twin tailpipes to set it aside from the rest of the range. The self-charging key is used to open the glass section of the boot, while the external button opens the entire section. It's not a power lifted boot though which is a bummer.
The real gem of this SUV weapon lies under the bonnet and when the supercharged, 4.2-litre V8 is singing, you will know about – as will anyone else within earshot.
Spin the key over and it fires to life with an edgy burble at idle, waiting to be unleashed into the wild. Even the lightest throttle application promotes the possibilities. Give the throttle a hearty swab and the noise engulfs the cabin, regardless of the window position.
It sounds nothing like application of this engine in similar Jaguars, despite being near identical.
It's such a ferocious and genuine sound. The supercharger whines at the lower end of the rev range, only to reach a crescendo with a V8-supercar like tear through the sound barrier.
It sounds tough as nuts and certainly isn't characteristic of a run of the mill SUV! It works especially well at the traffic light GP where most contenders are sorted out at the drop of the right foot.
The supercharged V8 produces 287kW of power and 550Nm of torque. The power produced is hampered by the Sport's porky 2.6-tonne weight though and the result is a somewhat leisurely 0-100km/h time of 7.6-seconds. The fuel consumption certainly wasn't leisurely though – I averaged 17.4-litres/100km (slightly higher than the official combined figure of 15.9-litres/100km), it was hard to resist with that devilish engine note constantly lingering.
I was in two minds at this point. Sure, it was a wicked noise, but what purpose did it serve if all it could do was go fast in a straight line? Well, I had to head to our private test circuit to mull this one out.
The first thing you notice is the brilliant level of compliance. Tip the heavyweight into a bend and it responds with impressive levels of body control. The communication through the steering wheel is exceptional, it communicates well with the wheels and has enough feel to keep the average punter happy.
Leave the ZF Sachs six-speed automatic gearbox in Sport mode and it sorts out the upshifts and downshifts (in a very good manner may I add). Blips on the downshift and retention of gears allows the Range Rover Sport to shoot out of corners with relative ease (surprisingly so when you take the weight into account).
The only problems you encounter come when changing direction in a hurry or braking hard. Changing direction is not a task done light-heartedly. It needs to be progressive and uniform otherwise the hulking Sport will bite with some oversteer.
Braking also is best conducted with the steering in a straight line. Deviate from dead centre and the back end wiggles around in a grapple for grip.
Overall though, it's pretty darn impressive for such a heavy machine. The standard Brembo braking package held up quite well. The brakes continuously bit with urge and contended quite well with the vehicle's mass.
Although we didn't get a chance to throw some mud around in the Sport, it uses the same 4WD components as its siblings (who we have tested extensively off-road).
What's it worth then? If you want the supercharged Range Rover Sport in your driveway, be prepared to part with the best part of $136,000. It's loaded with kit though and expect to see the following as standard fitment:
Automatic dual-zone climate control air-conditioning; perforated sports leather seats; cruise control; central locking; six-stack CD player; twin LCD screens in rear headrests; satellite navigation with unbuilt TV; AUX in; TV-in; 6-stack DVD player; eight-way power driver seat; six-way power passenger seat; front and rear parking sensors; reversing camera; adaptive bi-xenon headlights; heated steering wheel; power mirrors; folding mirrors; sun roof; heated external mirrors; auto dimming rear vision mirror and electric windows.
Standard safety features include: driver and front passenger airbags; driver and front passenger head airbags; driver and passenger side airbags; rear passenger head airbags; 4-channel ABS brakes; Brembo front brakes; perimetric alarm system with passive arming; active roll mitigation and dynamic stability control.
Right, so I've weighed up the pros and the cons and I still want one. There is no way I could ever get bored of the engine note. I also think that if you can afford the Sport Supercharged, there's a good chance you won't mind paying the fuel bill.
I really didn't want to hand the keys back and I'd go so far as saying it's the most fun I've had in a car this year! You just couldn't wipe the grin from my face each and every time I gave the throttle a stab.
With that said, there's really nothing bad that stood out about the car (aside from the fuel consumption). So technically, it is the perfect car and that's where I'll leave it.
CarAdvice overall rating:
How does it drive:
How does it look:
How does it go:
2008 Land Rover Range Rover Sport Supercharged Specifications

Engine: 4.2-litre, supercharged V8
Power: 287kW
Torque: 550Nm
Top speed: 225km/h
Safety: Electronic stability control- front air bags - side airbags - roll over protection - front seatbelt pre-tensioners and load limiters.
0-100km/h: 7.6-seconds
EuroNCAP rating: 4-stars
Turning circle: 11.6m
Fuel tank: 84.1-litres
Fuel consumption : 15.9 litres/100km (claimed); 17.4 litres/100km (on test)
Fuel type: 98RON petrol
Looking for a deal on this car?
Land Rover Range Rover Sport Supercharged review