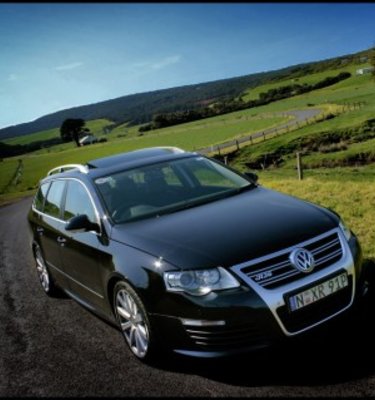 2008 Volkswagen Passat R36 Review
Current Pricing Not Available
2008 Volkswagen Passat R36 Review & Road Test


This is no passé Passat. This is the family sports car.
Stylish, Fast, Settled Cornering, Well Kitted
DSG Self Up-Shifts, Premium Fuel, Firm Ride

CarAdvice Rating:
- by Matt Brogan
The R36 is a Passat based sport wagon (sedan available - $64,990) with a bigger direct injection V6 engine, commanding all-wheel drive grip and lower, stiffer suspension. It's a pretty standard formula in gaining additional performance from a pre-existing platform, but as with any enhanced vehicle the devil is in the detail - and being German, detail is what Volkswagen does best.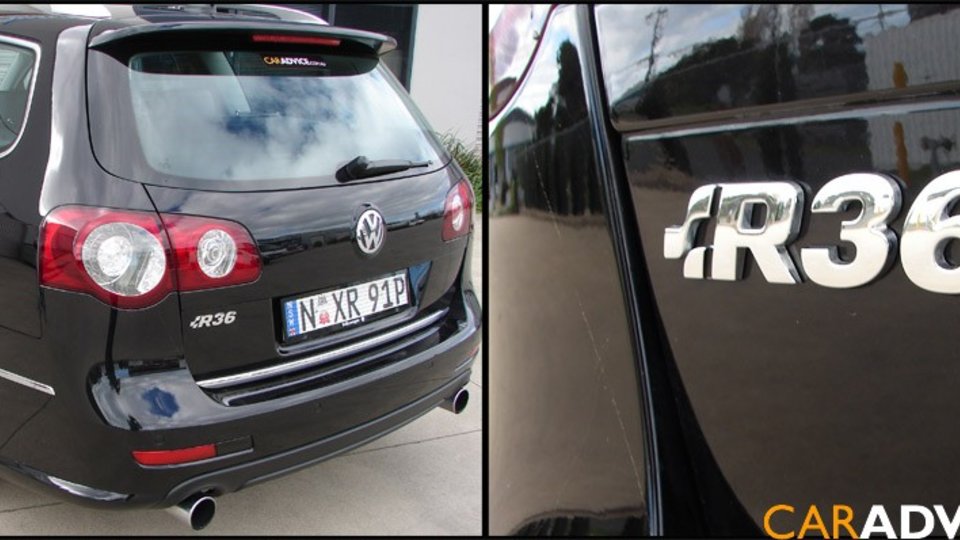 Fade to Black - R36 shown in Deep Black Pearl
At a glance you could well be forgiven for assuming this is just another Passat, and perhaps that's a very good thing. There's no monster front air dam, no gaudy bonnet scoop, no dumb decals or stripes plastered from one end to the other and no 'fully sick zhorst' to attract unwanted attention, bro.
If you're in the know, the 25mm reduction in ride height, absence of front fog lamps, curious soft burble under throttle and larger ten spoke Omanyt 18-inch alloy wheels might give the game away or, if you're lucky enough to catch one standing still, the small R badge at each end could let you know this is no ordinary five-seat wagon.
The R36 also picks up dusk-sensing, self-leveling and cornering bi-xenon headlights with heated washers, automatic windscreen wipers, darkened tailight lenses, integrated rear fog lamp, metallic paint and chrome bright work around the glass. But from a distance, or to the casual observer, it remains every bit a Passat, true sleeper style.
Inside all the goodies we've come to expect from a top shelf VW are included. There's dual-zone, climate control, air-conditioning with auto re-circulate function, cruise control, an alarm system, a ten speaker 250W six-CD audio system with console mounted iPod jack, full function trip computer, self-dimming rear-view mirror, front and rear acoustic parking sensors, reversing camera with guidance assist, one touch power windows and self-folding and heated power wing mirrors (the left one of which dips when reverse is selected).
Propelling Passat is a potent 3.6-litre, DOHC, direct-injection V6 engine developing a very tidy 220kW at 6600 revs and muscular 350Nm of torque, which is available across the majority of the rev-range (from 2400 all the way to 5300 rpm) for very linear acceleration and staggering mid-gear pull.

VW's illustrious dual-clutch, DSG six-speed transmission (with steering wheel mounted shift buttons) takes care of the cog swapping brilliantly and is well calibrated to throttle input, except perhaps on initiation where a little additional pressure on the accelerator is required to engage drive.
The 4MOTION viscous coupling all-wheel drive system transfers power to the driven wheels as required for maximum traction and can even direct torque frontward or rearward depending on slip feedback felt by the electronic Haldex clutch system. While it's not as technologically clever as some systems out there (think Mitsubishi's Evolution), it still manages to provide maximum adhesion for minimum fuss, even in the wet.
Handling is superb. In fact for a larger car you almost wonder how it's possible to have this amount of cling. The lowered and re-tuned strut front, multi-link rear suspension means cornering is flat, settled and sublime with the amount of drive on offer only enhancing those characteristics even further.

Point and shoot input sensitive speed proportional electro-hydraulic power steering is rightfully weighty, communicative and involving with slight corrections in course accurately and instantaneously translated to the road. Rapid direction changes are met with servile compliance from the chassis without so much of a hint in traction loss.
The brakes with blue painted calipers (exclusive to R models) are powerfully assertive and make for purposefully hard deceleration with sure footed poise. Best of all is the tangibility in feedback and maximum manageability from a firm yet progressive pedal offering positive, quantitive feel and precise ABS calibration, as well as perfectly balanced distribution.
For safety's sake the R36 comes standard with ABS, EBA, EBD, ESP, ASR (Traction Control), Tyre Pressure Monitoring, Brake Hold (part of VW's electro-mechanical park brake system) and ISOFIX preparation for the kid's seats as well as dual front, side (front and rear) and curtain airbags. The five-star EuroNCAP rating comes as no surprise and it's comforting to know the level of safety is on par with Passat's performance.
With little in the way of direct competition, the R36 is an exclusive ride packing a lot of punch, a flock of features and a seductive individuality almost hidden under the stylish vista that is Passat - the only issue I have now is handing it back.
Specifications:
• Engine: 3597cc DOHC V6 (24 valve)
• Power: 220kW @ 6600rpm
• Torque: 350Nm @ 2400 – 5300rpm
• Transmission: Six-speed, dual-clutch DSG
• Brakes: four-wheel disc with ABS, EBA & EBD
• Driven Wheels: All
• 0-100km/h: 5.6 seconds
• Top Speed: 250km/h (electronically limited)
• Fuel Type: 98RON Unleaded
• Fuel Tank Capacity: 70 litres
• Fuel Consumption: 10.7 litres per 100km (Combined)
• CO2 Emissions: 254 grams per 100km
• EuroNCAP Rating: Five Star
• Safety: ESP with TCS, front, side & curtain airbags
• Service Interval: 12 month/15,000kms
• Spare Wheel: Full size alloy
• Turning Circle: 11.4 metres
• Towing Capacity: 2200kg (Braked)
• Warranty: 3 years/100,000kms