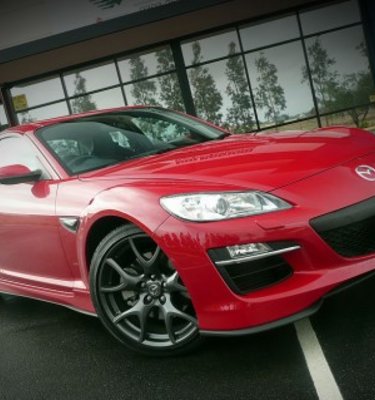 2008 Mazda RX-8 GT Review
The Mazda RX-8 is a sports car with a difference - not least under the bonnet.
2008 Mazda RX-8 GT review & road test
Model Tested:
2008 Mazda RX-8 GT - $57,625 (RRP)
Options:
Stylish, quality, amazing grip and handling, well equipped
Notchy gearbox, firm ride, no torque, steering a bit slow
CarAdvice Rating: (3.5/5)
- Photography and words by Karl Peskett
The year 2003 brought a new sports car from Mazda. It had been years since the last version of the RX-7, and rotary fans were champing at the bit to see the latest RENESIS engine shoehorned into a lightweight, rear-wheel-drive car.
The RX-8 was brought forth with much fanfare and expectation. Five years down the track, and Mazda has freshened its halo car, with a raft of updates that aren't immediately apparent, but certainly have refined it.
Stylistically, the original would have been a challenge. To bring it from concept sketch to full size clay model would have been fun. A geometric nightmare, to say the least, given the combination of straights, curves and angles.
Still, the finished result is rather good and the update to the 2008 model almost tones down some of the original feel, without having lost the RX flavour, making it more accessible to the everyday buyer. Sort of what Subaru did with the Impreza - but in a good way.
There's revised front and rear bumpers, headlamps, and front quarter panels, but it's more than a skin-deep change. The internals of the RENESIS rotary engine have also had a makeover, with things like the gas seal lubrication system being changed from a mechanical to an electromagnetic type.
The engine's lubrication setup has also been revised, with an electric oil pump, rather than a mechanical unit, and rather than a mist of lubricant, the feed is now liquid. Baffles in the system have also been revised to eliminate oil pressure drop in hard cornering.
The final drive ratio has been shortened from 4.444:1 to 4.777:1, as well as a new six-speed manual gearbox based on the acclaimed MX-5 unit, althought that doesn't stop it feeling a bit notchy though.
Thankfully, when we asked Mazda for its new RX-8 to test, it saw fit to send us a bright red GT variant. It's a good thing, too, as it's the "driver's" version of the four-seat, four-door coupe. Well, that's what the press release says, anyway.
However, we're not a newspaper and we don't just regurgitate press releases, so here's how it drives.
The GT has additions over the base model to enhance its handling, like new, lightweight 19-inch shadowed wheels with Bridgestone RE050As supply the immense grip, and Bilstein shockers to firm up the ride. A urethane foam-filled front suspension crossmember saves weight and gives strength, and Recaro seats hug your body and hold you like a tight fist.
There's also the aerodynamic benefit of a body-kit, while extras such as Xenon headlights, aluminium pedals and leather-bound handbrake all justify the $57,625 pricetag. Or try to.
You see, I just can't get past the lack of torque this rotary engine displays. It really is like waiting for grass to grow when you're revving it all the way out. Come out of a corner in second gear, put your foot down and, well nothing, still nothing, err nothing, hold it - nope nothing.
All of a sudden, you realise that you've hit 7000rpm, there's a slight lift in the Newton-metre level and the buzzer now sounds warning you that the 9500rpm cutout is only 500rpm away.
To be fair, it's reasonably quick when kept on the boil, but notice I said reasonably. The 0-100km/h time is rated at 6.4 seconds, which to be honest, feels a little optimistic. Plenty of cars can better this, at either this price level, or cheaper. However, not many can go around corners quicker.
The grip is actually scary - not because there's not enough, but because there's so much that if it does let go, you'll have some big speed behind you. Thankfully the stability control system will quickly take care of that.
It's quite an aggressive system in its action. You can feel it grabbing and taking over, and once it's done its job, it tosses the car back to you with zero delay. On and off would be a good way to describe it, and although it's a bit stilted in its delivery, it's damn effective.
It gives you the confidence, to then wring every last revolution out of the smooth 1.3-litre rotary. Driving this car fast puts you in mind of the Civic Type R we tested a little while back. It's only really quick when you're completely dedicated. There's no effortless, lazy, torquey push like a forced induction or big bore car. Some people really like that.
For me, the problem is that the chassis and brakes promise so much that you're left a little underwhelmed by how quick you're actually going. So we're left a little wanting. Why? Well, it's not a race car. Evos and STIs will be cleaning you up on a track.
So is it a tourer then? Hardly. Although the rear seats are cleverly packaged, the knee room is non-existent, despite having head and foot room. You end up sitting with your legs splayed, and that's with my driving position which sits a little closer to the wheel. Heaven forbid if you like to drive with your seat back a little more - goodbye rear seats. The ride is also too firm to cope with, if you're viewing it as a tourer.
Then you've got the transmission tunnel that deletes leg space from the front seats. Yep, your legs are pushed away from the middle of the car by a bulge from the firewall which has the carpet separating from it. At least there's still the tribute to its engine, with the rotor-shaped bonnet imprint, and the triangular gearknob.
So, it's a sports car that handles well, but doesn't really go anywhere quickly. We're struggling a bit, then, with where it sits in the market. Some people are also turned off with rotary reliability, too, so it's going to require a dedicated kind of buyer. Considering the $7905 price disparity between the GT and the base model RX-8, will it be hard to justify the asking price? Well, that's up to the buyer.
It's a shame, because the RX-8 should be a real contender in this market, it should almost be a benchmark. However, it's time for Mazda to realise that just having linear response is not enough from a car.
I like the idea of this car. I really do. I appreciate immensely the thought and logic behind why it was created. I just don't like the car itself. It's a bit of fun to thrash around in, sure, and it's got some quirky features, but as an ownership proposition, we're just finding it a bit hard to be enamoured by it.
As one of our contributors said to me, "If any car ever needed forced induction...."
CarAdvice Overall Rating: How does it Drive: How does it Look: How does it Go:
Specifications:
• Engine: 1308cc Twin Rotor RENESIS
• Power: 170kW @ 8200rpm
• Torque: 211Nm @ 5500rpm
• Transmission: Six-speed manual
• Brakes: Four-wheel disc with ABS, EBA & EBD
• Driven Wheels: Rear
• Weight: 1379kg
• 0-100km/h: 6.4 seconds
• Top Speed: 250km/h (electronically limited)
• Fuel Type: 95RON Unleaded
• Fuel Tank Capacity: 65 litres
• Fuel Consumption: 12.9 litres per 100km (Combined)
• Safety: DSC with TCS, front, side & curtain airbags
• Spare Wheel: Space saver
• Turning Circle: 10.6 metres
• Warranty: 3 years/unlimited kms
2008 Mazda RX-8 GT Review