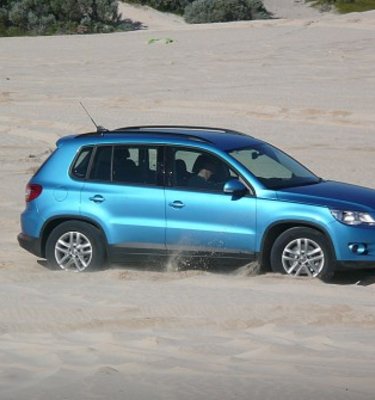 2008 Volkswagen Tiguan TDI offroad review
2008 Volkswagen Tiguan TDI offroad review
Review and photography by Karl Peskett
In a flurry of activity, Volkswagen sent out various models of its Tiguan all over the country, possibly to the chagrin of buyers who are currently waiting, so that the media could present, mostly glowing, reports on this smart-looking softroader.
Even the CarAdvice staff have fallen for its charms, with the Tiguan taking out our soft-roader comparison, and Matt loving his time in it as well.
During our latest drive of the car, numerous people stopped to ask us questions about how it feels, how it handles and what it's like to live with and on the whole, we've had to be honest and say that it's pretty dammed good.
So, is there anything the Tiguan can't do? Well, that's what we're about to find out. Having brought other four-wheel-drives and softroaders to this same location, it was time to see how Volkswagen's latest offering fared when off road.
Some would say that it's not exactly the environment for the Tiguan, after all who's actually going to take it off-road? Well, at least two prospective buyers we spoke to, were certainly going to try. Both had paddocks and had to traverse gravel, sand and sometimes a bit of mud to get to their farm.
Others we spoke to said that if they owned a Tiguan, they'd certainly take it to the beach, or on gravel tracks, so yes, it's a fair test.
Several factors would determine its capability in the soft sand. The Haldex 4-Motion system would have to work hard to make sure that both sets of wheels are driving at the same time. Some cars are let down by the computers which don't send drive to the rear wheels quickly enough, with the result that once the fronts are buried, there's little hope of getting out.
Then there's ground clearance. If you don't have enough, you're going to get grounded on the edges of ruts, or at the very least, fill the front end of your car with sand, as it scrapes along, acting like a scaled down grader.
Finally, the stability control must do what it's told. There's nothing worse than an Electronic Stability Program (ESP) system that sits in the background, eliminating any excess spin, regardless of whether it's been switched off or not.
The last thing you want is the wheels being clamped just when you hit some soft patches. You really want all your power behind you to keep the wheels spinning, and keep the momentum up, rather than brakes being applied, and you slow down, bogging the vehicle.
On the road out to the test site, I couldn't help but agree that this is one of the best SUVs to drive on the blacktop. It is genuinely car-like in its drive and handling.
The new generation common-rail, turbo-diesel, combined with the six-speed automatic is one gem of a drivetrain, too. It's smooth, torquey, and responds willingly. Not to mention it has virtually no smell, and has excellent economy, Volkswagen proves that diesel can be done very well.
The space is deceptive, too, especially the boot. My son's pram is a three-wheeler which doesn't exactly fold down to be paper thin, so it was a good test for it. At first glance, I thought there was no possible way it would fit. However, upon trying, I found out that it does indeed fit, and with room to spare.
The load space is a bit smaller than others, for example Nissan's X-Trail, but it's certainly usable. Not only that, the front and rear seats are all comfortable, spacious and entry and egress is a sinch.
Then there's the body rigidity. It's a solidly built car, with no chassis flex at all. Combine that with the fact that the dash and door plastics are all soft to touch, and you'll get a car that will stay creak-free for years to come. So far, so good.
VW had fitted the test car with the brilliant RNS510 system, which with its touchscreen ability made finding our site extremely easy. The satellite navigation also has a genuine GPS system built in, meaning getting lost on the tracks leading onto the beach wasn't going to be a problem.
Pulling up on the road before we entered the four-wheel-drive area, it was time to lower the pressures in the tyres to prevent bogging down. We decided on 16psi, due to the taller sidewall and road tread pattern, plus the fact that we would have around 5psi to play with if things got hairy.
The track leading in had some rocky sections, which of course the Tiguan just walked across. Moving onto the more compacted sand we switched the ESP off, as the transition to the softer sand was quite quick. Now we could really see what it was like.
To start with, the Tiguan went quite well. The tracks leading onto the beach have angled walls and the Tiguan was able to lean up on them without sliding around too much - a good indicator of enough pressure in the tyres.
Leading down the slopes onto the beach itself, the ABS groaned away and tapped at your foot, alerting you to its use. Nothing out of the ordinary there. Then, onto the beach.
Sink the boot in, and get some speed up so you don't bog down, and all is well. Immediately after the tyres find a rut though, it's near on impossible to get them out of it. The wheels aren't tall enough, and being a diesel, there's not enough power and revs to turn the wheel and climb out of it - especially when you're trying to keep up that speed.
The ruts were reasonably compacted, so it wasn't too much of a hassle, and following team leader Randell in his Mazda Tribute, we travelled along nicely. The ESP kicked in a couple of times though, even when switched off, which raised an eyebrow or two. An ominous sign of things to come?
Following the beach along, the dunes separate, and form a huge bowl, where we climbed up and set up camp. The kids were then free to roam around inside the orange cones, and we went off in search of some hills, and that's where the difficulties began.
As previously noted, the diesel just can't sustain the revs for hill climbing, and so your only option is to carry a heap of speed to maintain your momentum and climb up. The only problem is the angle that the hill is on means that the base of the hill intersects with the slope fairly sharply.
This wouldn't normally be a problem - if you had the ground clearance. More clearance means more room for the suspension to travel before it bottoms out. Unfortunately the Tiguan didn't have that luxury and so it was either destroy your front bumper with a huge hit when the wheels compressed, or lose all your inertia because you bog down when trying to climb.
So hill climbing was out, unless it was a very gradual slope. Where there were "chicken tracks", we had to take them. On those, it was fine but then, so it is a two-wheel drive.
The next problem came when we headed back out onto the beach. Again, keeping your speed up, you won't have any issues. We kept it in first and second gear most of the time, with the occasional click into third when the speed (and revs) allowed it.
But then we came across some very, very soft sand. It was hungry to the point where third gear was out, second was a struggle and really, only first gear was possible. Even then, though, the Tiguan couldn't quite cope.
The ESP still was lurking in the background, and as soon as it braked one of the wheels, we were finished. The car slowed, and even with my foot buried against the firewall, we came to a stop. Of course, the car was resting its underbelly on a nice mound of sand that it hadn't managed to push out of the way.
Had we have had some speed up, we probably would have gotten through, but as soon as that ESP thought we were spinning the wheels a bit too much, it took over and game over.
Rocking the car back and forth did little, as did digging it out. So, with Dave in the Rodeo, we pulled out the little loop that screws into the chassis, and snatched the Tiguan out. No hassles you might think, think again.
A small side point - offered with the RNS510 system is a reversing camera. If you're thinking of offroading, you MUST get one of these. It is perfect in every way. Allowing you to see dunes, rocks, shrubs and other things, the reversing camera is a helper like no other. Even when getting snatched out, you can see exactly when to apply the power, because you can see the slack being pulled out of the rope.
Underneath the engine is a plastic shroud that guards some of the car's wiring. Sensitive stuff this, and we found out how sensitive it really was. After the snatch out, a warning message popped up on the centre screen. Oil Sensor Warning, it read and I was hoping that we hadn't ripped the sump off the car, or something along those lines.
It turns out that the backwards movement dislodged the shroud, and left the wire exposed. A couple of ruts later and the connector holding the wire clicked off, creating the warning.
Now, where we were driving wasn't exactly heavy-duty stuff, so it was a bit disappointing to see it all fall apart that easily. Given a bit more clearance though, and it wouldn't have happened. Either that, or a metal guard, or even a redesign of the wiring route.
At the end of the day though, the Tiguan is a accomplished car in its own right. As a car, it's capable, spacious, has good quality, and drives very well. But as an SUV, well, it doesn't quite cut it. The terms Sports and Utility don't quite fit, considering where it should go.
It does gravel very well, and other dirt tracks, but don't expect too much of it and you'll be fine. Enjoy the Tiguan as a high-riding, economical, smooth, modern and well-built car, because that's what it is.
Specifications:
Engine: 1968cc four-cylinder
Power: 103kW @ 4000rpm
Torque: 320Nm @ 1750rpm
Induction: Turbo-charged, common rail diesel
Transmission: Six-speed automatic
Top Speed: 250km/h (electronically limited)
0-100km/h: 10.5 seconds
0-400m: Not tested
Driven Wheels: All-wheel drive
Weight: 1676kg (Tare)
Fuel Type: Diesel
Fuel Tank Capacity: 64 litres
Fuel Consumption: 7.5 litres / 100km (Combined)
Safety: ESP; TCS; Front, Side & Curtain Airbags
EuroNCAP: Five-star
Spare Wheel: Space Saver
Towing Capacity: 2500kg (Braked)
Turning Circle: 12.0 metres
Warranty: 3 Year/100,000km
Wheels: Alloy 16 x 6.5" (Standard)
2008 Volkswagen Tiguan TDI offroad review