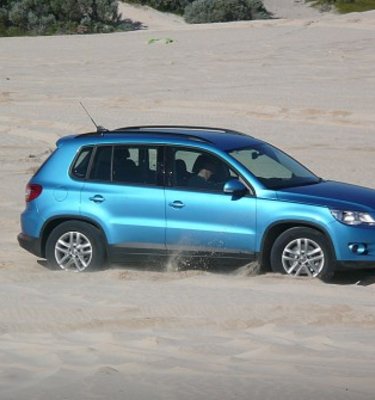 2008 Volkswagen Tiguan TDI offroad review
Current Pricing Not Available
2008 Volkswagen Tiguan TDI offroad review
Review and photography by Karl Peskett
Even the CarAdvice staff have fallen for its charms, with the Tiguan taking out our soft-roader comparison, and Matt loving his time in it as well.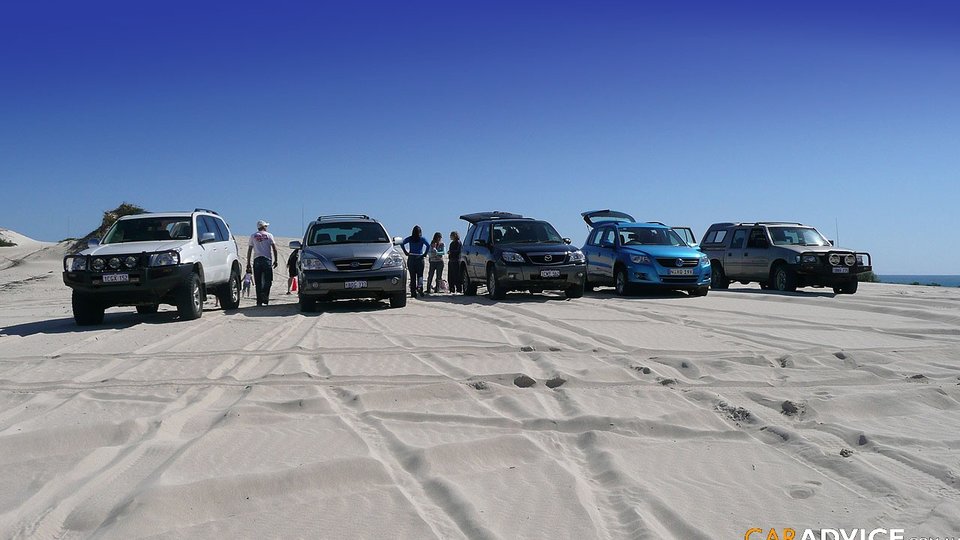 Others we spoke to said that if they owned a Tiguan, they'd certainly take it to the beach, or on gravel tracks, so yes, it's a fair test.
Then there's ground clearance. If you don't have enough, you're going to get grounded on the edges of ruts, or at the very least, fill the front end of your car with sand, as it scrapes along, acting like a scaled down grader.
The last thing you want is the wheels being clamped just when you hit some soft patches. You really want all your power behind you to keep the wheels spinning, and keep the momentum up, rather than brakes being applied, and you slow down, bogging the vehicle.
The new generation common-rail, turbo-diesel, combined with the six-speed automatic is one gem of a drivetrain, too. It's smooth, torquey, and responds willingly. Not to mention it has virtually no smell, and has excellent economy, Volkswagen proves that diesel can be done very well.
The space is deceptive, too, especially the boot. My son's pram is a three-wheeler which doesn't exactly fold down to be paper thin, so it was a good test for it. At first glance, I thought there was no possible way it would fit. However, upon trying, I found out that it does indeed fit, and with room to spare.
The load space is a bit smaller than others, for example Nissan's X-Trail, but it's certainly usable. Not only that, the front and rear seats are all comfortable, spacious and entry and egress is a sinch.
The track leading in had some rocky sections, which of course the Tiguan just walked across. Moving onto the more compacted sand we switched the ESP off, as the transition to the softer sand was quite quick. Now we could really see what it was like.
To start with, the Tiguan went quite well. The tracks leading onto the beach have angled walls and the Tiguan was able to lean up on them without sliding around too much - a good indicator of enough pressure in the tyres.
Leading down the slopes onto the beach itself, the ABS groaned away and tapped at your foot, alerting you to its use. Nothing out of the ordinary there. Then, onto the beach.
As previously noted, the diesel just can't sustain the revs for hill climbing, and so your only option is to carry a heap of speed to maintain your momentum and climb up. The only problem is the angle that the hill is on means that the base of the hill intersects with the slope fairly sharply.
This wouldn't normally be a problem - if you had the ground clearance. More clearance means more room for the suspension to travel before it bottoms out. Unfortunately the Tiguan didn't have that luxury and so it was either destroy your front bumper with a huge hit when the wheels compressed, or lose all your inertia because you bog down when trying to climb.
So hill climbing was out, unless it was a very gradual slope. Where there were "chicken tracks", we had to take them. On those, it was fine but then, so it is a two-wheel drive.
It does gravel very well, and other dirt tracks, but don't expect too much of it and you'll be fine. Enjoy the Tiguan as a high-riding, economical, smooth, modern and well-built car, because that's what it is.

Specifications:
Engine: 1968cc four-cylinder
Power: 103kW @ 4000rpm
Torque: 320Nm @ 1750rpm
Induction: Turbo-charged, common rail diesel
Transmission: Six-speed automatic
Top Speed: 250km/h (electronically limited)
0-100km/h: 10.5 seconds
0-400m: Not tested
Driven Wheels: All-wheel drive
Weight: 1676kg (Tare)
Fuel Type: Diesel
Fuel Tank Capacity: 64 litres
Fuel Consumption: 7.5 litres / 100km (Combined)
Safety: ESP; TCS; Front, Side & Curtain Airbags
EuroNCAP: Five-star
Spare Wheel: Space Saver
Towing Capacity: 2500kg (Braked)
Turning Circle: 12.0 metres
Warranty: 3 Year/100,000km
Wheels: Alloy 16 x 6.5" (Standard)