Top Gear Australia Official launch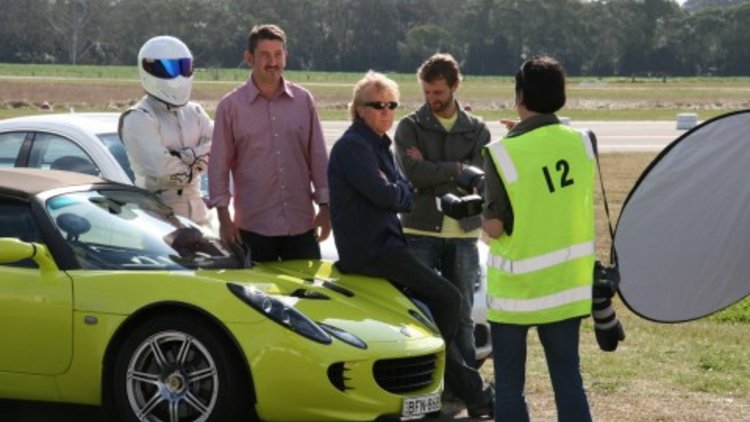 - words & photography Anthony Crawford
SBS invited CarAdvice.com.au and selected press to a secret location for "Hummers, Helicopters and Hot Laps" this afternoon, as Top Gear Australia was launched to the media.
The invite said "Your Transportation to the top secret location will be arranged…Please indicate if you are willing to participate in either.
a) Helicopter joyride, b) Hotlap or c) All activities" – enough said!
A Stretch Hummer is almost 10 metres long and can accommodate 12 people in relative comfort – including a fully stocked bar. They are an awesome sight on the road but not nearly as awesome as four stretch Hummers in convoy!
We arrived at a private airport Southwest of Sydney, but no one actually knew which building belonged to Top Gear. Try doing a three-point turn in one of these, in a confined space, without "Park Assist. That should be a challenge for a celebrity guest to perform in George Street Sydney, in Friday afternoon peak hour.
We pulled up outside a fairly non-descript aircraft hangar but just to the right, through a fenced off area, I could clearly see two of the show's hosts, Steve Pizzati and Warren Brown beside a Pagani Zonda, Ferrari F430, Maserati Grand Turismo and the superb looking Audi R8.
This is a big day for SBS, BBC Worldwide and quality local production house, Freehand.
Whilst local versions of Top Gear magazine are published in over 20 countries, including Australia, this is the first local production of the most celebrated motoring program on the planet, to be given a green light.
SBS has announced that the first episode of Top Gear Australia will go to air on Monday, September 29, at 7.30 pm. The first series will run for 8 episodes after which, another UK series will be shown, until the local team wrap Series 2.
Inside the Top Gear hangar resembled a small theme park, with a single engine plane, a WW2 Jeep (Warren Brown's own) and a stack of car and bike racing arcade games.
When the rear doors opened up to reveal the exotics I had seen on our arrival, in walked all three Top Gear presenters; Charlie Cox, Warren Brown and Steve Pizzati. Oh, and here comes the "Stig" replete with white racing suit, helmet and gloves.
They seem like a jovial lot, each wearing a permanent grin on their faces (well wouldn't you if you had their job).
Charlie actually calls London home these days; he's been there since 1990 running media companies and racing cars. He's got three British Porsche Cup titles and ran his own racing team in the hard charging BTCC (British Touring car Championships) before hanging up the helmet after a crash which nearly killed him in 1995.
He seems to like things that go fast. Inside his garage you'll most probably find a Porsche GT2, Mercedes S500, Ducati Superbike and Harley Davidson.
I'm not sure if Warren is that comfortable on a racetrack, he's more at home behind the wheel of a 1920 Fire Engine or his army green WW11 Jeep. I'm also told he has an armoured vehicle at home. He's a lovely bloke but a little odd if you ask me.
In 2005 he put together a race from Peking to Paris driving a range of vehicles, which had to be 100 years old. His next wacky journey is retracing the trip made by the famous Australian explorer, Francis Birtles, in a 1925 Bean car, from London to Melbourne.
With a name like Pizzati, you would think Steve would be a Ferrari nut. But no, he's an advanced driving instructor and race driver for Porsche Cars Australia among other pursuits.
He wanted to fly jets and almost made it if it wasn't for his eyesight. He seems to like anything that goes fast and lists his dream car as a Viper Green 911 GT3 RS.
There was some action outside as the CLS 63 AMG and Lotus Elise SC were warming up for a few tyre-smoking hot laps on the make shift track adjoining the building.
Just as I was about to bolt off over to the Merc for a lap with Steve, I heard my name called for a ride in the chopper. This was a good chance to get an idea of the size of the Top Gear course and length of the runway.
Touching back down I could see the "Stig" was giving the AMG the hiding of its life – there was so much tyre smoke, you couldn't see anything for a good five minutes.
Stretch Hummers weren't really meant to go around corners, they categorically aren't supposed to be anywhere near a racetrack.
The "Stig" obviously didn't see what all the fuss was about and was about to see air with two wheels. That's if he didn't end up rolling the vehicle.
And to top off the day as we were leaving the compound, was a Black GT40 parked outside!
This is a first rate team that just might pull off the most successful motoring program Australia has ever produced.
Top Gear Australia Official launch