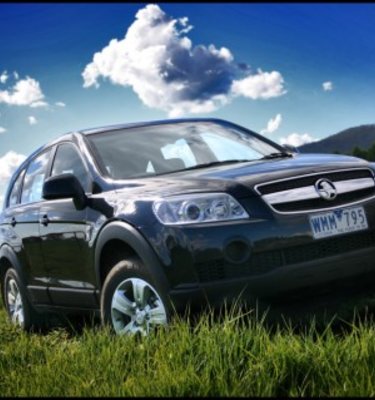 2008 Holden Captiva Review
2008 Holden Captiva SX 2WD Review & Road Test
If the Cap fits...
Model Tested:
2008 Holden Captiva SX 2WD five-seat wagon, 2.0-litre, turbo-diesel, automatic - $35,990 (RRP)
Options:
Metallic Paint $360 (Fitted – Carbon Flash); Cargo Blind $315; Rear Parking Sensors $450; Bluetooth $520; Side Steps $1300; Roof Racks $320
Smooth Auto, Decent Handling, Loads of Space Interior Décor, Firm Seating, Cabin Noise Levels
CarAdvice Rating:
- by Matt Brogan
In being flexible to consumer demand Holden has released a dedicated 2WD variant of the popular Captiva to afford customers the SUV practicality and fuel economy they want without the AWD capability they'll most likely never use.
The recipe too is starting to become more commonplace. Ford's Territory has long offered a RWD only variant and other SUV manufacturers have caught on, with the likes of Hyundai, KIA, and Toyota all following suite.
But back to our Korean friend which, despite its age, remains quite attractive, especially from the front three-quarter view. With chrome brightwork around the glass, dual exhaust outlets, and 17-inch, five-spoke alloy wheels included as standard, the SX looks better than a base model should, especially in black.
The flowing lines and curved arches subtly downplay Captiva's bulk, almost disguising the proportions within, and lend a more elegant, passive appearance to the styling, which is refreshing amongst a class of vehicle that is all too often square, aggressive and overtly masculine.
But when all things are considered, and with so many rivals out there, just how well does a 2.0-litre diesel front-wheel drive SUV fair with competition this tight. Let's start with the obvious question of what's under the bonnet.
Utilising a Bosch common-rail fuel injection system and a variable geometry turbocharger, the 2.0-litre four-cylinder diesel develops a reasonable 110kW at 4000rpm and satisfactory 320Nm of torque which is on hand from a leisurely 2000rpm.
Whilst the power figures may not seem adequate for a 1770kg vehicle, the five-speed 'Activematic' transmission keeps on top of things and makes smooth work of the available power to deliver a linear, fluid drive without awkward hesitation or rough changes. Even large hills are ironed flat with relative ease.
Fuel consumption is an acceptable 9.8 litres per 100km average (combined), which is a little more than a litre over the ADR claim, and is a decent figure for a vehicle of such bulky proportions.
On-road the dynamics are somewhat of a surprise with the handling being of special note. Cornering is settled and rather swift for an SUV and provided the vehicle isn't thrown into bends it remains predictable and stable.
The steering is a little on the light side, and feels a touch numb at higher speeds but still manages just enough communication to not be bothersome. Braking is capable and sure footed, with a positive and progressive pedal feel.
Sadly despite the MacPherson strut front and self-levelling, multi-link rear suspension offering good handling the ride has suffered as a result and is to say the least, a touch stiff.
Not helping this situation the firm, flat seats offer little in the way of cushioning and on a longer journey will see an aching posterior after an hour or so. Otherwise seat positioning is good ergonomically, offers excellent visibility and is afforded acceptable steering column adjustment.
Hill Descent Control is also fitted, and it does work rather well, though one has to wonder if it's redundant on a front wheel drive vehicle unlikely to ever see a dirt road. That being the case I'd have thought this money would have been better spent elsewhere – perhaps side airbags or a third row seat for example – maybe next time.
What does annoy me about the Captiva, and indeed many cars of late, is the attention to detail in offering suitable panel lighting. Although in this instance Captiva does offer a dimmer for the dashboard lights, the odometer doesn't dim with the cluster leaving an annoying bright green square in your peripheral vision. As someone who does a lot of country driving at night, this is fast becoming a pet hate as I feel it detracts markedly from your night vision.
Cabin décor is rather plain, uninspiring and lacking in forethought. Take for example the audio head unit and air distribution controls' position. Placed too low in the centre stack you have to look away from the road to change settings, whilst instead a large storage box, the product of deleting the Sat/Nav unit available overseas, sits up top where the controls could have been.
There's also the issue of cabin noise in Captiva which unfortunately stems from more than one source. Around town the engine chatter is obvious, even intrusive, whilst at highway speeds, and especially on coarse chip roads, tyre noise is unacceptable. Even if you find yourself able to remedy both these factors from the equation, the wind noise then becomes evident at highway speeds – poor marks scored here.
On the up side internal proportions are exceedingly generous, especially in the rear leg room department (up to 939mm), and with 60:40 folding rear seats expanding the luggage capacity from 465 litres (to window height - seats up) to 930 litres (to window height – seats down) or 1565 litres all told, the carrying capacity is more than ample.
There's even a neat underfloor wet area compartment offering an additional 140 litres and 12V power outlet for your fridge, all accessed from a double action top hinged tail gate.
As base models go, the SX variant offers a plentiful array of features including a single MP3 compatible CD tuner with auxiliary socket, flip key remote central locking, charcoal cloth trim, power windows and mirrors, air-conditioning, power-steering, tilt and telescopic adjustable leather bound steering wheel with audio and cruise control buttons, alloy wheels, rear mud flaps, projector beam headlights and some 25 storage compartments.
Strangely though a cargo cover is omitted from the list, so leaving your bags in the car is a little disconcerting. It's a shame this isn't included as standard in the list price really, though it is available as an accessory.
Dual front and curtain airbags are fitted as standard and combined with Anti Rollover Protection, Anti-Lock Brakes (with EBA & EBD), Electronic Stability Program and Traction Control see Captiva score a reassuring four star ANCAP rating.
When all's said and done there's nothing really wrong with Captiva. It may be a little noisy and a tad dated inside, but it offers a lot of room and a heap of kit for the price – and is pretty good on the juice to boot. My only recommendation before jumping in to one would be to drive as many of the competitors as possible, just to make sure the cap fits.
CarAdvice Overall Rating: How does it Drive: How does it Look: How does it Go:
Specifications:
Engine: 1991cc SOHC (in-line) four-cylinder
Induction: Common rail injection & turbo
Power: 110kW @ 4000rpm
Torque: 320Nm @ 2000rpm
Transmission: Five-speed automatic
Brakes: Discs with ABS, EBA & EBD
Driven Wheels: Front
Fuel Type: Diesel
Fuel Tank Capacity: 65 litre
Fuel Consumption: 8.6 litres/100km (Combined)
CO2 Emissions: 233 grams per kilometre
Safety: ESP (with TCS); front & curtain airbags
ANCAP Rating: Four Stars
Service Interval: 12 months/15,000km
Spare Wheel: Space Saver
Turning Circle: 11.5 metres
Towing Capacity: 1700kg (Braked)
Warranty: 3 years/100,000kms
Weight: 1770kg (Tare)
Wheels: Alloy 17 x 7.0-inch
2008 Holden Captiva Review