SsaangYong has lifted the lid on its latest concept car – the SsangYong XIV-2 – at the Geneva motor show in Switzerland.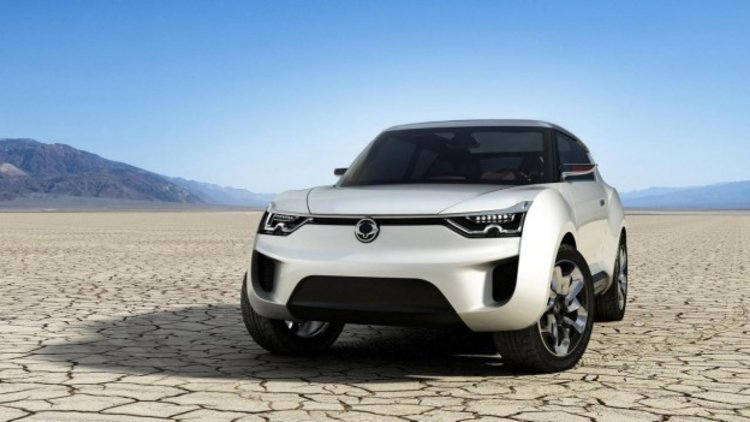 Although the dramatic convertible crossover concept is playing second fiddle to the Range Rover Evoque Convertible concept at the show, the SsangYong XIV-2 is arguably the more important model as it previews a full family of upcoming SUVs from the resurgent Korean manufacturer.
SsangYong describes the XIV-2 (which stands for 'eXciting user Interface Vehicle 2') as its "strategic global model. The concept will spawn at least four production body styles, including a three-door, five-door, coupe and an extended body version.
Despite the concept's urban styling and playful, open-top coupe design, SsangYong says the XIV-2 is underpinned by a dynamic and robust SUV platform.
SsangYong revealed technical data of two engines for the concept – one petrol and one diesel. Both 1.6-litre four-cylinder powerplants comply with Euro VI emissions regulations and incorporate stop-start technology for increased fuel efficiency.
2
SsangYong says the XIV-2 displays the brand's "driving fun" design philosophy that will influence "all future concept vehicles" and upcoming production cars.
The XIV-2's interior controls are integrated into a single central screen, while the Auto User Interface simplifies smartphone integration for all passengers.
Four individual seats create a spacious cabin, which is highlighted by carbon fibre and aluminium trim elements and sporting red dials and illumination.
SsangYong says the XIV-2 concept is designed to appeal to drivers in their 20s, with the future production car destined to create an entry point for new customers into the SUV brand. SsangYong has not revealed production timing for the new urban crossover at this stage.