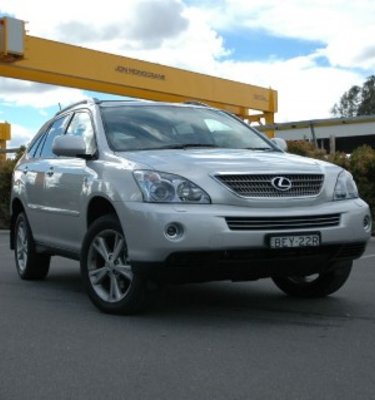 2008 Lexus RX 400h review
2008 Lexus RX 400h review & road test
Model Tested:
2008 Lexus RX 400h - $97,545 (RRP)
Fuel economy, build quality, hybrid system, interior comfort
Looking a little dated, hybrid system, premium over RX350, E-CVT transmission
CarAdvice Rating:
- by Alborz Fallah
"The RX400h?" - "What, you want me to drive the RX400h? Are you serious? You know what I think of hybrids!" That was the conversation I had with our editor moments before he organised a Lexus RX 400h for me to review.
I didn't really know what to expect, I like the RX series from Lexus, I think it provides a good alternative to the Germans, but a hybrid variant? This was going to be an interesting week.
You see, the problem with current generation hybrids isn't so much the idea, or perhaps even the implementation. It's more the pre-thought that goes into buying such a car.
"Honey, what do you think of a Hybrid?" - "I know the neighbours will look down at us if we buy a big SUV so why don't we buy a Hybrid one? You know, save on fuel and save the planet ..."
Okay, that makes sense. Buy a hybrid, not only can you tell all your friends at dinner parties, but it also makes you feel just a little better about driving around. "I drive a hybrid"... go on, say it. I drive a hybrid. It does have a nice ring to it doesn't it? If you want to take it one step further, you can even put stickers on the back, "Prius owners club" being one I see regularly.
I'd like to know what a bunch of people do at monthly Prius owners club meetings? Do they sit around and work out how much CO2 they have saved by driving around in their hybrid cars? Or maybe they sit around and remind each other they are all going to heaven because over the course of the past 12 months, they have managed to kill one less fluffy animal?
My point is simple, hybrid cars are a great idea and Toyota and Lexus should be congratulated for their achievements in hybrid technology, but, if the premium for a hybrid car is significant and the fuel savings are not economically viable, why exactly do smart, hard working, upper middle-class families part with their hard earned cash for one?
Simple. It makes them feel good. Plus, and probably more importantly, because the RX 400h, is actually not all that bad. But before I get into how the car drives and behaves, let's got some of the dirty work out of the way.
The all important figure. The 3.3-litre engine from the RX 330 of old is mated to three electric motors, effectively producing more than 200kW of power, but managing only 8.1L/100km. During the week long test that figure was inflated to 8.7L/100km, which is well and truly still acceptable.
The hybrid system works by one electric motor up front helping the petrol engine to drive the front wheels. A second electric motor driving the rear wheels (without input from the petrol engine), while a third generates charge to the battery.
The RX400h, demands a $10,000 premium over the equivalent RX 350 which delivers similar power but a fuel consumption of 11.2L/100km.
The RX 400h is based on the RX 350 Sports Luxury ($87,000) but also comes with Vehicle Dynamics integrated Management (VDiM), driver and front-passenger seat heaters, leather-bound steering wheel (in lieu of woodgrain) and metallic trim on the shift lever, shift lever gate, centre console, rear centre armrest and inside door trim (all in lieu of woodgrain).
No doubt most of that $10K goes into the hybrid system, but the VdiM is also worthy of a mention as it directs the rear electric motor to provide torque to the rear wheels to maintain vehicle stability.
If one was to do the maths, the RX 350 uses 11.2L/100km while the RX400h uses 8.1L/100km. On average, a normal family would travel about 25,000 kilometres a year. The benefit of course, is that the RX 400h can make do with 91 RON fuel, while the 3.5-litre in the RX350 needs 95 RON. So let's do the maths.
The RX 350 will use 2800 litres of 95RON fuel a year, the RX 400h will use 2025 of 91RON fuel. That's a saving of 775 litres per year. At a cost of $1.55 a litre for 95RON, the RX 350 will cost $4340 while at a cost of $1.50/L for 91RON, the RX400h will manage on just $3037.5. A saving of about $1300 a year.
Given the $10,000 price difference between the two for essentially just the hybrid system, you will need at least seven years before you can recoup the costs. Is it worth it?
Sure, you can argue the RX 400h manages CO2 emissions at a low 192g/km. While the RX 350 is significantly more at 263g/km, but lets be honest here. Does that really matter?
I am not trying to talk you out of buying a Lexus RX series, just trying to talk you into an RX350 instead and save you a cool $10,000.
Comfort wise the RX400h is a great SUV. It's comfortable to sit in, smooth over even the harshest roads, provides an excellent driving position and comes with all the features you'd expect in a Lexus without the need to tick any options (not that you could, because there aren't any).
However if you look past the luxury features and the comfortable ride, the car, in it self, is starting to show its age. The RX series has been around since 2003 and to the untrained eye, it hasn't changed all that much.
Then there is the drivetrain. Having one petrol and three electric motors sounds like a great idea, and if you stare at the energy monitor long enough you are all but convinced. But take a closer look and you'll see the periods in which the electric motors are working without the help of the petrol motor are few.
The biggest benefit of the hybrid system is driving under 30km/h. First timers will turn the car on, then attempt to turn the car on again, and again. You see, it makes no noise whatsoever, because the petrol motor is still switched off. All you've done is turn on the silent electric motors.
Drive out of your drive way and you'll be quietest neighbour around till you hit around 30km/h. The technology will prove most useful in start-stop traffic conditions when the electric motors will take control and save you precious fuel.
My biggest disagreement with the RX400h is the transmission. Using an Electronically Controlled Continuously Variable Transmission (E-CVT) to allow the petrol and electric motors to work as one, acceleration feels sluggish and downright slow at times.
There are benefits of course, for a start it helps the fuel consumption and unlike a normal transmission, E-CVT doesn't need to change gears, so acceleration is linear without any jolts.
Inside the cabin you're greeted with pretty much everything you'd expect. Heated seats, a sophisticated computer system which incorporates satellite navigation, energy monitor, servicing system and much more. The RX400h also comes with a sun roof and enough space to easily transport four grown adults and their luggage in comfort.
Rear seats are on par with the Germans while the quality and finish of the cabin is second to none. Although I do have to criticise the need for a cassette tape deck in 2008?
Lexus has also ensured that all are aware the RX400h is a hybrid, with subtle but still clearly visible hybrid badging around the car. All badges and scuff plates, in common with all Lexus hybrids, are done in light blue, to signify electric power.
Safety is also paramount with dual front, side and curtain airbags as standard, plus a much needed rear view camera fitted as well. Other notable safety features include four-channel, four-sensor ABS braking with Brake Assist (BA).
Back to the question I asked earlier, is paying $10,000 more for something that will take you at least six to seven years to recoup the expense worth it? Fortunately, I don't have to answer that question.
If you're interested in a luxury SUV, for the price the RX350 is the pick of the bunch and arguably the best on the market. However if hybrid still sounds like an "in-word" to you, the RX400h is worth a look.
CarAdvice Overall Rating: (2.5)How does it Drive: How does it Look: How does it Go:
Specifications:
Engine: 3.3-litre, six-cylinder + 3 electric motors
Power: 155kW Petrol, together with electric = 200kW
Torque: 288Nm @ 4400 rpm (petrol only)
Transmission: Electronically Controlled Continuously Variable Transmission (E-CVT
Top Speed: 240km/h
Fuel Consumption: 8.1 litres/100km (Combined)
Fuel Tank Capacity: 65 litres
Fuel Type: 91RON petrol
Airbags: Front, Side, Seat & Curtain
Safety: ABS, Front & Side airbags, rear view camera
Weight: 1970kg (tare)
2008 Lexus RX 400h review