Kia has today confirmed a new model will join its lineup early next year. The car in question is the new Kia Soul, an urban crossover passenger car that is expected in Kia dealerships around the world by early 2009.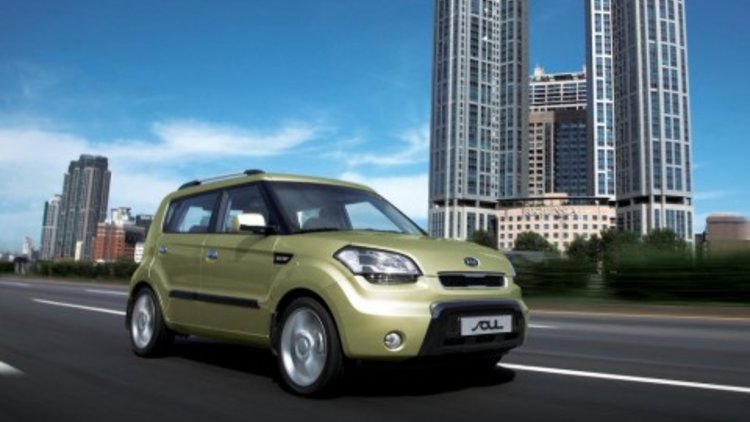 The Korean giant will offer it's latest vehicles with a choice of two petrol engines and one diesel engine in both manual or automatic transmission. Unfortunately we are still uncertain as to which variants will make it to Australia but we are hopeful the diesel engine will be available in Australia as well.
The new five-door Kia Soul is driven via the front-wheels and provides a high roofline and an unusually long wheelbase. The Soul measures 4,105 mm in length with a 2,550 mm wheelbase. It sits 1,610 mm of the ground.
Much like the Kia Rondo, it's designed to be different to the market norms, to create its own niche and to attract a new type of buyer. For example the base of the windshield is 135 mm higher than a typical compact car, the hip-points are 120 mm higher and the ground clearance is raised by 45 mm.
The biggest engine is the 2-litre, four-cylinder petrol unit which is available with either a five-speed manual or a four-speed automatic (disappointing Kia could not produce a five-speed for the job). The 2-litre manages 106kW at 6,000 rpm and 186 Nm of torque at 4,600 rpm.
Moving one step down, there are two 1.6-litre engines available, a petrol and a diesel. The petrol engine comes in at 94kW at 6,300 rpm and 156 Nm of torque at 4,200 rpm. The diesel delivers 94kW at 4,000 rpm and 255 Nm of torque at 2,000 rpm.
Kia says the diesel engine is currently aimed for Europe and "some general market countries" which we hope includes Australia.
"The Kia Soul is a brand new urban crossover passenger car that will challenge customers to free their minds. It is packed with clever and liberating features and will offer cavernous passenger space that matches or even outperforms many vehicles with much larger exterior dimensions," enthused Hyoung-Keun Lee, Senior Executive Vice President & COO, International Business Division.
Step inside and Kia promises the Soul's interior will deliver head, leg and shoulder room to compete and beat many larger vehicles. Headroom measures at 1020/1005 mm front/rear, legroom at 1070/990 mm front/rear and shoulder room at 1403/1400 mm front/rear. The car is expected to easily accommodate five large adults in 'genuine' comfort.
You can read more about the Kia Soul and its arrival into the Australian market here.