"If you happen to be in London on business late October/early November or are one of the thousands of Aussies who work there, you might want to pull another shift and grab yourself a ticket to this Top Gear Live gig"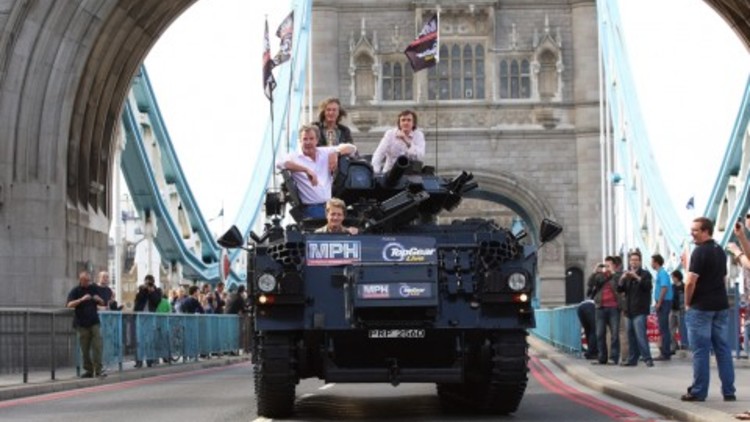 -Anthony Crawford
Jezza, Hamster and Captain slow, will host this outrageous event at the MPH The Prestige and Performance Motor Show at London's Earl's Court and Birmingham's NEC (National Exhibition Centre).
Clarkson and his colleagues in classic Top Gear style chose a black Tank to launch the event with, as they rolled across London's Tower Bridge, saluting fans as they went.
Top Gear Live is a huge event with up to 95,000 petrol heads laying down an average of GBP38 to watch the team unleash automotive tomfoolery and mayhem during each of the 10 x 75-minute live shows at each venue.
If you can make it along to one of these gigs, I guarantee you won't be disappointed. More than 200 of the fastest cars on the planet will be there. That's an A-Z supercar-fest if there ever was one, and over GBP30 million worth of top shelf metal.
The likes of; TVR (they're still alive), Spyker, Shelby, Rolls Royce, Porsche, Pagani, Nissan, Mitsubishi, McLaren, Maserati, Lotus, Lamborghini, Koeniggsegg, Jaguar, Gumpert, Ferrari, Farbio, Caparo, Bugatti, Bentley, Audi, Aston Martin, Ariel and Alfa Romeo. It's all there including the Stig!