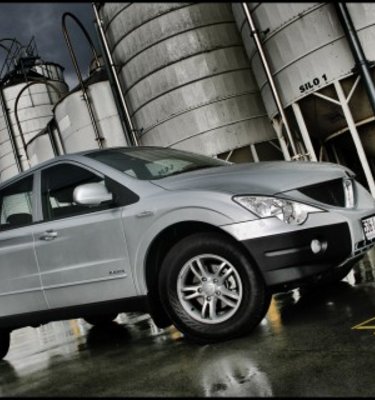 2008 SsangYong Sports Review
2008 SsangYong Sports A200S Xdi Review & Road Test

A quiet and comfortable commercial - who'd have thought?

Smooth Ride, Good Fuel Economy, Comfortable Seats, Quiet Cabin
Steering Ratio, Obtuse Styling, Cabin Odour, Short Service Intervals
CarAdvice Rating:
- by Matt Brogan
Despite that little nugget of bogan wisdom, the Sports does actually have some merit. Granted it may be a tad interesting in the looks department and the cabin smells like the inside of a school boy's gym bag, but it does have a few saving graces, so bear with me on this one.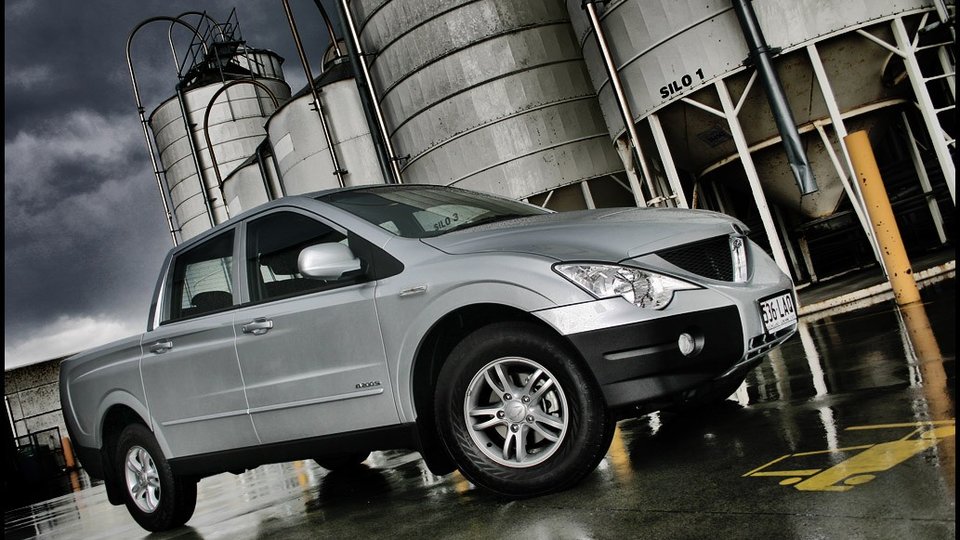 It's one thing to stand out for the crowd and challenge convention, but in the case of the Sports the looks just don't gel. There's no real theme, no flow of ideas and though I am a big fan of individuality, being different for difference's sake isn't going to win you too many friends – or sales.

Inside, apart from an overwhelming urethane odour, the layout is simple, seemingly durable and reasonably generous in terms of proportion. Switch gear feels a little on the cheap side and the park brake position seriously needs addressing (LHD origin very clear) but otherwise it's easy enough to live with.

But on to slightly more crucial matters, the all important drive line. Motivated by a 2.0-litre, DOHC, turbo-diesel, four-cylinder engine the Sports manages 104kW at 4000rpm and 310Nm from 1800rpm. It's seemingly ample but delivery suffers from dire turbo-lag issues both off-the-line and after reapplication of the throttle from corners and roundabouts.

So by now I guess you're thinking where are the good bits? He promised us good bits. Well, believe it or not yes there are some, and they're quite notable. They're even worth the competition taking a look at, and here they are.

The other big plus is the fuel economy on offer. Load this thing to the hilt and give it a hard time and you'll still return 9.5-litres per 100km as a combined average - not bad. It's a little over that of the claimed ADR result but they're seldom realistic to begin with.

The steering is a little bit of a let down, not only for being rather vague, but for having almost four turns from lock to lock. The turning circle is 12.4 metres all up but when tackling roundabouts or backing a trailer, this thing is a bit of an armful and will certainly keep you busy. Parking takes a bit of a swing too.

CarAdvice Overall Rating:
How does it Drive:
How does it Look:
How does it Go:
Specifications:
Engine: 1998cc DOHC four-cylinder
Induction: Common rail injection & turbo
Power: 104kW @ 4000rpm
Torque: 310Nm @ 1800rpm
Transmission: Six-speed automatic
Brakes: four-wheel discs with ABS & EBD
Driven Wheels: Rear
Fuel Type: Diesel
Fuel Tank Capacity: 75 litres
Fuel Consumption: 8.7 litres/100km (Combined)
CO2 Emissions: 230 grams per kilometre
Safety: Dual front airbags
ANCAP Rating: N/A
Service Interval: 6 months/10,000km
Spare Wheel: Full size steel
Turning Circle: 12.4 metres
Towing Capacity: 2300kg (Braked)
Warranty: 3 years/100,000km
Weight: 1825kg (Tare)/815kg (Payload)
Wheels: 16 x 6.5-inch alloy
Road Test the Rivals: