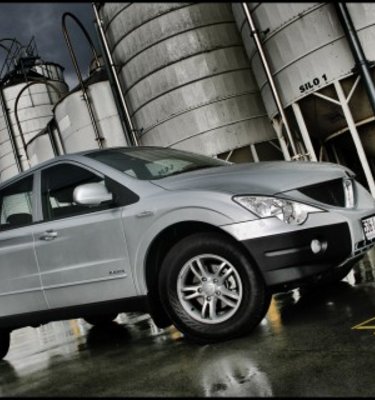 2008 SsangYong Sports Review
2008 SsangYong Sports A200S Xdi Review & Road Test
A quiet and comfortable commercial - who'd have thought?
Model Tested:
2008 SsangYong Sports A200S Xdi 4x2 Dual-Cab Pick-Up 2.0-litre, turbo-diesel, automatic - $31,990 (RRP)
Options:
Metallic Paint $300 (Fitted)
Smooth Ride, Good Fuel Economy, Comfortable Seats, Quiet Cabin Steering Ratio, Obtuse Styling, Cabin Odour, Short Service Intervals
CarAdvice Rating:
- by Matt Brogan
Heckling is something usually reserved for amateur night at the comedy club, unless of course you happen to be driving a SsangYong Sports for the week. While stopped at a set of Melbourne traffic lights I actually had a bloke yell from an adjacent construction site "That looks like half a funking rhino". I couldn't help but wonder which half.
Despite that little nugget of bogan wisdom, the Sports does actually have some merit. Granted it may be a tad interesting in the looks department and the cabin smells like the inside of a school boy's gym bag, but it does have a few saving graces, so bear with me on this one.
Though before we get to the good bits, let's tackle the big one. The glaringly obvious, can't help but notice, what were they thinking "rhino" styling cues.
It's one thing to stand out for the crowd and challenge convention, but in the case of the Sports the looks just don't gel. There's no real theme, no flow of ideas and though I am a big fan of individuality, being different for difference's sake isn't going to win you too many friends – or sales.
The avian-esque headlights, over-sized deep-set grille, bulbous bonnet and contrastingly flat profile do little to compliment one another and from behind, the appearance is just plain awkward. Still, it is a practical unit and has a slightly agricultural feel to it that gives the impression it won't mind a few cuts and bruises.
Inside, apart from an overwhelming urethane odour, the layout is simple, seemingly durable and reasonably generous in terms of proportion. Switch gear feels a little on the cheap side and the park brake position seriously needs addressing (LHD origin very clear) but otherwise it's easy enough to live with.
A grab handle on the "A" pillar would not have gone astray, likewise the instrumentation and panel lighting could have done with a dimmer control, and there's no doubt the rear seat passengers will get a sun burnt neck given the seat's proximity to the very upright rear windscreen, but otherwise it's a practical space that's surprisingly quiet (when cruising) and reasonably comfortable.
To add to that, you get a single CD tuner - which sadly has poor reception and rather dull sound, cruise control, power windows and heated power mirrors, tilt adjustable leather bound steering wheel with cruise, remote audio and transmission controls, two 12V power outlets, air-conditioning, and remote central locking.
Outside Sports picks up adjustable halogen headlamps, front fog lamps, rear mud flaps, 16-inch alloy wheels and a tub liner with restraint hooks to round out the feature list.
But on to slightly more crucial matters, the all important drive line. Motivated by a 2.0-litre, DOHC, turbo-diesel, four-cylinder engine the Sports manages 104kW at 4000rpm and 310Nm from 1800rpm. It's seemingly ample but delivery suffers from dire turbo-lag issues both off-the-line and after reapplication of the throttle from corners and roundabouts.
It's also slow to wind up, and despite the six-speed automatic (with steering wheel mounted manual override buttons) is reluctant to grab the correct gear quickly. There's the occasional thud on kick-down too with this 'box being no where near as smooth as SsangYong's five-speed offering in the much maligned Stavic.
So by now I guess you're thinking where are the good bits? He promised us good bits. Well, believe it or not yes there are some, and they're quite notable. They're even worth the competition taking a look at, and here they are.
Believe it or not the Sports rides extremely well. In fact I'd go so far as to say it's class leading in terms of comfort. There's no hard riding feedback from ancient leaf springs here. Struts up front and a 10-point multi-link rear end mean even the biggest of craters are absorbed without fuss to the point you go looking for them to see if you'll win - you won't. It truly is a surprise. The handling is about average for a ute but in saying that it didn't throw up any nasty surprises.
The other big plus is the fuel economy on offer. Load this thing to the hilt and give it a hard time and you'll still return 9.5-litres per 100km as a combined average - not bad. It's a little over that of the claimed ADR result but they're seldom realistic to begin with.
Braking is excellent and not only does the Sports offer four-wheel discs, something a few rivals should consider this century, but also ABS with EBA and EBD.
The steering is a little bit of a let down, not only for being rather vague, but for having almost four turns from lock to lock. The turning circle is 12.4 metres all up but when tackling roundabouts or backing a trailer, this thing is a bit of an armful and will certainly keep you busy. Parking takes a bit of a swing too.
The payload rating is a decent 815kg and with the 540mm deep box measuring in at 1275mm long by 1610mm wide it's about average for a dual-cab pick-up. The heavy tailgate will keep your biceps in shape and as an added bonus the Sports comes complete with heavy duty tie down hooks and poly tub liner as standard (tonneau cover is a cost option - firm pricing could not be sourced).
Safety comes compliments of dual front airbags and a set of seat belts which are height adjustable for the driver and passenger. Although this is about as much as can be expected from a commercial vehicle the lack of EuroNCAP, ANCAP or NHTSA rating could be an ominous sign.
So if you're in the market for a dual-cab ute, can live with the looks in exchange for a quiet, comfortable ride - and don't expect too much in the way of compliments at the pub - then the Sports might just do it for you. But with so much tried and true metal out there for the same coin, it's worth spending a weekend or two getting to know a few new car salesmen first.
CarAdvice Overall Rating: How does it Drive: How does it Look: How does it Go:
Specifications:
Engine: 1998cc DOHC four-cylinder
Induction: Common rail injection & turbo
Power: 104kW @ 4000rpm
Torque: 310Nm @ 1800rpm
Transmission: Six-speed automatic
Brakes: four-wheel discs with ABS & EBD
Driven Wheels: Rear
Fuel Type: Diesel
Fuel Tank Capacity: 75 litres
Fuel Consumption: 8.7 litres/100km (Combined)
CO2 Emissions: 230 grams per kilometre
Safety: Dual front airbags
ANCAP Rating: N/A
Service Interval: 6 months/10,000km
Spare Wheel: Full size steel
Turning Circle: 12.4 metres
Towing Capacity: 2300kg (Braked)
Warranty: 3 years/100,000km
Weight: 1825kg (Tare)/815kg (Payload)
Wheels: 16 x 6.5-inch alloy
2008 SsangYong Sports Review