Mercedes-Benz has today announced pricing and specifications for the new M-Class luxury SUV. The mid-life update includes exterior and interior revisions, but with no significant changes to the model range.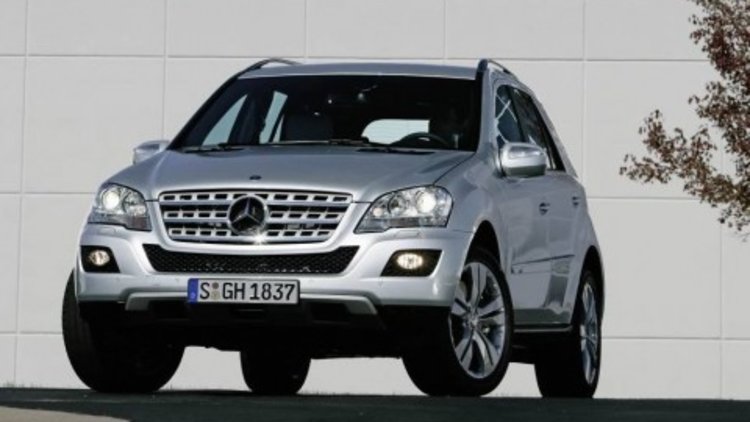 For a car which, since 2005, has found over 300,000 willing owners, Mercedes has decided to keep much of the original DNA for this facelift. What has changed is the the front end of which is now defined by a redesigned bumper, re-contoured headlamps and a larger radiator.
From the rear, its a similar story with a new-look bumper with integrated reflector strips and smoked-glass tail lights.
Moving inside, the German powerhouse has fine-tuned the interior with new high-grade materials and a new two-tone colour scheme. Then, of course, there is the new four-spoke multifunction steering wheel.
The updated interior design is available in either black/cashmere beige or black/alpaca grey.
So, all that much has changed you say? Perhaps not to the naked eye, but Mercedes has upgraded the car's Class standard specification as well.
The 2009 range will include the all-new, high-performance telematics system with UCI (Universal Communication Interface).
The range-topping, high-performance ML 63 AMG gets its share of unique updates as well with new front and rear aprons (with a chromed underguard) and a larger AMG radiator grille.
Also for the first time, M-Class buyers will not have the option of an externally mounted spare wheel carrier, in case the need to go off-roading ever arises.
The five updated models have gone on sale as of today.
Mercedes-Benz ML 280 CDI
Pricing for the ML 280 CDI moves to $81,000 (up $615 from $80,385). The new-generation 140 kW ML 280 CDI V6 gains three popular options as standard:
18 inch light alloy wheels, 5 spoke design
NTG 2.5 Audio 20 AM/FM radio with integrated 6-disc CD changer and mp3, wma and aac compatibility, 5 inch colour monitor and Bluetooth Hands Free Profile telephone connectivity
UCI media interface connection for AUX-IN, iPod integration and USB
Mercedes-Benz ML 350 Luxury and ML 320 CDI Luxury
The ML 350 Luxury pricing moves to $94,000 (up from $90,978), while the ML 320 CDI Luxury pricing moves to $97,000 (up from $94,156). The new-generation 200 kW ML 350 V6 and the 165 kW ML 320 CDI V6 gain the following options as standard:
New design 19 inch light alloy wheels, 5 spoke design
Electric front passenger seat with memory function
NTG 2.5 COMAND APS with incorporating DVD navigation, AM/FM radio, 6-disc DVD/CD changer, mp3, wma and aac file compatibility, SD card slot, 4GB HDD Music Register, 6.5 inch colour monitor, Bluetooth Hands Free Profile telephone connectivity, Convenience Telephone operation and LINGUATRONIC voice activation
UCI media interface connection for AUX-IN, iPod integration and USB
Reversing Camera
Upper dashboard trimmed in ARTICO man-made leather
Mercedes-Benz ML 500
The new-generation ML 500 is priced at $127,500 (up from the current $124,874). The new-generation version of this 285 kW V8 stunner gains the following additional equipment as standard:
20 inch light alloy wheels, 5 twin spoke design
Wood/leather steering wheel
Upper dashboard trimmed in ARTICO man-made leather
Glass electric sunroof with tilt/slide function
NTG 2.5 COMAND APS with incorporating DVD navigation, AM/FM radio, 6-disc DVD/CD changer, mp3, wma and aac file compatibility, SD card slot, 4GB HDD Music Register, 6.5 inch colour monitor, Bluetooth Hands Free Profile telephone connectivity, Convenience Telephone operation and LINGUATRONIC voice activation
UCI media interface connection for AUX-IN, iPod integration and USB
Mercedes-Benz ML 63 AMG
The stunner in the M-Class range, the ML 63 AMG, is powered by AMG's own 6.3 litre V8 engine, producing 375 kW and 630 Newton metres of torque. Pricing for the flagship ML 63 AMG moves to $167,500, up just $255 from the current $167,245. The following options are now included as standard:
AMG 20 inch light alloy wheels, 5 spoke design
NTG 2.5 COMAND APS with incorporating DVD navigation, AM/FM radio, 6-disc DVD/CD changer, mp3, wma and aac file compatibility, SD card slot, 4GB HDD Music Register, 6.5 inch colour monitor, Bluetooth Hands Free Profile telephone connectivity, Convenience Telephone operation and LINGUATRONIC voice activation
UCI media interface connection for AUX-IN, iPod integration and USB
Upper dashboard trimmed in Nappa leather
Digital/analogue TV tuner
| | | | | |
| --- | --- | --- | --- | --- |
| Model | Power | Torque | Fuel Cons.* | Price |
| ML 280 CDI | 140 kW | 440 Nm | 9.6L/100km | $81,000 |
| ML 350 | 200 kW | 350 Nm | 11.7L/100km | $94,000 |
| ML 320 CDI | 165 kW | 510 Nm | 9.6L/100km | $97,000 |
| ML 500 | 285 kW | 530 Nm | 13.4L/100km | $127,500 |
| ML 63 AMG | 375 kW | 630 Nm | 16.5L/100km | $167,500 |
2009 Mercedes-Benz M-Class specifications & pricing