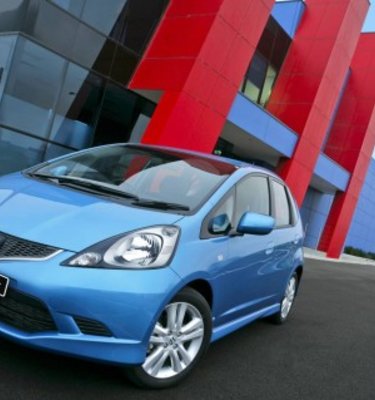 2009 Honda Jazz First Steer
Honda's second generation of the cute but practical Jazz is certainly tuned in to the latest market trends in the Australian car buying market.
- David Twomey
Echoing a common theme of car manufacturers these days the second generation Jazz has evolutionary styling and packaging that builds on the very successful first-generation car, which has sold more than 2.5 million units worldwide.
The changes are subtle and the new Jazz hits the market with the same model line-up, GLi, VTi and VTi-S, as the previous car. In another 'what's changed' move the opening price of $15,990 for the five-speed manual Jazz GLi remains unchanged.
There's a choice of five-speed manual or automatic through out the range and for reason best explained by Honda Australia Senior Director Lindsay Smalley the car eschews the CVT transmission which is on offer in Europe and Japan.
Mr Smalley explained at today's simultaneous media and on-sale launch that it was Honda Australia's belief that local customers preferred the driving experience of a full-automatic over the stepless approach of the CVT transmission.
The decision also allows Honda Australia to configure the car with more powerful engines, 1.3-litre and 1.5-litre, than are on offer with the CVT.
The downside is that Honda has not yet developed Vehicle Stability Control (VSC), it's acronym for the all-important ESC, to work with the more powerful engines and automatic transmission so we will not see this important safety feature in the Honda Jazz in Australia in the immediate future.
Mr Smalley told CarAdvice that "Japan R&D is working as quickly as possible to develop the VSC to work with our engines."
Mr Smalley emphasised that Honda had gone for a more sporty driving experience with the new Jazz, wanting to enhance its appeal with a younger market and to broaden the market as the Australian market more widely embraces smaller cars.
The new Jazz is a much more driveable car with sharper handling, more dynamic feel and more responsive engines.
The downside of not using the CVT transmission is slightly increased fuel consumption, but again Mr Smalley defended this saying that " real-world experience meant the manual/auto choice in Australia is line-ball with the CVT. "
Those already addicted to the Jazz will be pleased with the retention of the two-box mini MPV looks, the centre fuel tank (mounted under the front seat) and the 'Magic Seat" fold flat 60/40 split second row seating.
Honda's media launch for the car cleverly concentrated on the inner-city and nearby beachside suburbs of Melbourne and while the drive route we were presented with didn't allow too much examination of the new Jazz's dynamics it did include a fuel economy challenge.
CarAdvice, for various reason, ended up driving the same VTi 1.5-litre, five-speed manual on both legs and while the outbound leg was a less than perfect 6.0-litres per 100 kilometres on the homeward bound leg we managed 4.5L/100km and saw a consistent period of 4.2L/100km, all in suburban traffic.
Three variants are offered , a 1.3-litre Jazz GLi and two 1.5-litre i-VTEC models, Jazz VTi and VTi-S. All are Euro 4 compliant and run on 91RON standard unleaded fuel.
Jazz GLi comes with a raft of standard features, including power windows and mirrors, central locking and single in-dash CD stereo. The entry level Jazz has a comprehensive array of safety equipment – ABS brakes with Electronic Brake Force Distribution (EBD), dual front airbags and front seatbelt pre-tensioners are standard.
An optional 'Safety pack', priced at $1000, is offered comprising side and curtain airbags, and a multi-information display which includes a speed alarm, trip computer and seatbelt reminder for all passengers.
The mid-range Jazz VTi gets the larger, more powerful 1.5-litre engine in addition to side and curtain airbags, the multi-information display, a security alarm system and a vanity mirror for the front passenger.
The top-of-the-range Jazz VTi-S is given the sports makeover with sport front and rear bumpers, side skirts and 16 inch alloy wheels. Both the GLi and the VTi get 15-inch steel wheels with trim rings.
Honda has infused more power into the new Jazz range demonstrating that spirited performance and light car dynamics need not be dull. Two engines power Jazz –the GLi features Honda's advanced 1.3-litre SOHC engine, (now with i-VTEC technology) to provide the best balance of fuel economy and lively performance. It now delivers 73kW (up 12kW) and 127Nm, (up 8Nm).
The 1.3-litre i-VTEC engine delivers fuel economy figure of 5.8L/100kms and produces just 138gCO2/km when fitted with the manual transmission.
Jazz GLi has a five-speed manual or optional, five-speed automatic transmission, (unique to the segment) with Honda's Grade Logic Control.
Both the Jazz VTi and VTi-S are powered by a 1.5-litre SOHC i-VTEC engine that has an output of 88kW (up 7kW) and 145Nm (up 2Nm). Fuel economy is similarly frugal, achieving a combined 6.4L/100km and just 151gCO2/km in manual form.
Both VTi and VTi-S are available with five-speed manual transmission and Honda's new five-speed automatic transmission, which also allows the driver to manually operate the gears via paddles on the steering wheel (VTi-S only).
While the second-generation Jazz retains the same suspension layout as the previous generation, (McPherson strut front and Torsion Beam rear for maximum packaging efficiency), Honda says significant improvements have been incorporated to enhance the overall ride quality, handling, agility and ultimately the driving experience.
We certainly found the car quieter to drive, and more responsive at the wheel thanks to the better resolved electric power steering.
Manoeuvring around inner suburban streets and coping with city traffic was a smooth and effortless affair, proving that in the real-world, which most Jazz owners will experience, the new car is "just fine".
Inside there are retrimmed seats and a leather steering wheel, while cruise control is also standard on both VTi-S variants - the only model to get this licence-protecting 'must have' in these days of speed cameras saturated roads!
The new Jazz is longer (55mm) and wider (20mm) car, but no higher and delivers more space to the occupants of both rows, thanks to a 50mm longer wheelbase and a cabin width increase of 30mm. Honda claims rear knee room has been boosted 40mm and there is more foot-well space up front. The effective cabin width has been boosted to yield more than 40mm increase in shoulder room front and rear.
The front screen has been pushed forward 120mm and the quarter lights increased threefold in area. A-pillar's that are 20mm thinner and revised external mirrors help increase visibility. Honda says rear sight lines, meantime, are improved by headrests that slide into the rear seatback.
The new Jazz is heavier, up to 50 kilograms in some models, but stiffer and stronger and Honda has confidently claimed that it will be five-star rated by EuroNCAP once it is tested.
The car cannot achieve a five-star rating from ANCAP until ESP is included in its specification.
Assistant chief engineer on the Jazz, Toshiyuki Harada, said that less than 10 percent of the old Jazz was carried over into the new car, which has better seats, four-wheel disc brakes, the previous model had drum brakes on the rear, and a myriad of other changes.
The Jazz is a major seller for Honda and Mr Smalley is predicting 12,000 a year will join our roads in the future.
Given the trend to smaller cars that we seem to have embraced with enthusiasm and the fact that while the Jazz retains its compact external dimensions while somehow enlarging the interior space there's every reason to believe he will be more than right.
MY09 HONDA JAZZ PRICES
Jazz GLi –five-speed manual $15,990
Jazz GLi –five-speed automatic $17,990
GLi Safety Pack - $1000
Jazz VTi – five-speed manual $19,170
Jazz VTi – five-speed automatic $21,490
Jazz VTi-S – five-speed manual $21,590
Jazz VTi-S five-speed automatic $23,920