Update: Holden LPG Commodore Review.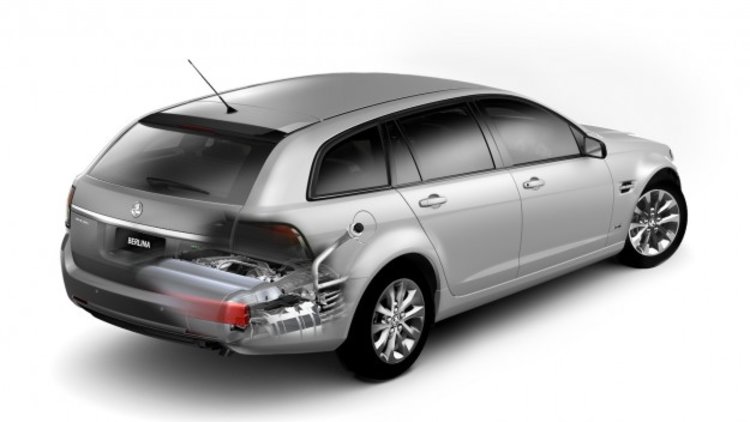 Holden has unveiled a range of dedicated factory-fit LPG Commodores that it believes is an Australian solution to Australian conditions.
In a first for the old General, Holden's dedicated LPG Commodore option will add $2500 to the price and can be fitted to sedan, Sportwagon, ute or long wheelbase variants. Of the $2500 additional cost, private buyers can take advantage of the federal government's $2000 rebate, leaving a mere $500 extra on the standard petrol model's purchase price.
Competing head to head with the Ford Falcon EcoLPi, the Holden LPG Commodore attracts the same price premium but offers better fuel economy than its direct rival (11.8L/100km vs 12.3L/100km). Powered by a 3.6-litre, double overhead cam V6 with 180kW of power and 320Nm of torque, the Commodore falls short of the Falcon EcoLPi's 198kW and 409Nm but does exceed 'Beyond Euro 6' exhaust emissions requirements.
Holden has introduced an updated six-speed automatic transmission for the LPG range, which the company says is lighter, smarter and more refined. Holden engineers have programmed the unit to optimise shift patterns for the LPG engine for optimum efficiency and driveability.
Based on the average 20,000 km/year driving cycle, Holden says the LPG Commodore will cost $1300 per year in fuel to run, roughly $800 a year cheaper than your everyday Toyota Corolla.
One of the biggest advantages of the new Holden Commodore LPG range is the placement of the LPG tank. No longer kept in the boot (compared to dual fuel Commodore), Holden engineers have relocated the tank behind the rear axle, freeing up valuable boot space.
In a bid to outline the Commodore's relevance to everyday motorists, Holden chairman and managing director Mike Devereux said: "The LPG Commodore range is a no-compromise prospect. With outstanding fuel consumption and CO2 emissions, cheaper fuel running costs than many small petrol cars and excellent driving characteristics, our customers will be able to enjoy the practicality and comfort of a large car without the large car fuel bills. We are committed to taking a leadership position with alternative fuels to make sure Commodore remains the smart vehicle choice for Australian motorists."
With over 3000 LPG equipped fuel stations nationwide, the prospect of paying less to fuel a Commodore than a Toyota Corolla may indeed appease more private buyers, but if the Falcon EcoLPi sales are anything to go by, it may be a difficult process.
LPG, which is about 30 percent cheaper than petrol, has long been viewed as the fuel of choice for taxi and fleet vehicles, with the rate of uptake for private buyers still far below that of petrol or diesel.
Read our Holden Commodore LPG Review.
Holden LPG Commodore range unveiled