The Peugeot 208 GTi concept has been unveiled ahead of its 2012 Geneva motor show debut next month, confirming the French car maker is ready to take another shot at rekindling the magic of its 1980s 205 GTi hot-hatch.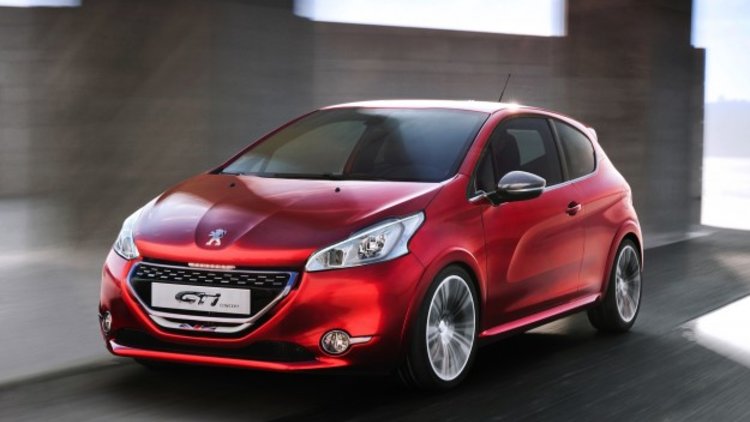 Although the Peugeot 208 GTi being presented at Geneva is being called a concept, it's clear this is a close-to-production version that carries only subtle sportier touches over the regular new 208 that goes on sale in Australia in September.
The Peugeot 208 GTi concept, based on the three-door 208, features lowered bodywork, a grille featuring a chequered flag effect, a chrome dual exhaust pipe, larger, 18-inch alloy wheels and a rear spoiler.
A GTi badge positioned in the rear quarter panel is a nod to the ID treatment used on the 205 GTi.
The conceptual Peugeot 208 GTi, which will be a rival for the likes of the RenaultSport Clio, Volkswagen Polo GTI and forthcoming Ford Fiesta ST, is powered by the BMW-Peugeot-Citroen joint venture 1.6-litre turbocharged four-cylinder also found in the company's RCZ coupe.
Peugeot hasn't supplied outputs, or performance figures, for the 208 GTi concept, though in the RCZ the engine produces 147kW and 275Nm. That power and torque is sent to the front wheels via a six-speed manual gearbox.
An image of the concept's instrument panel reveals the engine revs to a 6200rpm redline.
The interior itself promises to be something quite special if it makes the transition from concept to production.
The predominantly black cabin features red highlights, including red instrument dial surrounds, red gloss plastic for dash trim inserts, and red stitching for the steering wheel.
The small, sporty steering wheel also copies a RenaultSport touch by including a coloured (red naturally) 'marker' on the top centre of the wheel. There's also a flat-bottomed section incorporating a 'GTi' logo.
There are black sports seats, and the main dash section is layered in race-car-style alcantara.
Enthusiasts will be hoping the new Peugeot 208 GTi is more like the 205 GTi to drive than the ultimately disappointing 206 GTi and 207 GTi models.
Peugeot is certainly promising the 208 GTi will have "excellent and precise handling" that takes advantage of the new 208 that is smaller and lighter than its predecessor.
The GTI also features 36mm-wider tracks front and rear, with bigger brake discs (with red brake callipers) – 302mm front, 249mm rear – to help shed speed.
Peugeot Australia will put its hand up for the 208 GTi, though don't expect it here until 2013.
Peugeot 208 GTi: New hot-hatch concept revealed